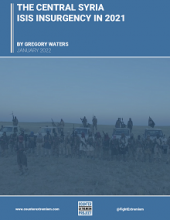 Key Facts
ISIS conducted at least 299 attacks in Syrian regime-controlled areas of Homs, Hama, Aleppo, Raqqa, and Deir Ez Zor governorates in 2021, a slight increase from 2020.
ISIS conducted at least 70 high quality attacks

High quality attacks are defined as attacks behind frontlines, those that result in seized positions, target regime officers, involve coordinated attacks on multiple positions, fake checkpoints, ambushes on military convoys, or attacks on checkpoints that kill at least three soldiers or lead to POWs.

, a 25 percent decrease from 2020.
ISIS killed at least 422 people in central Syria, a slight decrease from 2020: 313 pro-regime fighters, including at least 33 Iranian-backed foreign fighters and at least one Russian officer, as well as 109 civilians.
In September, ISIS conducted its first attack in Damascus since June 2018, likely using cells based in the Badia.
The Syrian regime and its allies successfully secured territory it lost in late 2020 and cut ISIS activity nearly in half between June and December of 2021.
Executive Summary
In 2021, the Syrian regime and its Russian and Iranian allies largely controlled the trajectory of the ISIS insurgency in central Syria, also known as the Badia. In 2020, ISIS significantly expanded the rate, scale, and geography of its attacks in central Syria, conducting sustained activity in east Hama, southern Aleppo, southern Raqqa, and central Homs for the first time since 2017, culminating in a string of attacks on highways and regime bases throughout the Badia in the last half of the year.Gregory Waters, "ISIS in Syria: 2020 in Review," Newlines Institute, February 10, 2021, https://newlinesinstitute.org/isis/isis-in-syria-2020-in-review/. The regime finally responded in force to this escalation on January 1, 2021, when it launched a major operation in western Deir Ez Zor with support from Russian and Iranian forces.