Tumblr, the social media and blogging platform, is a haven for extremists, whether they support ISIS or violent neo-Nazi groups. The website, purchased by Yahoo for $1.1 billion in 2013 and now owned by Verizon subsidiary Oath, recently gained attention for its role in Russian efforts to manipulate the American electorate in 2016. Troubling content on the site is not only limited to state sponsored propaganda efforts - supporters of extremist groups also use the site to spread their violent ideologies. The boundless variety of topics on Tumblr might make the emergence of extremist content inevitable, but the company is failing to actively confront material that clearly violates its Terms of Service.
Tumblr is an easy-to-use web platform that allows effortless posting and sharing of text, photos, gifs, and videos while using custom layouts. The site is ranked 24th in the U.S. and 56th globally based on web traffic, and has close to 400 million blogs, according to the company. The site is known as a location for content on a myriad of specific interests, from fashion photography, to television fandom, to micro internet subcultures. Tumblr states that it's a place "where your interests connect you with your people," but that is a problem when your interests include hate and violence.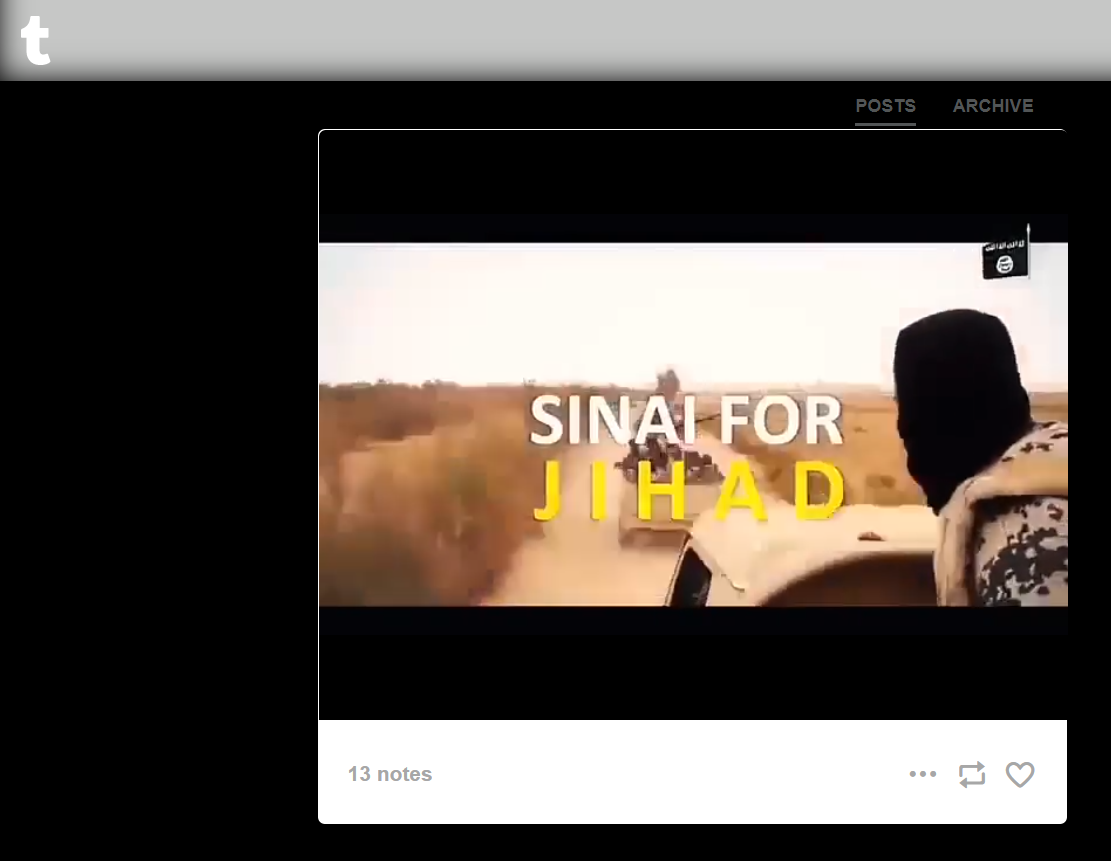 The site hosts numerous blogs that post brutal extremist content. ISIS followers have used the platform to post violent videos, propaganda photos including executions, exhortations to commit terror attacks, and advice on how to provide material support to the terror group. Tumblr has also been used to share dozens of links to ISIS videos posted on other websites. Similarly, the site has been used by neo-Nazis to glorify terrorists such as Anders Breivik and spread content that calls for the murder of Jews and federal employees. Propaganda made by groups such as the paramilitary Atomwaffen Division and the banned British neo-Nazi terrorist group National Action are easily available.
All of this content remains on the site despite Tumblr's clear community guidelines and Terms of Service. Specifically, the community guidelines prohibit "violence or hatred," in addition to "violent threats or statements that incite violence, including threatening or promoting terrorism." Tumblr stresses it may "terminate or suspend your access…without prior notice or liability, for any reason…including but not limited to if you breach any of the terms or conditions of this Agreement." But strong words, as these examples make clear, are meaningless unless backed up by the will to act.
Tumblr has declared 2018 a year of action, pledging support to a range of causes ranging from black representation in media, to youth election engagement, to gender equality. These goals are commendable, but Tumblr should also look closer to home and act in compliance with its own rules to remove dangerous content that promotes terrorism and violence.
Daily Dose
Extremists: Their Words. Their Actions.
In Their Own Words:
Our resistance will not break, and our response will come soon.
Jan. 26, 2023
View Archive
Stay up to date on our latest news.
Get the latest news on extremism and counter-extremism delivered to your inbox.