For Immediate Release
Wednesday, April 13, 2022
(New York, N.Y.) — The Counter Extremism Project (CEP) has consistently called for clear guidelines from tech companies to target and remove the "worst of the worst" terrorist and extremist material on their platforms. One clause within Twitter's terms of service agreement even explicitly states that "there is no place on Twitter for violent organizations, including terrorist organizations, violent extremist groups, or individuals who affiliate with and promote their illicit activates." However, Twitter's latest failure to remove all accounts belonging to the Houthis and Islamic Revolutionary Guard Corps (IRGC), a U.S.-designated Foreign Terrorist Organization, demonstrates that the company's policies are not enforced consistently—allowing for the spread of posted violent threats and propaganda.
On April 9, Twitter suspended Houthi spokesperson Yahya Sarea's account, which he used to threaten "new attacks on Saudi Arabia and the United Arab Emirates, and any other country participating in the Arab coalition fighting the Houthis," as well as to claim responsibility for numerous Houthi drone and missile attacks on Saudi Arabia. However, following the account's suspension, "several new Arabic accounts claiming to belong to him" cropped back up on Twitter, and an English-language account in Sarea's name reportedly remains active. The Houthis are an Iranian-backed, Shiite Muslim armed religious and political movement in Yemen. The group has waged a series of bloody insurgencies against the Yemeni government since 2004, overthrowing them and seizing power in Sanaa in 2015.
While Twitter has rightly removed one of Sarea's accounts, it has failed to do so for accounts linked to the IRGC—Iran's main link to its terrorist proxies, including the Houthis, which the Islamic Republic uses to boost Iran's global influence. CEP recently flagged official and supporter accounts for Twitter to remove. The first, an official account of the IRGC, has been online since December 2020 and has nearly 28,000 followers. As recently as April 10, 2022, the account posted a video threatening and glorifying violence, which has since garnered more than 200,000 views.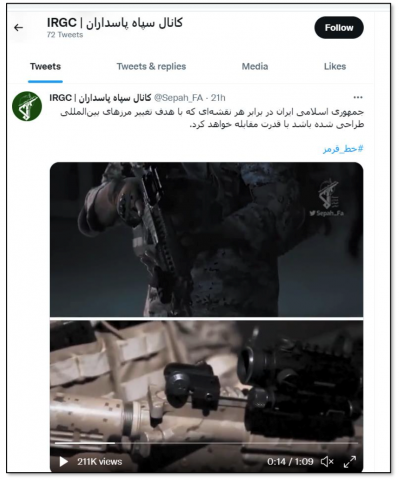 Screenshot of threatening video, posted April 10, 2022
Additionally, Twitter has explicitly refused to remove the second account, which promotes pro-IRGC propaganda. It has been online since July 2015 and has more than 700 followers. On January 15, 2022, the account posted a video with the caption "You know we will do it," explicitly and directly threatening to murder former U.S. President Donald J. Trump and former Secretary of State Mike Pompeo. In its refusal to suspend or remove the account, Twitter simply stated that the account "hasn't broken [its] safety policies." In the same response, the company also contradicts itself by stating that "threatening violence against someone or a group of people" "isn't allowed."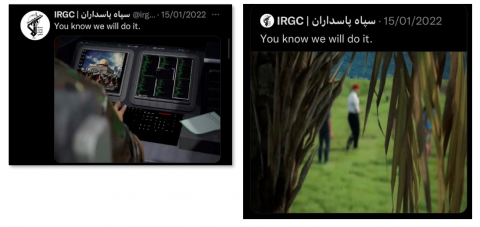 Screenshots of video explicitly and directly threatening to assassinate President Trump and Secretary Pompeo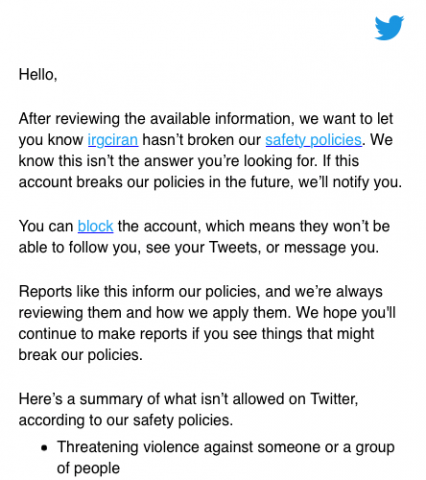 Partial screenshot of Twitter's reply regarding the account
By removing a Houthis-related account while permitting IRGC official and unofficial accounts to operate on its platform, Twitter demonstrates the ineffectiveness of its policies and policy enforcement mechanisms. Content created by or in support of the Houthis or IRGC—both of which have leaders who are internationally sanctioned—surely qualifies as "worst of the worst" and must be kept off major tech platforms. Rather than providing vague justifications for allowing terrorist groups on its platform, the company should dedicate the necessary resources and expertise to ensure that its policies are applied transparently and consistently.
To read CEP's resource Yahya Sarea, please click here.
To read CEP's resource Houthis, please click here.
To read CEP's resource Islamic Revolutionary Guard Corps (IRGC), please click here.