For Immediate Release
Friday, November 10, 2017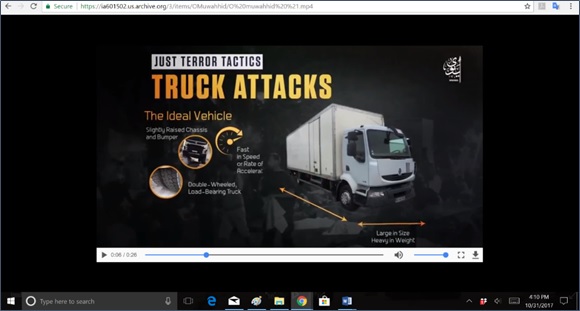 CEP Blog: Why Does Content with Links to NYC Terror Attack Persist Online?
Following the October 31 New York City truck-ramming attack, CEP located ISIS videos on 19 different websites and platforms, including a clip instructing on how to carry out a vehicular assault. Days later, CEP located a WordPress blog that hosted nearly 200 links to an Abu Bakr al-Baghdadi speech that inspired Sayfullo Saipov to carry out the attack. Read the Article.

CBS This Morning: Terror Strikes in New York City
CEP President Fran Townsend appeared on CBS This Morning, after Sayfullo Saipov allegedly drove a rental truck down a busy bicycle path in Manhattan, killing at least eight people, the latest in a string of truck attacks around the world. CEP has documented at least 34 attacks that have involved the use of vehicles as weapons of terror, a tactic recommended in ISIS propaganda. Watch the Video.

VOA: IS Claim for NYC Attack Raises Questions
​ISIS's claim of responsibility for the New York City truck attack differs in significant ways from claims for previous terror attacks, according to an analysis CEP Research Analyst Ryan Pereira. Read the Article.

The Times: Google Provides New Home for Jihadists Driven from YouTube
​An article in The Times detailed CEP's research surrounding the file-storage and sharing service Google Drive, which has become a key repository for terrorist propaganda, including calls for attacks in the West. CEP Executive Director David Ibsen said, "The continued presence of extremist content on Google Drive calls into question recent commitments by Google to enhance efforts to remove objectionable content. They certainly have the resources, what appears lacking is the commitment." Read the Article.

NPR: Social Media Companies Can Block Foreign Interference With Technology It Already Has
Facebook, Twitter, and Google faced an angry Congress over Russian influence in the 2016 elections. Dartmouth computer science professor and CEP Senior Advisor Dr. Hany Farid explains what can be done to stop interference in the future. Listen to the Interview.

New Europe: Google's counter-narrative experiment cannot overcome years of neglect
Google wants you to believe it is doing its utmost to counter violent extremist content on its YouTube platform. Its latest initiative, the Redirect Method, which seeks to steer prospective jihadists away from radicalizing videos with alternative messaging, has four main flaws. CEP Research Analyst Joshua Fisher-Birch explains. Read the Article.

Fox News: Who are the Islamic militants likely behind the death of American soldiers in Niger and why won't ISIS claim them?
Suspected in the ambush killing of four U.S. soldiers in Niger on October 4 is ISIS in the Greater Sahel (ISGS), a group that broke off from al-Qaeda-linked al-Mourabitoun and is led by Adnan Abu Waleed al-Sahrawi. Read the Article. 
​