For Immediate Release
Tuesday, April 25, 2023
(New York, N.Y.) — A new Counter Extremism Project (CEP) report authored by CEP non-resident fellow Dr. Kacper Rekawek, A Year Of Foreign Fighting For Ukraine, analyzes how the war is being fought, who is fighting, and what challenges governments must contend with as individuals return home from service as a volunteer with the Ukrainian armed forces.
His analysis, based on more than 70 interviews and intensive research conducted throughout 2022, concludes that the number of foreign fighters in Ukraine has been exaggerated and that the composition of the foreign contingent contains only a small minority of far-right individuals.
The report has been cited in major media outlets in the U.S., Poland, Spain, Belgium, Slovakia, and the Netherlands. On March 25, the New York Times relied on CEP's work in its story, "U.S. Volunteers Add to Chaos On Battlefield". The Times story explored the state of the International Legion of Defence of Ukraine (ILDU), which serves the role of accommodating and organizing arriving foreign fighters.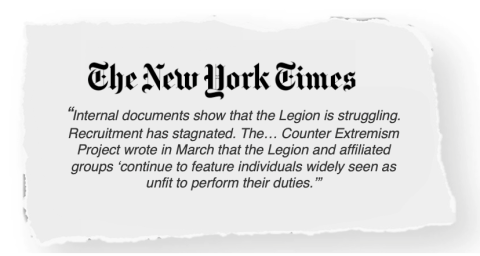 To read CEP's report A Year Of Foreign Fighting For Ukraine, please click here.
Additional media coverage of CEP's work can be read in the reports below:
The Counter Extremism Project depends on the generosity of its supporters. If you value what we do, please consider making a donation, here.