‹ Go back to leadership page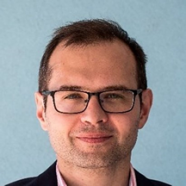 Kacper Rekawek, PhD, is an affiliated researcher at Counter Extremism Project and an associate fellow at GLOBSEC, Slovakia.
Rekawek has 15 years of experience in counter terrorism and countering violent extremism from academia (including a PhD at Queen's University Belfast, QUB, and a research fellowship at the Handa Centre for the Study of Terrorism and Political Violence at the University of St. Andrews), think tanks (including the Polish Institute of International Affairs, PISM, local equivalent to the German SWP) and the third sector (GLOBSEC).
Rekawek's research interest encompass a vast field related to terrorist organisations and networks, and means of countering them. He originally started as a researcher focusing on terrorism in Europe in general, and the Irish Republican Army, IRA, in particular (his PhD at QUB was a comparative study of the factions of the IRA). Since 2011, in his job as a terrorism analyst at PISM, he focused almost exclusively on global jihadism – that was also the focus of his major projects implemented while he was at GLOBSEC between 2016 and 2019. Since 2014 he has also been studying and published on the Western extremist foreign fighters in Ukraine, and from January 2020 he is conducting research on the pre-war and after-war lives of such fighters which is supported by the Counter Extremism Project.
Rekawek has successfully led multinational research projects related to international security in general and terrorism and countering terrorism in particular (e.g. the comparative analyses of the state of European jihadism, supported by PMI Impact and Counter Extremism Project, which involved partners in 11 countries). He has worked on a number of other international projects, including efforts supported by the European Commission and NATO. He is a member and participates in the activities of the Society for Terrorism Research, European Expert Network on Terrorism Issues and the Radicalisation Awareness Network.
He is the author of two books (including the first comparative study of the factions of the Irish Republican Army, IRA, published by Routledge). Rekawek is also a reviewer for Terrorism and Political Violence, the field's preeminent journal.
Since completion of his PhD in 2009, Rekawek has appeared on more than 500 occassions as a commentator, expert, analyst etc. in the media.
Daily Dose
Extremists: Their Words. Their Actions.
Fact:
On June 10, 2018, the Houthis launched a missile from Yemen at Saudi Arabia's Jizan province, killing three civilians.
View Archive
Stay up to date on our latest news.
Get the latest news on extremism and counter-extremism delivered to your inbox.