For Immediate Release
Monday, September 10, 2018
Far-Right European Terrorist Group Crowdfunding Cryptocurrency
​​Joshua Fisher-Birch
August 28, 2018
Counter Extremism Project 
A new European far-right group calling themselves Order of Dawn has apparently started a cryptocurrency crowdfunding campaign for their violent "Reconquista" of Europe. Order of Dawn endorses racism and anti-Semitism. Specifically, the group is opposed to African and Middle Eastern migration to Europe, calling it an "invasion" and a "genocide," and claims that the Jewish-owned media are hiding the true nature of the problem. The group claims to be based in one of the Visegrad states (Czech Republic, Hungary, Poland, or Slovakia). There is no available identifying WHOis information on their website, www.orderofdawn.com, except that the San Francisco-based company Cloudflare is the name server. 
Order of Dawn is specifically crowdfunding the Monero (XMR) cryptocurrency to support various acts of violence. The group calls for the creation of a volunteer army, ships to "repel or sink the boats of the invaders and the gigantic vessels of the collaborators," safehouses, land in Eastern Europe, and a separate anti-ISIS militia. On their website, the group states their desire to acquire firearms and explosives, and claims that many of their members have served in the armed forces or law enforcement. 
The group adeptly uses propaganda and is clearly savvy at web design. The site features several videos bemoaning immigration and the condition of modern Europe. The group's leadership section on the website uses photos of Nazi soldiers as profile photos. 
Order of Dawn's website also allows for visitors to mine Monero on the site itself—of which the cryptocurrency is donated to the group. As of 5 p.m. EST on August 28, the group has claimed to have raised 62 XMR (equivalent to about $6,600). Crowdfunding supposedly ends on September 17, 2018. 
The group uses three slogans on the very bottom of their page referring to 4chan and other online message boards: "Kek mit Uns" (a play on the German slogan God with Us), "The Truth will set you free," and "Nothing is beyond Our reach" (referring to a U.S. intelligence community patch modified by 4chan users). It is unknown if Order of Dawn has any connection to 4chan or other online communities. A "Kek" flag, usually associated with the alt-right, is used as a background on one section of the site. 
Order of Dawn is particularly direct in their mission and stated intent. The fact that the group is crowdfunding cryptocurrency on their website allows individuals to contribute with little effort or mobilization needed. Internet services companies, such as Cloudflare, should be on guard to make sure that they do not aid or assist terrorists.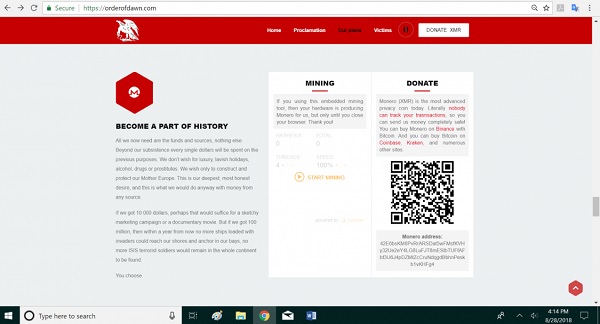 Mining/Donation section on the Order of Dawn website, August 28, 2018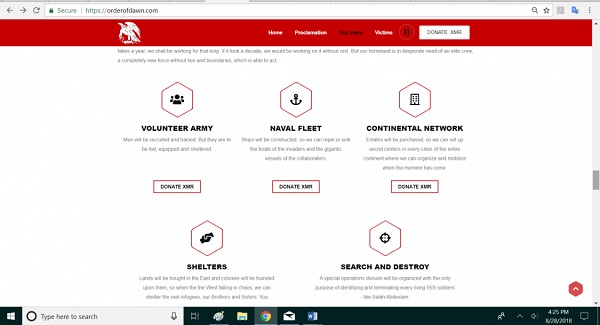 The alleged purposes for crowdfunding
To access the blog, please click here.