For Immediate Release
Monday, March 30, 2020
Propaganda Encourages Racial Violence & Terrorism During Pandemic
(New York, N.Y.) – The Counter Extremism Project (CEP) reports weekly on the methods used by extremists to exploit the Internet and social media platforms to recruit followers and incite violence. This week, white supremacist and neo-Nazi accelerationist Telegram channels continued calling for the exploitation of the COVID-19 pandemic. Additionally, British neo-Nazi group Sonnenkrieg Division (SKD) launched a Telegram channel challenging a membership ban that the British government implemented last month. Also, chan imageboard and Telegram chat users praise Christchurch shooter Brenton Tarrant following his guilty plea. ISIS's Amaq News Agency released a video of one of the Kabul Gurdwara attackers on Telegram and YouTube. Finally, the pro-ISIS Al-Qitaal Media Center released the second version of the online magazine "Voice of Hind" in an attempt to appeal to Muslims in India.
White Supremacist And Accelerationist Telegram Channels Continue To Call For Exploitation Of COVID-19 Pandemic
This week, various white supremacist and neo-Nazi accelerationist Telegram channels called for exploiting the COVID-19 pandemic. One specifically anti-Semitic channel that has over 1,200 subscribers, stated on March 21 that the virus was part of a Jewish anti-white plot, encouraged the audience to spend time in public even if sick, and declared that deaths from the virus are natural selection. A white supremacist Telegram channel with over 250 users called for people to disrupt National Guard operations and encouraged using firecrackers and small homemade explosives to cause panic. Other channels have encouraged spreading anti-Asian racism, encouraged recruitment within the context of the economic crisis, and have spread disinformation regarding martial law and firearms confiscations. Ecofascist Telegram channels have celebrated the reduction in commercial and industrial activity, and have celebrated deaths. Several channels have posted information on how to start the engines of military Humvees, which do not use an ignition key, for the purpose of theft.
"White supremacists continue to use Telegram to spread calls for violence and attempt to exploit the coronavirus pandemic," said CEP researcher Joshua Fisher-Birch. "While millions of people all over the globe are trying to prevent the further spread of the virus and ameliorate suffering, some white supremacists are using the current situation to incite racial violence and encourage terrorism. Telegram must act to prevent violent extremists from using their platform to advocate for or plan acts of violence."
ISIS Releases Video Of Kabul Gurdwara Attacker
On March 27, ISIS's Amaq News Agency released a video will of a man identified by the kunya of Abu Khaled Al Hindi, who the group claimed was one of the men who attacked a Sikh Gurdwara in Kabul on March 25. ISIS gunmen killed 25 people in an attack and hours long siege. The video was posted on Telegram and on YouTube, where it garnered 15 views in approximately three hours before it was removed. The U.S. State Department amended ISIS's Foreign Terrorist Organization listing to include the Amaq News Agency in March 2019.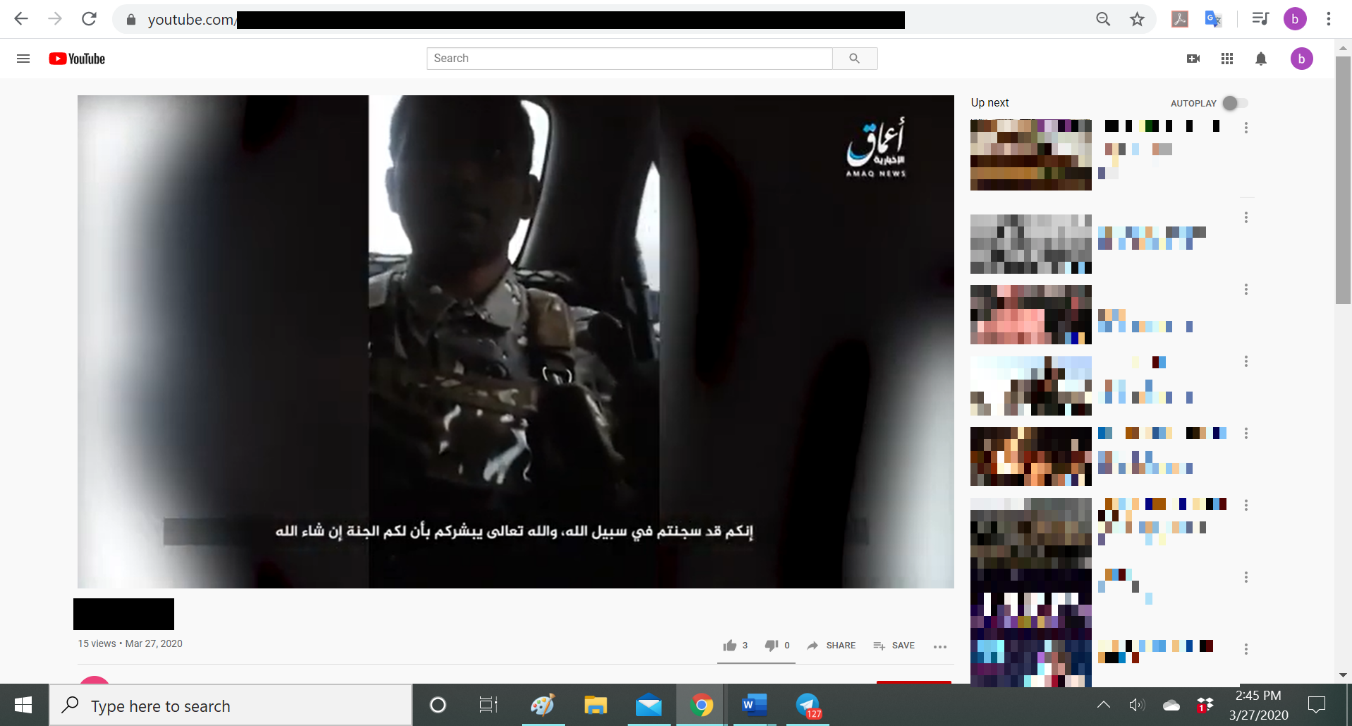 The ISIS Amaq News Agency video on YouTube, March 27, 2020
ISIS Releases Second Edition Of India Region Magazine
On March 25, the pro-ISIS Al-Qitaal Media Center released the second issue of an online magazine titled "Voice of Hind." The magazine is meant to appeal to Muslims in India. The magazine called COVID-19 a divine punishment, and urged attacks on police and military forces deployed in virus related missions. The magazine also criticized the Afghan Taliban for making a deal with the United States, and included an essay by a deceased ISIS member.
Banned Neo-Nazi Group Sonnenkrieg Division Launches Telegram Channel
The British neo-Nazi group the Sonnenkrieg Division (SKD) allegedly created a Telegram channel on March 25, stating that the government cannot ban an idea. Membership in the SKD was made illegal by the British government in February 2020. The channel claims that SKD has not disbanded and that the group has no connection to any other organization or network, with the exception of the Atomwaffen Division, which has claimed to have dissolved. The group allegedly stated on the channel that they will maintain a covert presence for recruiting purposes in order to invite pre-screened individuals to join. The channel also condemned groups that do public actions such as posting flyers. The channel contains SKD propaganda, a link to a group involved with the 3D printing of firearms, and encouraged individuals to wear masks while out in public, insinuating that they could commit crimes within the context of the UK COVID-19 lockdown.
Chan Imageboard Users And Telegram Chat Users Praise Christchurch Terrorist Following Guilty Plea
Brenton Tarrant was praised by users on various chan imageboards and in white supremacist Telegram chats following pleading guilty on March 26 to the murder of 51 people, the attempted murder of 40 others, and a terrorism offense. The number of comments were notably less than on the one-year anniversary of the attack on March 15. Tarrant's sentencing has not been scheduled yet.