For Immediate Release
Monday, August 19, 2019
Telegram Group Praises Mass Shootings; ISIS Releases New Propaganda
(New York, N.Y.) – The Counter Extremism Project (CEP) reports weekly on the methods used by extremists to exploit the Internet and social media platforms to recruit followers and incite violence. This week, Teespring was found to be selling t-shirts glorifying violence, white supremacists and neo-Nazis. Additionally, an American white supremacist group on Telegram praises the recent mass shootings, and ISIS releases a new video and radio broadcast on several websites.
"While Teespring is not typically thought of as a website for extremist content, any website that depends on user uploads, as Teespring does, carries that risk," said CEP researcher Joshua Fisher-Birch. "This is not the first time that t-shirts glorifying white supremacy and neo-Nazism were found. Last April, the company sold shirts glorifying Charleston shooter Dylann Roof and containing anti-Semitic slogans. In that incident, the shirts were removed after the company found out about them. Teespring needs to remove these shirts and specify what they will do to prevent this type of event in the future. All tech companies need to be cognizant of what is on their platforms."
White Supremacist T-Shirts Widely Available On Teespring, Including Shirts Celebrating Violence
CEP located several t-shirts available on the website Teespring that celebrate and encourage white supremacist terrorism. Shirts were located with the slogan "Help the Bees, Save the Seas, Shoot Refugees," and that celebrated the neo-Nazi National Socialist Liberation Front with the slogan "Political Terror – It's the Only Thing They Understand." Also found were shirts that celebrated Timothy McVeigh's bombing of the Alfred P. Murrah building in Oklahoma City that killed 168 people, as well as one emblazoned with symbols alluding to the Pittsburgh synagogue shooter's last Gab post. Stickers were also located on Teespring bearing the logo of the Atomwaffen Division, and promoting the neo-Nazi book Siege. Designs on Teespring products are upload by users themselves and are printed to order.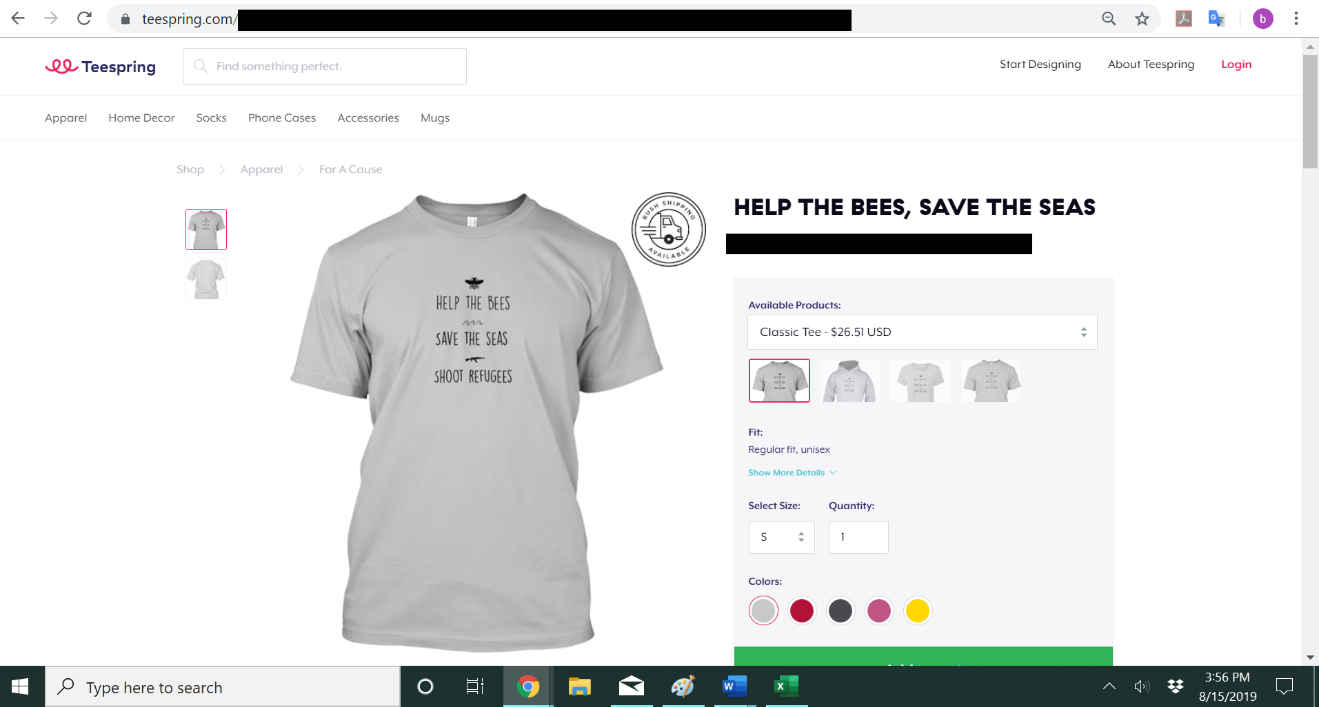 T-shirt that urges shooting refugees on Teepspring.com, August 15, 2019.
American Accelerationist White Supremacist Group Praises Mass Shootings, Recruits On Telegram
On Telegram, a new American white supremacist group praised mass shootings and gave instructions on how to join. In a channel with over 250 users, the group praised accelerationism and mass shootings, stating that "We should all strive to be Saints." The term "saint" is used by some on the extreme right-wing to refer to the actions of white supremacist mass shooters. The group is actively seeking recruits.
New ISIS Video Released On Multiple Websites
On Sunday, August 11, ISIS released a new video from their self-proclaimed Khayr province in Syria, titled "Epic Attrition". The video declares that ISIS has not been defeated and calls the U.S. administration foolish. The video contains previously released footage of the group's leader Abu Bakr al-Baghdadi interspersed with footage from the battle of Baghuz, as well as execution footage that had previously been released by the Amaq Agency.
The video was released on at least 36 websites in addition to Telegram: OwnCloud, Mediafire, Solidfiles, racaty.com, top4top, the Microsoft One Drive, Amazon Drive, the Internet Archive, mail.ru, Dailymotion, ddl.to, file.fm, letsupload.co, mega.nz, megaup.net, mirrorace.com, ok.ru, pc.cd, SendVid, transfer.sh, tune.pk, userscloud, Dropbox, Vidio, zippyshare, Myspace, YouTube, Zupload, Vimeo, Mihan Video, Openload, mystream.to, vup.to, streamcherry.com, streamango, and gounlimited.to. Four days later, the video was still available on 18 websites in addition to Telegram: OwnCloud, mail.ru, letsupload.co, ddl.to, transfer.sh, mirrorace.com, Dropbox, Vidio, Myspace, Zupload, Vimeo, Mihan Video, Openload, mystream.to, vup.to, streamcherry.com, streamango, and gounlimited.to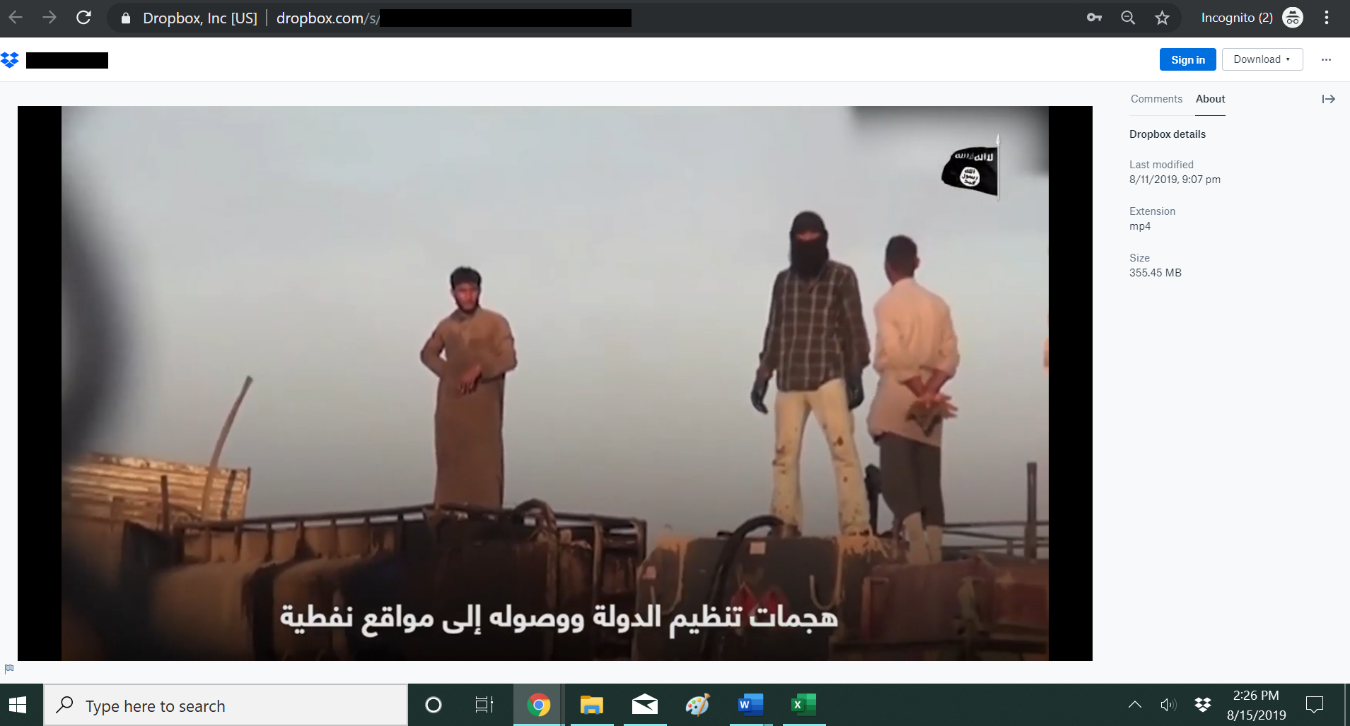 "Epic Attrition" on Dropbox, four days after it was uploaded, August 15, 2019.
ISIS Radio Propaganda Broadcast Available On Several Websites
An ISIS Arabic Al Bayan radio mp3 file was uploaded to several websites on August 14, and was still accessible on all sites approximately 24 hours later. The propaganda radio broadcast included information on ISIS attacks in Syria and Yemen, and urged the continuation of the group's fight. All ISIS Al Bayan radio broadcasts contain the same audio introduction.
In addition to Telegram, mp3 files were uploaded to the Internet Archive, Soundcloud, jumpshare.com, file.fm, pc.cd, top4top, and a Telegram bot. All mp3 files were accessible approximately 24 hours later. Additionally, a text pdf readout of the broadcast was posted to jumpshare.com, file.fm, pc.cd, and the Internet Archive. Approximately 24 hours later, the pdf was accessible on all sites except for the Internet Archive.