For Immediate Release
Tuesday, April 30, 2019
Amazon, Microsoft, Facebook, Google, Dropbox Host Videos of the Attackers and an ISIS Execution
The Counter Extremism Project (CEP) reports weekly on the methods used by extremists to exploit the Internet and social media platforms to recruit followers and incite violence. This week's edition includes an overview of ISIS' online activity glorifying the terrorist group's Easter Sunday massacre at Sri Lankan hotels and churches on Facebook, YouTube, Telegram, Microsoft One Drive and Dropbox, among others. In addition, it includes neo-Nazi activity around Hitler's birthday and neo-Nazi sales of anti-Semitic t-shirts on Teespring.
ISIS Affiliated Amaq News Agency Releases Video of Sri Lanka Attackers
On Tuesday, April 23, ISIS's Amaq News Agency released a video purporting to show the eight Sri Lankan terrorists pledging their allegiance to ISIS's leader, Abu Bakr al-Baghdadi. The attacks on Easter Sunday targeting churches and hotels in Sri Lanka killed over 250 people and wounded over 500. In addition to Telegram, the video was uploaded to at least 17 websites: Facebook, YouTube, Sendvid, the Microsoft One Drive, Top4top, the Internet Archive, Mail.ru, Dailymotion, file.fm, Gulfupload, mega.nz, nofile.io, ok.ru, Streamable, Dropbox, tune.pk and Mediafire: 48 hours after the video was uploaded, it was still available on at least seven sites: Facebook, Dropbox, Gulfupload, Mega.nz, nofile.io, ok.ru and Tune.pk.
"Tech's supposed ban on terrorist content should have meant that video of the Sri Lanka attackers was never uploaded in the first place or, at the very least, taken offline within moments of being uploaded. That neither of these things happened shows again that the 'ban' on terrorist content is more bark than it is bite," said CEP Executive Director David Ibsen. "With each successive terrorist attack, the public has received promise after promise that the industry would do a better job of removing online extremist content. The fact that content related to the Sri Lanka attack is still available on major platforms, such as Facebook, even 48 hours after it has been uploaded, provides yet another proof point that tech companies' promises are all rhetoric and no action."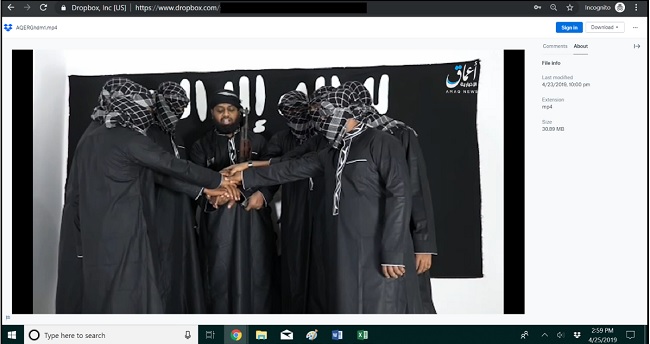 ISIS Amaq News Agency video featuring the Sri Lanka attackers on Dropbox, over 48 hours after it was uploaded. April 25, 2019.
Video of Alleged Leader of Sri Lankan Terrorists Zahran Hashim on YouTube Following Bombings
A video of Zahran Hashim, the alleged leader of the pro-ISIS group that carried out the Easter Sunday terror attacks in Sri Lanka, was on YouTube following the attack, and spread via a pro-ISIS Telegram channel. The video was located by CEP researchers on April 23 and removed by YouTube later that day for "violating YouTube's Community Guidelines." The video had over 700 views before it was taken down.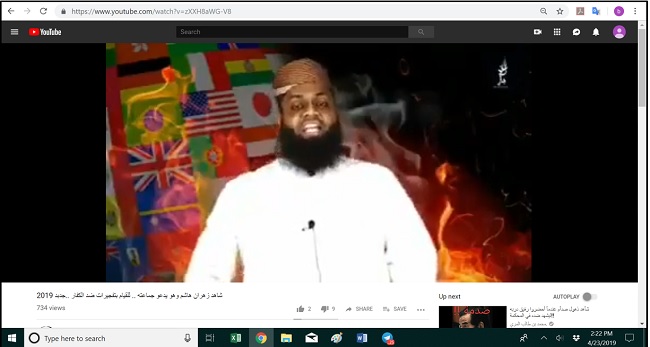 Propaganda video featuring Zahran Hashim, on YouTube on April 23, 2019.
Online Pro-ISIS Groups Release Propaganda Praising Sri Lanka Attacks
Online pro-ISIS groups released numerous pieces of propaganda on Telegram praising the Easter Sunday terrorist attacks in Sri Lanka. Images posted on the chat program included images featuring ISIS fighters, photos taken after the bombings, and messages proclaiming victory and promising more violence. Online pro-ISIS groups release propaganda to encourage ISIS's supporters, and for wider dissemination. The pro-ISIS Al Taqwa Foundation released a video on Telegram and the cloud storage site Nextcloud that glorified the bombers.
ISIS Amaq News Agency Posts Execution Video
ISIS's Amaq News Agency posted a video to several websites on April 25 that shows an alleged soldier serving in the Multinational Joint Task Force being executed by beheading in Borno, Nigeria. In addition to Telegram, the video was uploaded to at least nine websites: Google Drive, Google Photos, the Microsoft One Drive, Amazon Drive, the Internet Archive, mega.nz, mail.ru, Dropbox and Yadi.sk.  Approximately five hours later, the video was still available on Google Photos and Yadi.sk.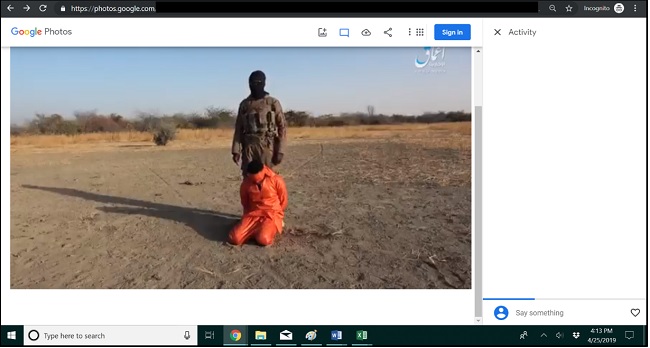 ISIS Amaq News Agency video on Google Photos. Located April 25, 2019.
Online T-Shirt Store Selling User Generated Products Endorsing White Supremacist Groups and Ideology
T-shirts endorsing white supremacist ideology, groups, and violence were located on the site Teespring. Teespring features user generated designs that can be printed on a variety of clothing including t-shirts, sweatshirts, baby onesies, among other things. Content located endorsed the white supremacist group Identity Evropa, the Greek fascist political party Golden Dawn and the neo-Nazi World Church of the Creator. Additional shirts praised the neo-Nazi book Siege, the white supremacist murderer Dylann Roof, and neo-Nazi slogans such as the 14 Words. Merchandise on Teespring is printed to order.
The shirts available on Teespring violate the site's Terms of Service. Teespring forbids content that "promote(s) or glorify hatred toward people based on their age, race, ethnicity, national origin, gender, gender identity, sexual orientation, disability and religion, including people, organizations or symbols dedicated to hatred against these groups." Teespring additionally forbids "content that promotes or glorifies harm or violence to individuals or others, including campaigns in support of self-harm, incitement to violent acts, and praise or reverence of terrorist groups or figures."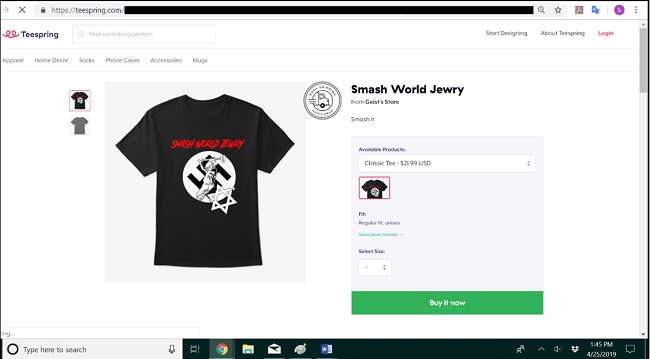 Shirt reading "Smash World Jewry" located on Teespring.  April 25, 2019.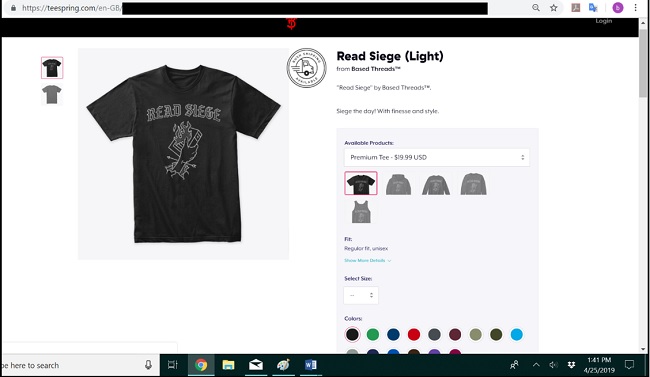 Shirt advocating the neo-Nazi book Siege on Teespring.  April 25, 2019.
European Neo-Nazi Group Posts YouTube Video Celebrating Hitler's Birthday
A European neo-Nazi group that follows the book Siege and has previously advocated for violence posted a video on YouTube on April 23 that shows individuals putting up posters and graffitiing the group's email address in an unknown European location. The event was intended to commemorate Hitler's birthday on April 20th. As of April 25, the clip had over 130 views and several comments praising the video.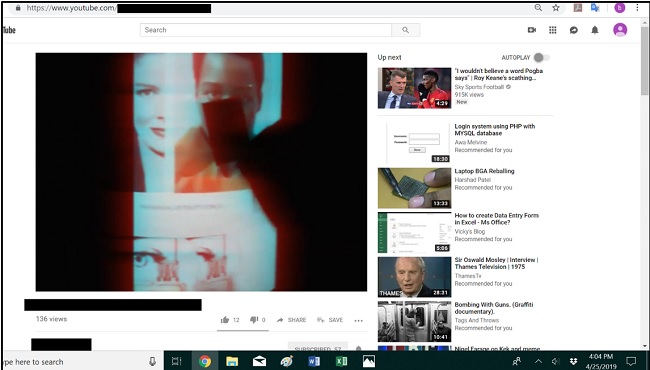 Video from a European neo-Nazi group on YouTube. Located April 25, 2019.