For Immediate Release
Monday, April 20, 2020
(New York, N.Y.) – The Counter Extremism Project (CEP) reports weekly on the methods used by extremists to exploit the Internet and social media platforms to recruit followers and incite violence. This week, CEP researchers located multiple pro-ISIS and neo-Nazi accounts advocating for violence on the Instagram platform. CEP also found that Telegram increased its removal of ISIS channels, chats and bots during the month of April. Additionally, ISIS claimed responsibility for the first time for a terror attack in the Maldives, while the pro-ISIS Internet group "Cyber Caliphate Shield" released a new video on Telegram and numerous websites. Finally, a neo-Nazi Internet security group announced the formation of an offensive cadre for the purposes of infiltration and sabotage, and Kohti Vapautta, a Finnish neo-Nazi group closely linked to the Nordic Resistance Movement distributed violent propaganda on multiple social media platforms.
Multiple Pro-ISIS And Neo-Nazi Accounts Located On Instagram
Between April 11 and April 16, CEP researchers located multiple accounts posting ISIS and neo-Nazi propaganda on Facebook-owned Instagram. Content on pro-ISIS accounts included segments from the group's propaganda videos showing combat and footage of suicide bombings. ISIS content was posted in March and April of 2020, videos had up to 80 views. Neo-Nazi Instagram accounts included stores selling anti-Semitic and Nazi themed clothing, accounts calling for acts of violence, and an account belonging to a New England based neo-Nazi gang.
"Although many neo-Nazi and pro-ISIS users have have generally migrated to platforms such as Telegram or RocketChat in order to spread violent propaganda, Facebook-owned Instagram continues to be a site where both movements seek to maintain a presence," said CEP Researcher Joshua Fisher-Birch. "In January, a similar anti-Semitic and white supremacist account was found that sought to threaten and intimidate Jews. Instagram must act decisively to remove these accounts that blatantly violate their Community Guidelines and prevent extremist and terrorist groups from seeking to incite violence on the platform."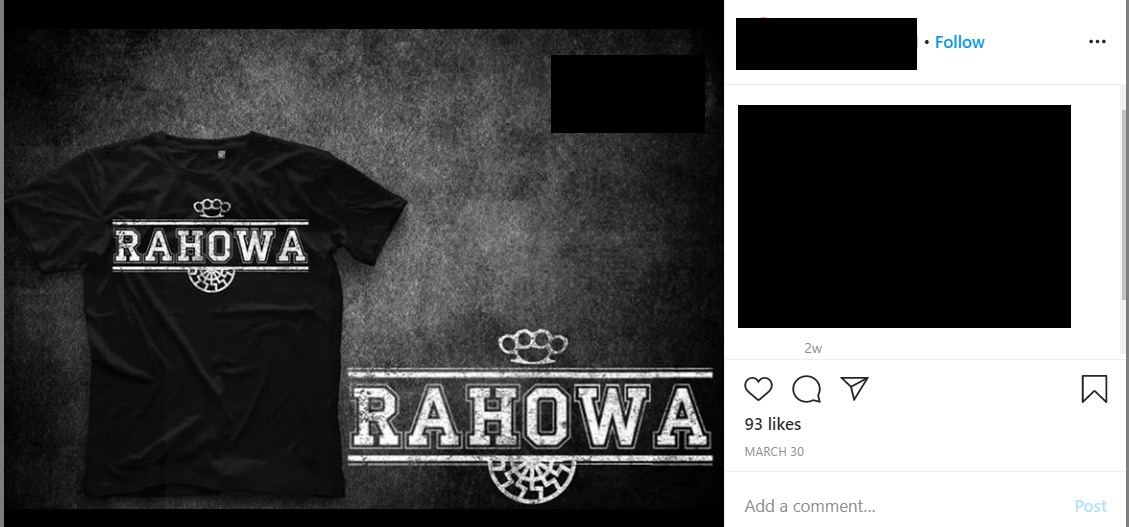 T-shirt for sale by a Ukrainian neo-Nazi clothing company on Instagram. "Rahowa" refers to "racial holy war."
Telegram Increases Removal Of ISIS Channels
Telegram increased their removal of ISIS channels, chats, and bots so far during the month of April. For the months of January, February, and March 2020, Telegram claimed to have removed on average 818, 819, and 990 (approximately) ISIS channels, chats, and bots per day. As of April 15, Telegram claimed to have removed an average of 1,867 ISIS channels, chats, and bots per day. The terrorist group has continued to spread propaganda on Telegram, despite the increased rate of content removal.
ISIS Claims First Attack In The Maldives
ISIS claimed their first official attack in the Maldives in the group's April 16 release of the weekly al-Naba newsletter. ISIS claimed to have attacked five Maldivian government boats on April 15 using incendiary weapons. Local authorities identified an ambulance boat, two dinghies, and four speedboats, including a police vessel, which were damaged. The Maldivian government blamed the attack on a "gang war." The al-Naba newsletter was available on Telegram, RocketChat, the Internet Archive, and Top4top.
A pro-ISIS group claimed responsibility for a February 4 stabbing on the island of Hulhimalé near the Maldivian capital of Malé, which resulted in injuries to three tourists. ISIS did not officially take responsibility for the attack. CEP reported legacy pro-ISIS Maldivian blogs on the WordPress platform in mid-February, which were removed.
Pro-ISIS Cyber Group Releases New Video On Multiple Websites
The pro-ISIS group Cyber Caliphate Shield released a new video on April 15. The video claims to show the defacement of South African commercial websites and the posting of ISIS propaganda on them. The video also shows a user accessing a password protected area of a French company's website.
In addition to Telegram, the video was posted on at least eight other websites on April 16: Amazon Drive, the Internet Archive, Dropbox, the Microsoft One Drive, Mail.ru, Ok.ru, file.fm, and pc.cd. Approximately six hours later, the video was still available on at least five websites in addition to Telegram: the Internet Archive, Mail.ru, Ok.ru, file.fm, and pc.cd.
Neo-Nazi Internet Security Group Announces Formation Of Offensive Cadre
A neo-Nazi internet security group announced on April 14 that they were in the process of forming a small cadre for the purposes of online "infiltration" and "sabotage." In March 2020, in response to COVID-19, the group endorsed the tactic of accelerationism. The group has previously released cyber and information security manuals. The group's Telegram channel had over 2,600 members on April 16.
Finnish Neo-Nazi Group Spreads Propaganda On Multiple Social Media Platforms
The week of April 11 to April 16, CEP researchers located multiple pages for the Finnish neo-Nazi group, Kohti Vapautta (KV). The group, whose name translates to "Towards Freedom," was founded in 2019, following a Finnish court order banning the Nordic Resistance Movement (NRM) for inciting hatred and promoting violence. NRM is currently appealing the court's ruling. Finnish law enforcement believe that Kohti Vapautta is closely linked to NRM and that the two groups share members and ideology.
KV maintains a website, a Telegram channel, a page on the Russian social media site VK, and a Twitter account. An essay on KV's website calls for the extreme right in Finland to take advantage of the COVID-19 crisis there, and to march in protests in order to blame a predicted financial crisis on "globalist criminals" and immigrants. The same essay also lashed out at Finnish politicians deemed insufficiently nationalist, and called for Finland to leave the European Union. The website uses Cloudflare as its name server.