For Immediate Release
Monday, June 27, 2022
(New York, N.Y.) — The Counter Extremism Project (CEP) reports weekly on the methods used by extremists to exploit the Internet and social media platforms to recruit followers and incite violence. Last week, CEP researchers found extremist content on YouTube and Meta platforms. On YouTube, several pieces of white supremacist and antisemitic content were located, including content promoting the active club movement. On Instagram, several pro-ISIS accounts were located that posted a variety of propaganda from the terrorist group. And on Facebook, several pro-ISIS accounts were found that similarly posted ISIS propaganda.
In addition, an ISIS propaganda video was released on several websites on June 23. CEP reported three pages posted by the pro-ISIS group Al-Saqri Foundation on JustPaste.It, two of them containing instructions for making explosives. Finally, there was a blog posted on the WordPress platform promoting Holocaust denial and antisemitism as well as glorifying Nazi Germany.
White Supremacist and Antisemitic Content Located on YouTube
CEP found several examples of white supremacist and antisemitic content on YouTube last week. Researchers located an account that posted content affiliated with the Rise Above Movement linked active club movement, including videos of content from white supremacist musicians and an interview with the movement's founder, Robert Rundo. The channel had been on YouTube for four months and had almost 80,000 views for 15 videos when it was located. CEP also located a video posted in November 2021 with over 750 views that featured an interview with Rundo, where he provided advice for starting small localized white supremacist crews.
Additional YouTube content included music modeled on a Serbian nationalist song used by the Christchurch attacker in his video but modified to have lyrics related to the U.S. that advocated violence against "communists and feminists." An account uploaded a video of the burning of an Australian Aboriginal flag and videos featuring the Australian neo-Nazis Thomas Sewell and Jaz Searby. The account was created on September 10, 2020, and had over 2,000 views. An account that posted four videos advocating antisemitism and Holocaust denial was created on May 17, 2022, and had 75 views on June 23. CEP located an account that used an antisemitic name and a photo of the alleged perpetrator of the Pittsburgh synagogue shooting as a display name. CEP also located a YouTube account promoting a white supremacist podcast that glorified the man who murdered nine African Americans at a Charleston church in June 2015.
CEP reported all seven videos or accounts to YouTube, however they were all still accessible four days later.
Pro-ISIS Content Located on Instagram
CEP located several pro-ISIS accounts on Instagram from the week of June 19 to June 25. In a sample of ten accounts, CEP researchers found content that included clips from official and unofficial ISIS propaganda videos, ISIS propaganda photos, Amaq news statements, and a video showing the pages of a recently released ISIS al-Naba newspaper. CEP also located a full version of the ISIS video "From the Land of al-Sham to the Lions of Africa," released on June 23, 2022. The ten accounts had an average of 341 followers, ranging between 73 and 792 followers. Of the ten accounts reported, Instagram removed two after they were reported by CEP. At least one account had a video removed that displayed written ISIS propaganda, however the account remained online. The ISIS propaganda video released on June 23 was also still accessible four days after CEP reported it.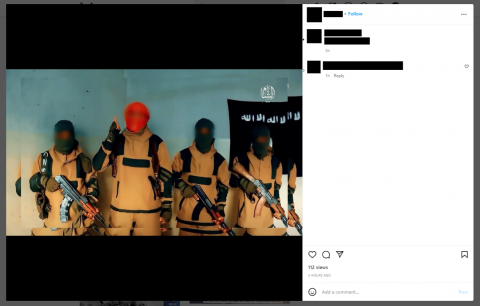 ISIS propaganda video "From the Land of the Levant to the Men of Africa," released on June 23 on Instagram, three hours after upload. The video was modified with a double image in an effort to evade removal. The video was still accessible four days later.
Pro-ISIS Content Located on Facebook
CEP located seven pro-ISIS accounts on Facebook. The seven accounts posted statements supporting ISIS, links to ISIS propaganda on other websites, statements from ISIS Amaq news and Amaq photos, and clips from ISIS propaganda videos. Some posts had dozens of comments and hundreds of likes/reactions. CEP reported the accounts to Facebook who removed two of the seven accounts.
ISIS Propaganda Video Released on Multiple Websites
On June 23, ISIS released a propaganda video via their self-proclaimed Sham province in Syria titled
"From the Land of al-Sham to the Lions of Africa." The video shows several groups of small cells of fighters congratulating the successes of ISIS fighters in the group's African provinces.
The video was posted on Telegram, RocketChat, Hoop, and pro-ISIS websites. The video was also located on Dropbox, MediaFire, Mail.Ru, Ok.Ru, Instagram, and the Internet Archive. Dropbox, MediaFire, Mail.Ru, and Ok.Ru removed the video after CEP reported. The Internet Archive made the video only available to logged in users after CEP reported it.
Three Pro-ISIS Pages, Including Two Explosives Guides, Located on JustPaste.It
CEP researchers found three pages allegedly posted by the pro-ISIS group Al-Saqri Foundation on JustPaste.It on June 22 and June 24. The Al-Saqri Foundation publishes manuals on the manufacture and use of explosives, poisons, and other weaponry. One page, posted on June 21, contained instructions for the homemade production of an explosive compound and had over 35 views when it was reported. Another page, located on June 24, also contained instructions for creating explosives. The final page contained information on locating a Telegram bot to find additional al-Saqri Foundation content. JustPaste.It removed all three pages after CEP reported them.
Antisemitic and Pro-Holocaust Denial WordPress Blog Located
CEP located a blog on the WordPress platform that glorified Nazi Germany, contained antisemitic content, and promoted Holocaust denial. Content included texts and speeches by Nazi leaders, including Adolf Hitler and Joseph Goebbels, among others, essays and videos that praised Nazi Germany, pieces that promoted antisemitism, including blaming Jews for the invention and spread of communism, and content claiming that the Holocaust was part of a vast conspiracy by Jews and the Allied nations. The blog was followed by 383 different email addresses and contained links to content on other websites. The blog was still accessible three days after CEP reported it to WordPress.