Press Contact:
Media at CEP
Additionally, ISIS Uploads its Content to 27 Different Websites
The Counter Extremism Project (CEP) reports weekly on the methods used by extremists to exploit the Internet and social media platforms to recruit followers and incite violence. This week's edition details the 27 websites used by ISIS to spread violent propaganda videos and how the far right and European neo-Nazi groups are using Telegram and Gab.
European Neo-Nazi Groups Continue to Threaten Violence on Gab
On Wednesday, June 12, a Gab page allegedly belonging to the German chapter of the Atomwaffen Division (AWD) posted photos of two flyers threatening German Muslims. One shows a drawing of a man dressed in camouflage attacking a praying Muslim man with an axe, the other proclaims that Muslims are "legitimate targets" and that attacks against them will start unless they leave Germany. Deutsche Welle reported that these flyers were disseminated in Cologne and Frankfurt, and in the city of Mülheim on the fifteenth anniversary of a bomb attack against the Muslim community by the neo-Nazi terrorist gang National Socialist Underground (NSU).
"Atomwaffen Division and Europe's neo-Nazi groups continue to grow in no small part due to the online echo chambers that social media platforms facilitate," said CEP Executive Director David Ibsen. "Despite their well-chronicled links to terrorism, including in CEP's previous writings, AWD and the neo-Nazi manifesto Siege continue to live online. Their online megaphones serve as flyers for recruitment and will turn into calls for real life violence."
A neo-Nazi group inspired by James Mason's book Siege and the AWD has declared themselves "ready for combat" on their Gab page in a post on June 10. On June 13, the group posted in a German language forum on Gab that they were looking for recruits, showing an individual posing with a rifle while wearing a patch of the group's logo. The same day, the group announced the formation of a chapter in the United Kingdom and Ireland. The group has previously praised alleged killers Robert Bowers and Brenton Tarrant and has called for violence against Muslims, Jews and Belgian MEP Guy Verhofstadt. In late May, the group, who are thought to have members in the Netherlands and Estonia, claimed that their supporters publicly posted the organization's flyers in Norway and on the east coast of the United States. The group has had at least one former Gab profile deleted for unknown reasons; the current page being used was created in May 2019.
Extreme Right-Wing Telegram Channel Praises Omar Mateen / Pulse Shooting
A Telegram channel that praises extreme right-wing violence, including the mass shootings of African Americans, Muslims, LGBT people and Jews, celebrated the third anniversary of the Pulse nightclub shooting. The account posted several photos of the gunman, with the caption "Hail Omar Mateen" and a link to a mega.nz folder containing crime scene photos of the massacre, including several dead bodies. Mateen killed 49 and wounded 53 people at Pulse, a gay nightclub in Orlando on June 12, 2016. He allegedly pledged his allegiance to ISIS's leader Abu Bakr al-Baghdadi in a Facebook post and in a 911 call made during the attack.
ISIS Releases New Video on Several Websites
On June 11, ISIS released a new video from the group's self-proclaimed Dijlah province in Iraq, titled "Separation of the Heads 2". It shows night raids and numerous executions committed by ISIS forces against individuals identified as Sunnis and members of the Iraqi security forces. Links to the video were spread via Telegram, Twitter, Mastodon and JustPaste.It.
In addition to Telegram, the video was released on at least 27 websites: top4top, Myspace, uppom, Amazon Drive, Anonfile, the Internet Archive, the Microsoft One Drive, cclip.ir, Dailymotion, Google Drive, Google Photos, file.fm, mega.nz, ok.ru, tune.pk, megaup, transfer.sh, Vimeo, Vidbom, Zupload, uploadfiles.io, Dropbox, khlgy.com, Mediafire, Vidio, mail.ru and yadi.sk. Approximately 24-48 hours later, the video was still active on 21 sites in addition to Telegram: Myspace, Anonfile, the Microsoft One Drive, top4top, the Internet Archive, file.fm, ok.ru, tune.pk, uploadfiles.io, Dropbox, Vimeo, khlgy.com, transfer.sh, mega.nz, mail.ru, Mediafire, Vidio, Mediafire, cclip.ir, yadi.sk and Zupload.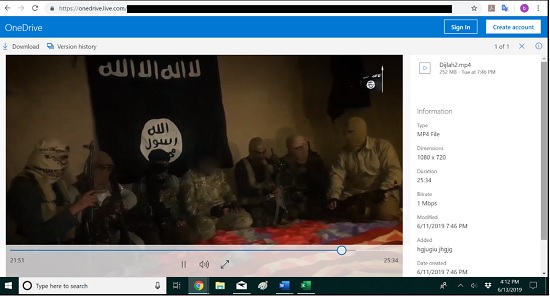 "Separation of the Heads 2" on the Microsoft One Drive, June 13, 2019.