For Immediate Release
Monday, May 10, 2021
(New York, N.Y.) – The Counter Extremism Project (CEP) reports weekly on the methods used by extremists to exploit the Internet and social media platforms to recruit followers and incite violence. Last week, Facebook and Facebook-owned Instagram respectively were found to have hosted pro-ISIS accounts for months and neo-Nazi and white supremacist content, including from the Christchurch terrorist attack, encouraging violence.
Additionally, ISIS propaganda was located on Telegram's Telegra.ph feature which showed combat between ISIS and Nigerian security forces allegedly near the village of Kanama in Yobe state. Lastly, CEP researchers located two pro-ISIS websites. The first website, on the .blog domain used services provided by WordPress and the second website was hosted on Blogspot.
Pro-ISIS Accounts Located on Facebook
CEP researchers located four pro-ISIS accounts or pages on Facebook the week of May 2 to May 8. Content posted by the accounts included full-length ISIS propaganda videos and video clips taken from official ISIS videos, propaganda photo sets, text-based propaganda, and links to pro-ISIS content on other websites. Videos and video clips included scenes of graphic violence, including executions. Accounts were activated or began posting ISIS content in August 2020, January 2021, March 2021, and April 2021. The two recently activated accounts had a low engagement, with fewer than five likes or reactions per post, while the two pages, created in August 2020 and January 2021, had over 150 and 500 followers, respectively.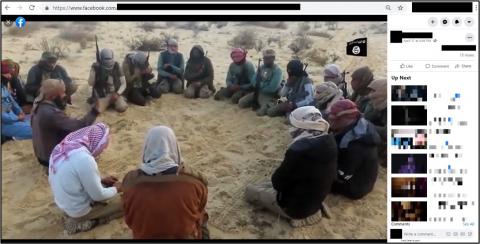 The ISIS propaganda video "Makers of Epics 2" on Facebook, 20 days after it was first posted on the platform.
Neo-Nazi and White Supremacist Content Encouraging Violence, Located on Instagram
CEP researchers located several neo-Nazi and white supremacist accounts on Instagram, including profiles that posted content encouraging violence.
CEP found three different accounts that posted photos promoting the Christchurch terrorist attack and promoting violence against Muslims. Photos included a still image taken from the Christchurch attack video with a neo-Nazi symbol and text encouraging violence, a picture of the Christchurch terrorist with still photos taken from the attack and text promoting violence, and a photo of the cover of the terrorist's manifesto. The three images had four likes in approximately one day, 19 likes in six days, and 41 likes in 14 months. 
CEP also located an approximate 1 minute 45-second video montage made up of Atomwaffen Division (AWD) propaganda footage taken from several of the organization's videos. The video had over 50 views in four days. The account that posted the video had a neo-Nazi numerical code in the username and used a neo-Nazi symbol as its account photo. The same account had posted other pro-AWD propaganda and content that encouraged acts of lone-actor violence for at least six days.
An account was located that posted recruiting material for the American Nazi Party and two accounts that used the Patriot Front logo and posted the group's propaganda photos or slogans.
ISIS Propaganda Located on Telegram Bulletin Board Site
CEP researchers located two ISIS propaganda photo sets on the Telegram linked bulletin board website Telegra.ph. Telegra.ph allows Telegram users to share content with individuals who do not have Telegram accounts or prefer to share information in a bulletin board format. One photo set, from ISIS's self-proclaimed province in Sinai was posted on May 4, 2021, and the other photo set, from the group's self-proclaimed West African province was posted on May 5, 2021. The Sinai photo set shows ISIS fighters praying, cooking, and performing weapons maintenance. The West African province photo set shows combat between ISIS and Nigerian security forces allegedly near the village of Kanama in Yobe state. Links to both photo sets were located on RocketChat, in an example of how propaganda is spread using more than one communications platform. 
Pro-ISIS Websites Located
The week of May 2 to May 8, CEP researchers located two pro-ISIS websites. The first website, on the .blog domain, used services provided by WordPress. The site was affiliated with a pro-ISIS media group and contained links to the group's accounts on several communications platforms. The blog also posted various translated statements from ISIS's former leadership and posted links to ISIS's official weekly newsletter, al-Naba.
On the Blogspot platform, the second website posted a wide variety of ISIS propaganda, including photo sets, statements from ISIS's former leadership, and news items from ISIS's Amaq News propaganda outlet. The website has not posted new content since November 2020, however it contains an extensive archive.