For Immediate Release
Friday, December 16, 2022
(New York, N.Y.) — The Counter Extremism Project (CEP) reports weekly on the methods used by extremists to spread propaganda, recruit followers, and incite violence on popular social media platforms in order to hold companies accountable for failures to prevent the dissemination of extremist and terrorist content.
In a sample of content located on Meta-owned Instagram on December 14, CEP researchers located 15 accounts that posted white supremacist, neo-Nazi, anti-Muslim, and/or antisemitic content. One account used a photo of the Christchurch terrorist as a profile photo and another posted an approximately 20-second video glorifying the Christchurch terrorist, which included footage from the attacker's live-streamed video. This is not the first instance of CEP locating footage of the attack on Instagram. In March 2021, CEP located an account that posted an approximately 30-second clip from the Christchurch terrorist attack that was slightly modified so that the attacker made a different vocal statement.
Other profiles that CEP located on December 14 posted anti-black, anti-Muslim, and antisemitic content, including memes, drawings, and video clips. Accounts also made posts promoting Holocaust denial, neo-Nazism, and advocating for violence against Jews. One account that uploaded a large quantity of neo-Nazi content promoted James Mason's book Siege. Three accounts posted propaganda from the Atomwaffen Division, one of which linked to a Holocaust denial video on another platform in the profile description. Another account posted memes promoting attacks on electrical infrastructure.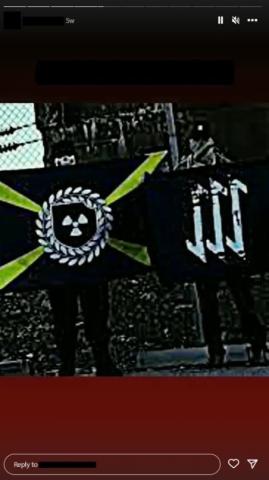 Instagram story post promoting the Atomwaffen Division and The Base posted by an account that referenced neo-Nazism in the handle. Located on Instagram on December 14.
The accounts had between zero and 9,475 followers, with an average of 880. The profile that posted the video containing footage from the Christchurch attack had over 50 followers.
CEP reported 13 accounts directly to Instagram and referred an additional two accounts to relevant national authorities. Approximately two days later, ten of the 13 accounts that CEP reported directly to Instagram were still online.