For Immediate Release
Friday, November 4, 2022
(New York, N.Y.) — The Counter Extremism Project (CEP) reports weekly on the methods used by extremists to exploit Meta-owned Facebook to spread propaganda, recruit followers, and incite violence in order to hold the popular social media platform accountable for its failure to prevent the dissemination of extremist and terrorist content.
In a sample of content located on November 3, CEP researchers found 10 pro-ISIS Facebook profiles. The accounts posted a variety of ISIS and pro-ISIS propaganda, including a full-length official ISIS video, pro-ISIS videos, clips from ISIS videos, recently released Amaq news videos, text-based propaganda, photos, and audio statements. The 10 accounts had an average of 349 friends or followers, ranging between four and 990. CEP reported the 10 accounts to Facebook on November 3. Approximately 24 hours later, all 10 profiles were still online.
One account also posted contact information for the Telegram bot for the al-Saqri Foundation, which publishes manuals on the manufacture and use of explosives, poisons, and other weaponry.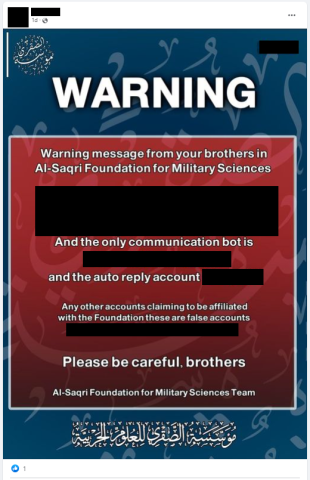 Al-Saqri Foundation message posted on Facebook. Screenshot taken on November 3, 2022.
Another account posted a full-length, previously released ISIS video modified to evade detection and removal. Video images were doubled, colors were altered, but ISIS logos remained in the video. The video "Inside the Caliphate 8" encourages acts of lone-actor terrorism, including the use of explosives and vehicular attacks. The video had accumulated 88 views, four reactions, and 13 comments in the 25 days after it was uploaded. CEP reported the video to Facebook on November 3, but it was still online approximately 24 hours later.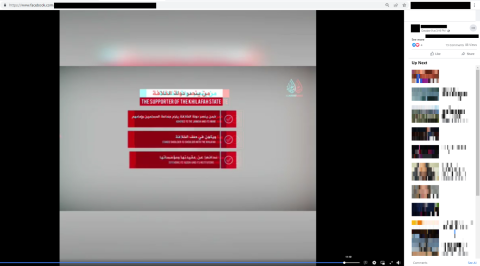 The modified ISIS video "Inside the Caliphate 8" on Facebook. Screenshot taken on November 3, 2022.
The video was originally released by ISIS's Al Hayat Media Center on October 30, 2018. The upload that CEP found was added to Facebook on October 9, 2022. CEP located and reported a copy of the same video on another Facebook profile in September 2020.
Among the propaganda that CEP located included an Amaq news video celebrating the ISIS-claimed attack on October 26 at the Shah Cheragh Shrine in Iran, where 15 people were killed and more than 40 wounded.