For Immediate Release
Monday, October 28, 2019
The Base Releases New Neo-Nazi Propaganda Video; White Supremacists Celebrate Anniversary Of Pittsburgh Synagogue Shooting
(New York, N.Y.) – The Counter Extremism Project (CEP) reports weekly on the methods used by extremists to exploit the Internet and social media platforms to recruit followers and incite violence. This week's edition found that a Dell advertisement appeared alongside an ISIS Amaq News propaganda video on the Russian website ok.ru. Additionally, there was no ISIS confirmation of Baghdadi's death approximately 48 hours afterwards, an ISIS radio propaganda broadcast was available on Soundcloud and Top4top. Lastly, a recruiting video from The Base was located on Internet Archive, a white supremacist message board and white supremacist Telegram channels celebrated the one-year anniversary of Robert Bowers' Pittsburgh synagogue shooting and extreme right Telegram channels reacted to a firearms seizure in Washington state.
ISIS Amaq News Video Located On ok.ru With Advertising
An ISIS Amaq News video that was located on the Russian video streaming platform ok.ru was found to have been paired with an advertisement from Dell. The video shows the execution of a man accused of belonging to Iraqi military intelligence. The 24-second clip was uploaded to 10 websites in addition to Telegram: file.fm, Streamable, tune.pk, ok.ru, yadi.sk, khlgy.com, top4top, Mediafire, the Internet Archive and Mega.nz. Approximately four days later in addition to Telegram, the video was still available on ok.ru and top4top.
"The announcement of Abu Bakr al-Baghdadi's death on Sunday was a major milestone in the fight against ISIS," said CEP researcher Joshua Fisher-Birch. "This is a moment to evaluate ISIS's continued online presence. Specifically, Dell advertising appearing before an execution video is appalling. We encourage Dell to either stop advertising on ok.ru, or to exert pressure as an advertiser to encourage the video streaming platform to better moderate its content."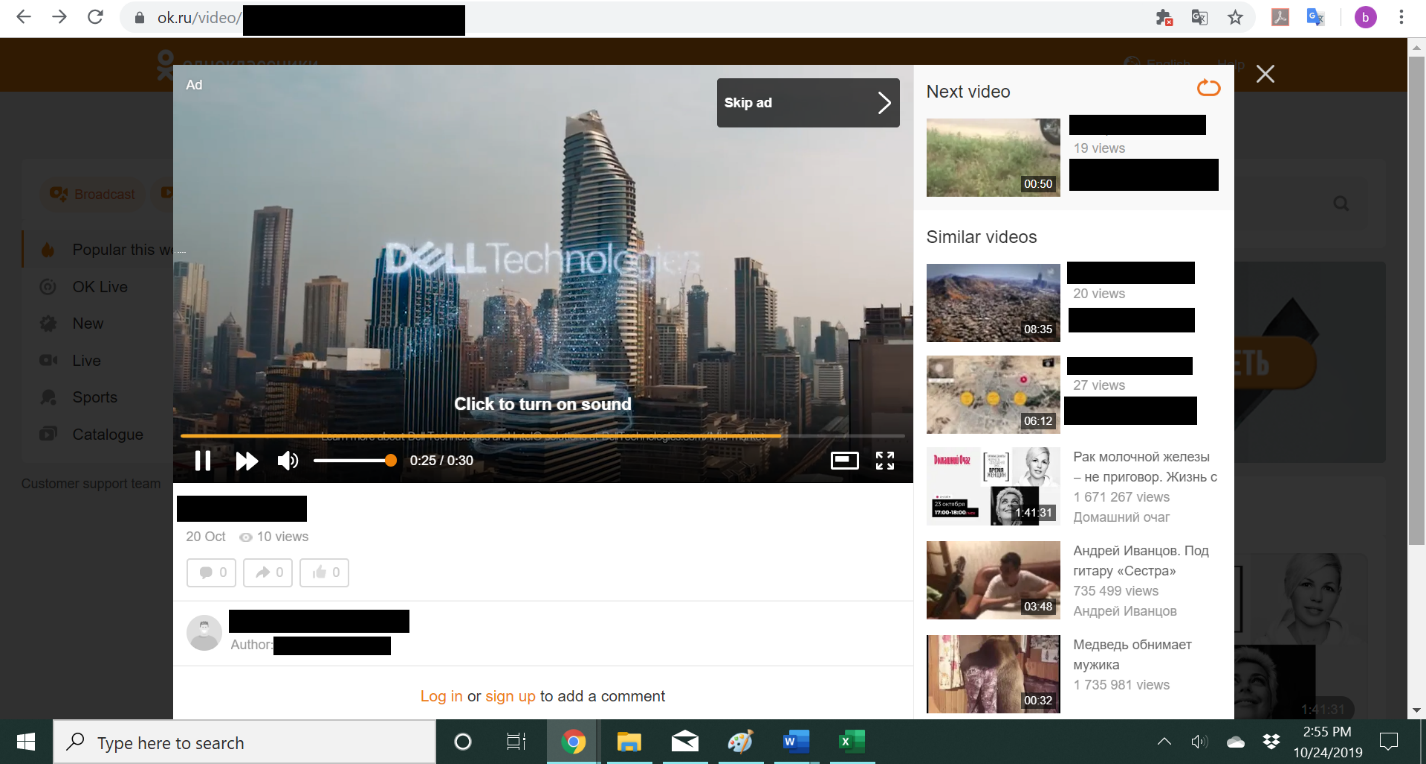 Dell advertisement preceding an ISIS Amaq News video on ok.ru. October 24, 2019.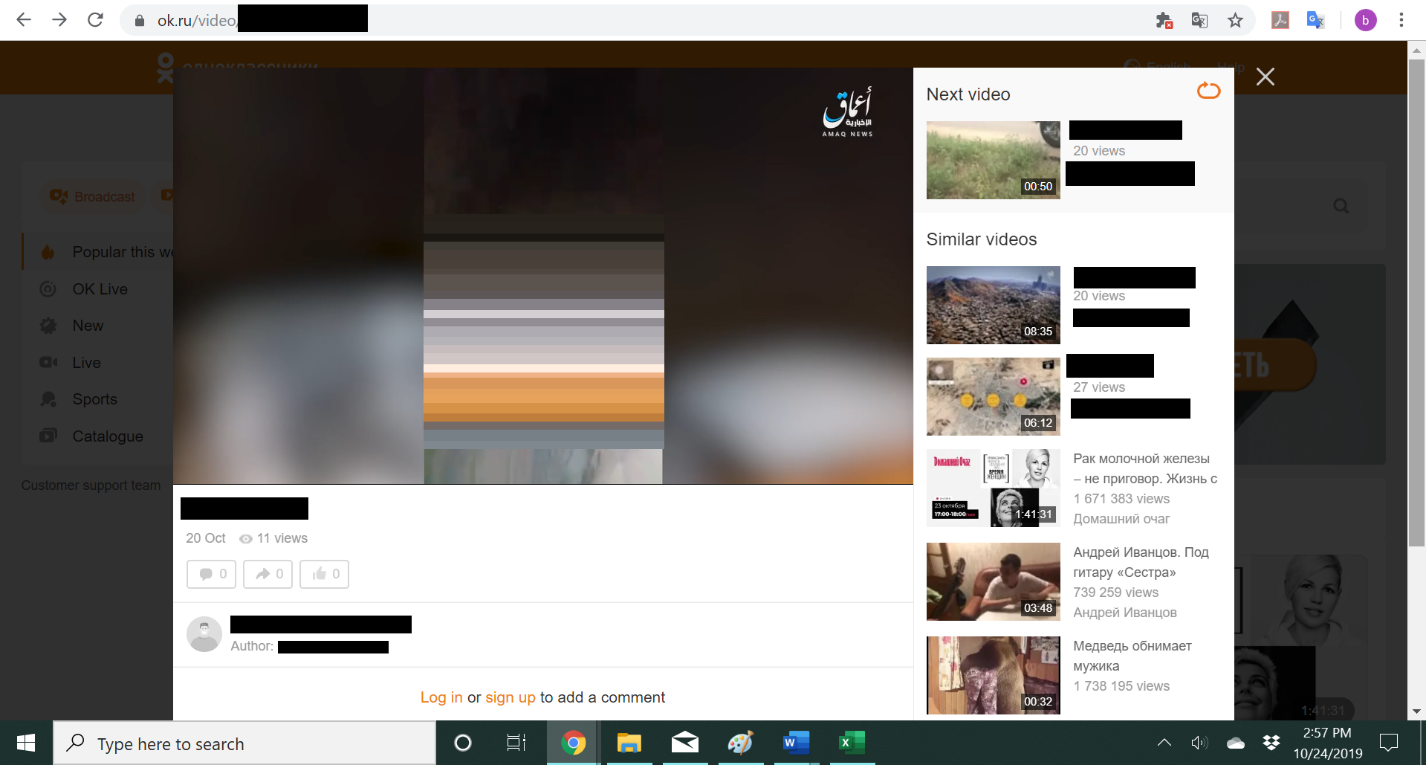 Amaq video showing an execution on ok.ru. October 24, 2019.
No ISIS Confirmation Approximately 48 Hours After Baghdadi's Death
Approximately 48 hours after Baghdadi's death during a U.S. special operations raid in Syria on October 26, ISIS still had not confirmed the event or released a statement. ISIS news channels on Telegram did not release an immediate statement. Discussions on pro-ISIS Telegram chats included individuals urging followers to wait for official confirmation and warning against spreading rumors or misinformation. Some ISIS supporters reacted to the news by discussing the concept of martyrdom, and stating that the group continue to exist and fight, re-pledging their support to the group.
ISIS Radio Propaganda Broadcast Available On Soundcloud And Top4top
Recent ISIS radio mp3 files from the group's Al Bayan radio station were located this week on Soundcloud and Top4top. The links, as well as backup mp3s, were spread on pro-ISIS Telegram channels. The propaganda radio broadcast included information in ISIS attacks in Syria and Iraq and urged the continuation of the group's fight. All ISIS Al Bayan radio broadcasts contain the same introduction. Both links on Soundcloud and Top4top were accessible approximately 24 hours after they were uploaded.
Recruiting Video From The Base Located On The Internet Archive, Group Announces New Recruiting Initiative In Australia
A recruiting video from the neo-Nazi self-described survivalist network, The Base, was located this week on the Internet Archive and Telegram. The same video was uploaded by two different accounts on the Internet Archive, one in late September 2019, the other on October 23. It was originally released in late September, and includes footage from two recent U.S. House Homeland Security Committee hearings on violence and white supremacism. The video also includes footage originally released in June, August, and September that shows members of The Base training with firearms, and shooting at a target with a Star of David.
The Base is an international white supremacist group that seeks to prepare its members for a race war. The group has operated several training camps in the U.S., disseminated bomb-making information, praised terrorists and mass shooters, and is friendly with the neo-Nazi group the Atomwaffen Division.
On October 24, recruiters for The Base announced a new drive for members in Australia on Gab. The group announced a new recruitment email address specifically for potential members from Australia using the service Proton Mail. The group has previously claimed to have members in Australia, and has sought recruits in Western Australia through online recruitment and posters in the city of Vincent. An older Australian recruitment poster featured the skyline of the city of Perth. Gab deleted the group's main account in the summer of 2019, but several of the group's supporters and recruiters still maintain profiles on the social media site.
Image Board and Telegram Channels Celebrate Robert Bowers On One Year Anniversary Of Pittsburgh Synagogue Shooting
Individuals on an image board popular with white supremacists celebrated the one-year anniversary of the Pittsburgh Synagogue shooting. A thread that began on October 22 praised Bowers' murder of 11 people during morning Shabbat services. The thread included memes and videos praising white supremacist mass shooters. The image board sought to increase their membership in the face of perceived crackdowns against white supremacist content on 8chan over the summer.
The image board uses GoDaddy as its registrar, and Cloudflare as its nameserver. Cloudflare ceased providing services to 8chan following the El Paso shooting in August, with their CEO Matthew Prince condemning the site for "unmoderated discussions…which glorified the previous  (Christchurch) massacre," calling it a "cesspool of hate."
White supremacist Telegram channels also praised Bowers on the anniversary of the shooting, and encouraged similar attacks in the future.
Extreme Right Telegram Channels React To Firearms Seizure
Extreme right Telegram channels reacted last week to the public acknowledgement of the seizure of firearms from a suspected member of the Atomwaffen Division in Washington state. Kaleb Cole, who is thought to be a state-wide leader for the group, had nine weapons, including assault rifles, pistols, and a shotgun, seized by authorities acting under an Extreme Risk Protection Order. The order, also known as a red flag law, can be used to remove firearms from the possession of someone thought to be a risk to themselves or others.
A Telegram channel popular with the extreme right noted that Cole's firearms were taken away because his allies allowed it to happen. The same channel noted that organization by white supremacists is necessary to stop their disarmament by the government. The story in the notorious white supremacist novel The Turner Diaries, about a race war and eventual genocide, begins with firearms confiscations. The novel was sold at gun shows and online using the slogan, "What will you do when they come to take your guns?"