For Immediate Release
Wednesday, September 6, 2023
(New York, N.Y.) — The Counter Extremism Project (CEP) reports weekly on the methods used by extremists to exploit the Internet and social media platforms to recruit followers and incite violence.
Last week, CEP researchers identified more than three dozen Google-translated copies of the Christchurch terrorist's manifesto on the Internet Archive. CEP researchers also found profiles on TikTok that posted clips from the Christchurch attack, praised the attacker, or advocated for further acts of violence. A recently released video from the Active Club movement was located on several sites, including Twitter.
CEP researchers also identified five more Instagram pages sharing antisemitic memes, neo-Nazi content, videos, and propaganda. On Telegram, the neo-Nazi accelerationist group Injekt Division praised the Jacksonville Dollar General shooter. Another Telegram channel, unaffiliated with any group, shared a video containing tips for making homemade explosive devices.
Finally, the pro-ISIS group al-Azaim Media released the 28th issue of the Voice of Khorasan web magazine. The latest edition encouraged violence against the Indian government and Hindu nationalist groups in retaliation for attacks on Muslims.
41 Different Translations of Christchurch Terrorist's Manifesto Located on the Internet Archive, Translated By Google
On August 29, CEP researchers located 41 translations of the Christchurch terrorist's manifesto on the Internet Archive. The manifesto, which advocates for violence against Muslims, immigrants, and others, was originally published online minutes before the attacker murdered 51 people at two mosques.
All 41 files were uploaded by the same account, which also uploaded a variety of other white supremacist and neo-Nazi content and links to white supremacist content on other websites. All files were in the Internet Archive's "fringe" and "deemphasized" collections and required being logged in to the site to view them.
All translations contained a note that they were "Machine Translated by Google," indicating that a PDF of the manifesto in English was uploaded and translated by Google Translate.
The manifesto was found translated into the following languages: Afrikaans, Albanian, Armenian, Azerbaijani, Belarussian, Bosnian, Bulgarian, Croatian, Czech, Danish, Estonian, Finnish, French, Georgian, German, Greek, Hungarian, Irish, Italian, Japanese, Kazakh, Korean, Kyrgyz, Latvian, Macedonian, Norwegian, Polish, Portuguese, Romanian, Russian, Scottish, Serbian, Slovakian, Slovenian, Spanish, Swedish, Tajik, Turkish, Turkmen, Ukrainian, and Welsh.

"Machine Translated by Google" from the manifesto translations located on the Internet Archive. Screenshot taken on August 31.
Trailer for White Supremacist Active Club Boxing Tournament Released
A media group affiliated with the white supremacist Active Club movement released a trailer on August 27, advertising an upcoming video showcasing a recent boxing tournament held in southern California. This was the second "Frontier" event, one year after the "Birth of a New Frontier" event in August 2022.
The video opens with a quote from Rob Rundo, the founder of the decentralized white supremacist movement, who was extradited from Romania on August 1 and is currently awaiting trial for conspiracy and rioting. The video shows members from several Active Club chapters and Patriot Front preparing for their bouts. Two individuals in the trailer can be seen wearing the logo for a southern California chapter of the neo-Nazi Hammerskins gang.
The video was also located on Twitter, posted by a verified account with over 9,500 followers and containing links to two different white supremacist websites, as well as a Twitter account connected to the Active Club media group. Both tweets were reported on August 31, but they were still online on September 5.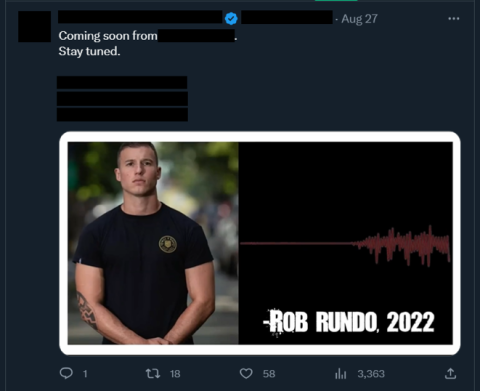 The tweet containing the Active Club trailer video. Screenshot taken on August 31, 2023.
White Supremacist Content Located on Instagram
In a sample of content on Meta-owned Instagram on August 30, CEP found five accounts that posted various white supremacist, antisemitic, and anti-Muslim content. Accounts and posts encouraged acts of violence against Jews and praised the Christchurch attack. An additional account posted Active Club propaganda and antisemitic content, including memes and a link to an antisemitic propaganda video. Another profile with over 100 followers praised the neo-Nazi group Aryan Freedom Network and made antisemitic posts. The five accounts were reported to Instagram on August 30. One of the accounts posted a clip from the Christchurch terrorist attack and encouraged violence against Muslims the day after CEP reported it. The accounts were still online on September 5.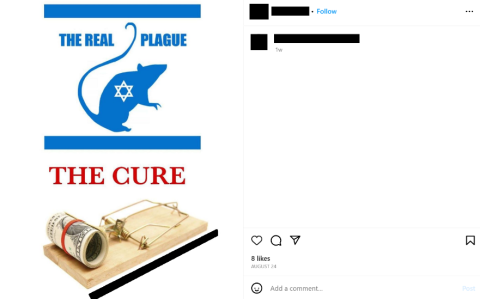 Antisemitic post on Instagram located on August 30. Screenshot taken on September 6.

One of the Instagram profiles located on August 30. Screenshot taken on August 31.
Pro-ISIS Web Magazine Voice of Khorasan Issue 28 Released
On August 27, the pro-ISIS al-Azaim Media released the 28th issue of the English language web magazine Voice of Khorasan. Articles encouraged joining ISIS, committing acts of terrorism, and financially supporting the group and accused a U.S. monitoring organization of showing ISIS in a negative light. Articles also accused Indian government officials and militant Hindu nationalist groups of encouraging and participating in anti-Muslim violence, stating that reprisal attacks were necessary, and condemned the Arab League for fighting against ISIS and allowing the Syrian regime under Assad to rejoin, among other offenses.
The web magazine was posted on the Internet Archive, who removed it after CEP reported it.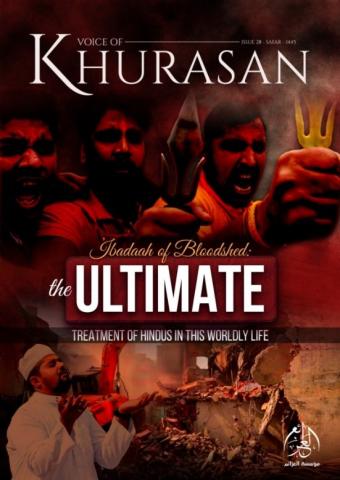 Clips From Christchurch Attack Video, Posts Promoting Violence Against Muslims Located on TikTok
CEP researchers located seven accounts on TikTok on August 31 that either posted clips from the Christchurch terrorist attack video, glorified the attacker, or advocated for violence against Muslims. The posts were made between June 28 and August 30. One meme that contained footage from the attack video had almost 6,000 views after being on the site for nine days, while a clip that included extreme violence and had been on the site for two weeks had over 780 views.
Neo-Nazi Accelerationist Group Praises Jacksonville Shooter
On August 28, a propaganda channel on Telegram affiliated with the accelerationist group Injekt Division released an image glorifying the perpetrator of the racist August 27 shooting attack at a Dollar General in Jacksonville, Florida, who murdered three people. The gunman, who painted swastikas on his rifle, and left behind racist writings allegedly praised Timothy McVeigh and other mass killers, was not known to be part of any group or have any connection to Injekt Division. A member of Injekt Division was arrested in May 2022 after allegedly planning a mass shooting at a Texas Walmart.
Neo-Nazi Telegram Channels Shares Video Offering Information on Nail Bombs
On August 29, a private neo-Nazi Telegram channel shared a video containing tips for the homemade manufacture of antipersonnel explosive devices using commercially available explosives and components. The video was originally made by an unconnected and non-political YouTube channel. The video was shared by at least four additional neo-Nazi Telegram channels that endorse violence.