For Immediate Release
Monday, April 13, 2020
(New York, N.Y.) – The Counter Extremism Project (CEP) reports weekly on the methods used by extremists to exploit the Internet and social media platforms to recruit followers and incite violence. This week, CEP researchers located a Nordic Resistance Movement (NRM) podcast on Spreaker spreading anti-Semitic conspiracy theories and urging listeners to help expel Jews from Scandinavia; there were 151 podcast episodes from the group in total. Additionally, two ISIS Amaq News propaganda videos were located on various platforms which showed combat in Nigeria and a statement from a man claiming to have been an aide to the head of Afghanistan's intelligence service. CEP also located at least 30 white supremacist or neo-Nazi Telegram channels commemorating the third anniversary of 11-year-old Ebba Akerlund's murder in the 2017 Stockholm truck attack. Finally, a neo-Nazi propaganda website praising racist terrorists and mass shooters was found.
Nordic Resistance Movement Spreads Anti-Semitic Conspiracy Theories On Spreaker
In a podcast released on April 8, two leaders of the Nordic Resistance Movement (NRM) alleged that countries worldwide are influenced and controlled by a secret Jewish conspiracy, and urged their listeners to support NRM and other anti-Semitic groups, as well as to work to expel Jews from Scandinavia. The podcast, titled "Leadership Perspective #5" features the group's leader Simon Lindberg and a member of the NRM's leadership circle, Fredrik Vejdeland, and was posted on the U.S. based podcasting website Spreaker. In total, there were 151 NRM podcast episodes on Spreaker on April 9, with titles such as "Corona Beard Babies," "Overreaching Jewish Anti-Whiteness," and "Genocide Confirmed."
"Spreaker should take immediate action to remove the neo-Nazi NRM's entire podcast collection of anti-Semitic conspiracies, hate speech, and bigotry," said CEP researcher Joshua Fisher-Birch. "The specific podcast in question calls for banishing and expelling Jews with a clear intent towards inciting real-world action against them. Spreaker's own Terms of Service, which appears to prohibit such behavior, must be consistently and transparently enforced."
Alleging a massive secret Jewish conspiracy, Lindberg and Vejdeland say Jews wish to "Take power from other races in the world and give it to the Jews in an attempt for total world domination." Lindberg and Vejdeland also blame a Jewish conspiracy for the immigration of non-whites to Europe and efforts to "destroy our people." The podcast concludes with the hosts stating that the solution is to "get the masses to understand that many Jews are…racial strangers with a goal of world domination." After people realize this, "we must banish the active subversive elements within society, regain power over our countries," and then "the Jews responsible must be expelled to some place where they can live segregated from other people and under supervision."
The podcast was posted on the NRM website using the podcasting platform Spreaker. Spreaker's Terms of Service forbid users from using the site to "defame, abuse, harass, use threatening practices, threaten or violate the legal rights of others in any other way," as well to use the site to "disseminate or publish content that is unlawful, obscene, illegitimate, defamatory or inappropriate."
ISIS Amaq News Videos Found On Multiple Websites
Two ISIS Amaq News Agency videos released the week of April 4-10 were located on various websites. The first video, released on April 5, shows combat between ISIS fighters and government security forces in Borno, Nigeria. The video features Nigerian forces who have been taken prisoner, and an execution. In addition to Telegram and RocketChat, the video was released on at least 10 websites: Amazon Cloud, File.fm, Tune.pk, Mail.ru, the Internet Archive, Dropbox, Top4top, Mediafire, the Microsoft One Drive, and Mega.nz. Four days later, the video was still available on at least four websites: Mail.ru, the Internet Archive, Top4top, and Mediafire.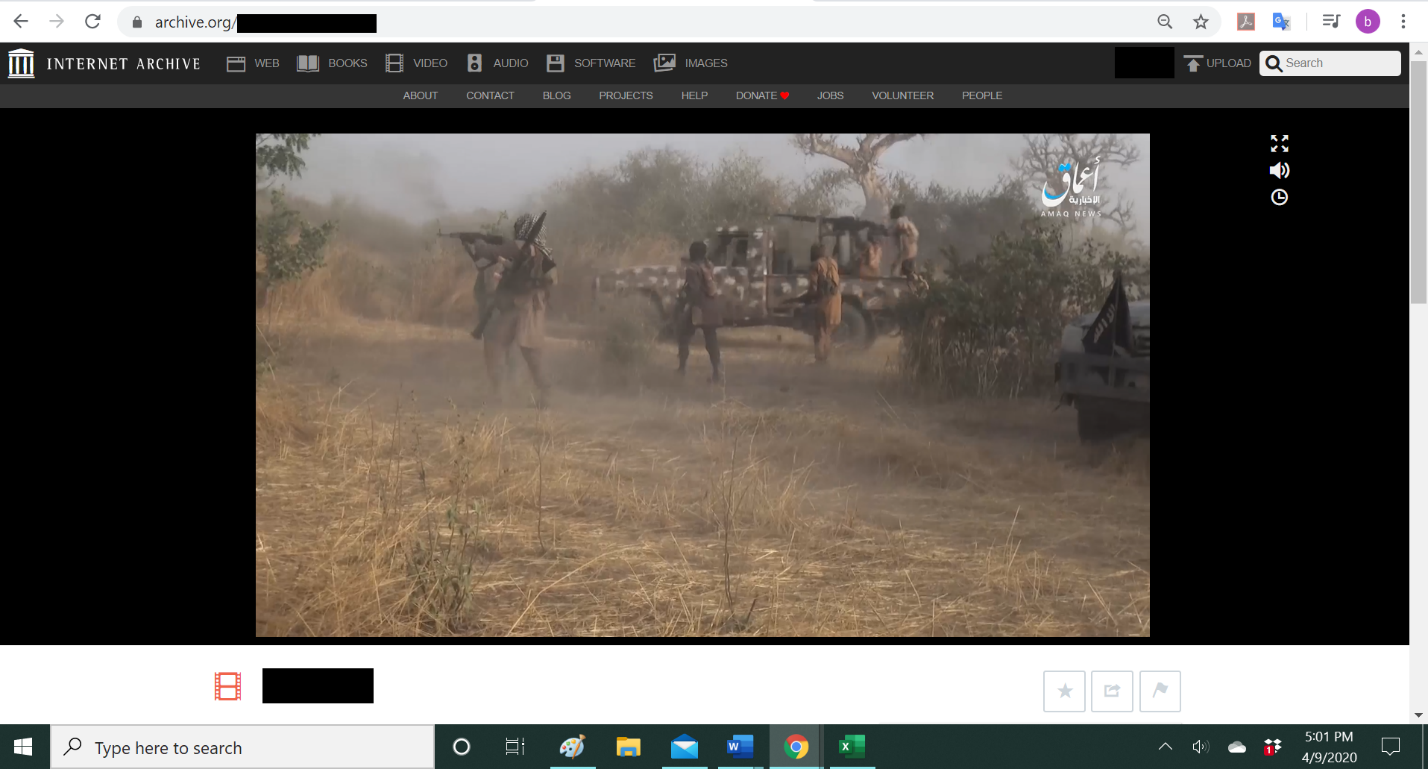 ISIS Amaq News video on the Internet Archive, four days after it was uploaded
The second video, also released on April 5, is a statement by a man identified as Colonel Ghulam Sakhi, who claims to have been an aide to the head of Afghan intelligence. Colonel Sakhi stated that he was taken prisoner by ISIS fighters in Kabul and that he has been held prisoner for four months. The video was released one day after Afghan officials announced that they arrested the head of ISIS in Afghanistan, Abdullah Orakzai, a.k.a. Aslam Farooq. In addition to Telegram and RocketChat, the video was uploaded to at least 12 websites: pc.cd, File.fm, Tune.pk, Yadi.sk, Mail.Ru, Mediafire, Mega.nz, Amazon Cloud Drive, Top4top, Dropbox, the Microsoft One Drive, and the Internet Archive. Four days later, in addition to Telegram and RocketChat, the video was still available on at least three websites: Mail.ru, Mediafire, and Top4top.
White Supremacist Telegram Channels Mark Anniversary Of Ebba Åkerlund Murder
On April 7, at least 30 white supremacist, neo-Nazi, and far-right Telegram channels marked the third anniversary of the death of Ebba Åkerlund in the 2017 Stockholm truck attack. Two messages were viewed over 12,000 times and over 7,900 times, respectively. Åkerlund was 11 when she was killed in a vehicle attack by Rakhmat Akilov, who had sworn allegiance to ISIS. In total, five people were killed, and 14 were injured. Akilov was sentenced in June 2018 to a term of life in prison.
Brenton Tarrant, who murdered 51 people and injured 40 others in a terrorist attack on two mosques in March 2019 in Christchurch, New Zealand, stated in his manifesto that he had wanted to "to take revenge for Ebba Åkerlund." Tarrant also wrote her name on two of his rifles. Several pieces of pro-Tarrant propaganda have praised him for taking retribution on behalf of Åkerlund and white people, especially white women.
Ebba Åkerlund's mother, Jeanette Åkerlund, repeatedly denounced the Christchurch attack stating that Ebba "Spread love and caring, not hate." And that she felt "the pain of the families affected by (Christchurch)." Åkerlund told the Swedish newspaper Aftonbladet that "it's deeply tragic that Ebba's name is abused in the name of political propaganda."
Neo-Nazi Propaganda Website Located
CEP researchers located a neo-Nazi website belonging to an artist and propagandist who has made posters for the Feuerkrieg Division and the German branch of the Atomwaffen Division. Propaganda on the website advocates for violence and praises racist terrorists and mass shooters such as Brenton Tarrant, Dylann Roof, Robert Bowers, and John Earnest, as well as Adolf Hitler, Heinrich Himmler, and James Mason. The website uses Wix as a name server and a registrar.