For Immediate Release
Tuesday, January 31, 2023
(New York, N.Y.) — The Counter Extremism Project (CEP) released a report today detailing ISIS activity last year in central Syria including media activity, number of attacks, impact of attacks, and geographical locations. The report finds that ISIS activity in central Syria fluctuated significantly throughout 2022, beginning with a series of moderately high tempo months before reaching a historic low in July, only to increase over the last four months of the year.
To read CEP's report, The Central Syria ISIS Insurgency in 2022, please click here.
Overall, 2022 saw a significant reduction of ISIS activity in central Syria compared to 2021. However, attacks in 2022 killed and wounded about the same number of people on average as those in 2021, and roughly the same proportion of these attacks were high quality as in 2021. This would suggest that despite the significant drop in activity, when ISIS militants did choose to conduct attacks, they were able to do so as effectively as they had the year prior; 2022 also saw a return to certain styles and geographical locations of attacks for the first time since 2020, again suggesting that while overall violent activity decreased, cells may have been reconstituted and grown in strength after the heavy regime pressure in 2021.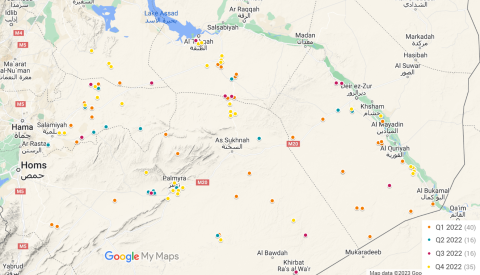 Map of ISIS attacks in Central Syria in 2022. Not mapped are 14 attacks which did not have specific locations attributed to them: eight in Deir Ez Zor countryside, four in eastern Homs, one in eastern Hama, and one in southern Aleppo.
The most significant event of 2022, however, was the return of sustained official ISIS media publicizing the central Syrian insurgency. The July 28 edition of ISIS's weekly al-Naba magazine contained a three-page interview with an alleged senior ISIS commander in the Badia lauding the persistence of militants, explaining the necessity of the lack of consistent media coverage, and once again asserting the insurgency's role within the "war of attrition" against the regime. Publication of this interview was followed the next day by a rare series of official pictures shared on ISIS Telegram channels. Since that July publication, ISIS has claimed 19 attacks in central Syria, more than the group claimed in the previous 13 months combined.