For Immediate Release
Thursday, January 27, 2022
(New York, N.Y.) — A report released today by the Counter Extremism Project (CEP) details the progress made last year by the Syrian regime in mitigating the expansion of ISIS throughout central Syria. While the number of ISIS attacks slightly increased year-over-year, the number of high quality attacks and deaths declined. ISIS is presently working to reassert itself in northeastern Syria, where fighters took control of a prison in the city of Hasakah, only to lose it a week later to the U.S.-backed Syrian Democratic Forces (SDF).
In 2021, the Syrian regime and its Russian and Iranian allies largely controlled the trajectory of the ISIS insurgency in central Syria, also known as the Badia. In 2020, ISIS significantly expanded the rate, scale, and geography of its attacks in central Syria, conducting sustained activity in east Hama, southern Aleppo, southern Raqqa, and central Homs for the first time since 2017, culminating in a string of attacks on highways and regime bases throughout the Badia in the last half of the year. At the time, ISIS used this expansion to establish training camps for new recruits and increase its financial operations. The regime finally responded in force to this escalation on January 1, 2021, when it launched a major operation in western Deir Ez Zor with support from Russian and Iranian forces.
Despite losing its last territory in Syria in 2019, ISIS has been increasing in strength across the country for at least the past two years. ISIS grew stronger in central Syria in 2020, and many of these cells appear to have moved into northeast Syria in recent months. These experienced ISIS cells have bolstered the ongoing insurgency against the SDF there and likely played a role in the January attack on al-Sina'a Prison in Hasakah.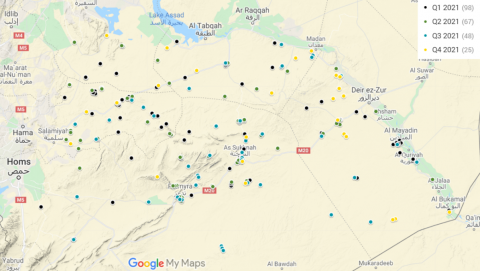 All ISIS attacks in 2021 with known locations.
Key Points:
ISIS conducted at least 299 attacks in Syrian regime-controlled areas of Homs, Hama, Aleppo, Raqqa, and Deir Ez Zor governorates in 2021, a slight increase from 2020.
ISIS conducted at least 70 high quality attacks, a 25 percent decrease from 2020.
ISIS killed at least 422 people in central Syria, a slight decrease from 2020: 313 pro-regime fighters, including at least 33 Iranian-backed foreign fighters and at least one Russian officer, as well as 109 civilians.
The Syrian regime and its allies successfully secured territory it lost in late 2020 and cut ISIS activity nearly in half between June and December of 2021.
To read CEP's resource The Central Syria ISIS Insurgency in 2021, please click here.