Sign up for
Eye on Extremism
Start your day informed. News on extremism and counter extremism from respected news-sources around the world, delivered to your inbox Monday through Friday.
×
Mohammed Morsi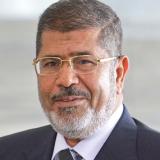 Mohammed Morsi is the former president of Egypt and a member of the Muslim Brotherhood since 1977.
Overview
Mohammed Morsi is the former president of Egypt and a member of the Muslim Brotherhood since 1977. With the fall of President Hosni Mubarak in 2011, Morsi was heavily involved in creating the Muslim Brotherhood's political wing, the Freedom and Justice Party (FJP). Although the FJP initially promised to not run a candidate for Presidency, the group put Morsi on its presidential ticket. In November, 2011, the FJP won a plurality of seats in the parliamentary elections, and in June 2012, Morsi won nearly 52% of the Presidential vote, in a close run with a retired air force commander, Ahmed Shafiq.
Angry demonstrations against Morsi's new government broke out in late 2012. Morsi issued an "interim Constitution declaration" which granted him broad powers. By the beginning of 2013, the army warned Morsi that the increased political riots might lead to the fall of the state. On July 3, 2013, the military deployed in the streets of Egypt, overthrew Morsi and stated that the Supreme Constitutional Court would take over Presidential powers and that the constitutional revisions had been suspended.
In December 2013, charges were brought against Morsi including espionage, sponsoring terrorism, and accounts of military training. The Prosecutor General charged Morsi with leading the Muslim Brotherhood in training jihadists in the Sinai Peninsula.Abdel Halim H. Abdullah, "Prosecutor general orders Morsi tried for espionage along with Brotherhood leaders," Egypt News Daily, December 18, 2013, http://www.dailynewsegypt.com/2013/12/18/prosecutor-general-orders-morsi-tried-for-espionage-along-with-brotherhood-leaders/.
Background
Date of Birth

Aug. 8, 1951

Place of birth

El-Adwah, Sharqia Governorate, Egypt

Place of residence

Cairo, Egypt
On May 16, 2015, an Egyptian court handed Morsi the death sentence for his role in a mass prison break in 2011. Many additional charges—such as inciting violence and sharing state secrets with Qatar during his presidency—had been leveled against him."Mohammed Morsi, Egypt's ex-leader, sentenced to death," BBC News, May 16, 2015, http://www.bbc.com/news/world-middle-east-32763215. On June 16, 2015, an Egyptian court upheld the death sentence. The head judge said, "The court panel has unanimously agreed that there is no room for leniency or mercy for the defendants." Morsi's legal team filed an appeal in August 2015.Egypt's deposed president Mursi appeals death sentence: lawyer," Reuters, August 15, 2015, http://www.reuters.com/article/2015/08/15/usegypt-court-idUSKCN0QK0BK20150815..
Morsi was born in El-Adwah, Sharqia Governorate, Egypt, in 1951. He was raised in the village of El-Adwah on the Nile River by his father, a farmer, and his mother, a homemaker. Morsi moved to Cairo in 1975 to pursue s degree in engineering. After working as a chemical warfare technician in the Egyptian military, Morsi continued his education, receiving a Master's degree in engineering from Cairo University and then a PhD in material sciences from the University of Southern California. There are records that Morsi worked with NASA on their space shuttle program in the early 1980s, though Morsi now disputes this."Egyptian President Mohamed Morsi Caught in Lie about Working for NASA," MEMRI TV, January 11, 2013, http://www.memritv.org/clip/en/3712.htm.
Morsi is married to his first cousin, Naglaa Ali Mahmoud. Two of their five children were born in the United States and hold U.S. citizenship.
Rhetoric
Mohammed Morsi, Former President of Egypt & Muslim Brotherhood Leader

Jan. 10, 2010

Dear brothers, we must not forget to nurse our children and grandchildren on hatred towards those Zionists and Jews, and all those who support them. They must be nursed on hatred. The hatred must continue.

Mohammed Morsi

Mar. 20, 2010

"The Zionists understood nothing but the language of force.""Morsi in 2010: No to Negotiations with the Blood-Sucking, Warmongering 'Descendants of Apes and Pigs'; Calls to Boycott U.S. Products," MEMRI, accessed May 30, 2014, http://www.memri.org/clip_transcript/en/3702.htm.
Take action:
HELP COUNTER EXTREMISM
Stay updated on the latest