Infamous ISIS Bomb-Making Video Located on Several Sites
On April 17, 2019, researchers at the Counter Extremism Project (CEP) located the infamous ISIS bomb-making and execution video, "You Must Fight Them O Muwahhid," on several video streaming and file download websites. The video shows step-by-step instructions for the construction of a triacetone triperoxide (TATP) explosive device, as well as knife tactics on a human target. TATP has been used in numerous terrorist attacks in Europe, including the 2017 Manchester Arena attack, the 2015 Paris attacks and the July 7, 2005 London bombings, often referred to as the 7/7 attacks.
ISIS explosives videos were linked by The Times to the Manchester bomber Salman Abedi, who allegedly watched them to assist in constructing his bomb. Additionally, Munir Hassan Mohammad, who was arrested in December 2016 for plotting a terrorist attack in the UK with Rowaida El-Hassan, had viewed the ISIS bomb making video, according to the Derby Telegraph. At the time of his arrest, Mohammad was acquiring the chemicals necessary to make TATP. He was sentenced to life in prison in 2018, with a minimum of 14 years.
The video has appeared on numerous websites in the almost two-and-a-half years since it was originally released. The most recent set of upload links were spread by a pro-ISIS Telegram account. On April 17, in addition to Telegram, the video was active on the following websites: Myspace (video streaming), Vidio (an Indonesian video streaming site), Mediafire (file download site), Anonfile (file download site), Uppom (file download site), Megaup (file download site), nofile.io (file download site), Zippyshare (file download site), and Zupload (file download site). The video was online for approximately 20 hours when it was located on April 17.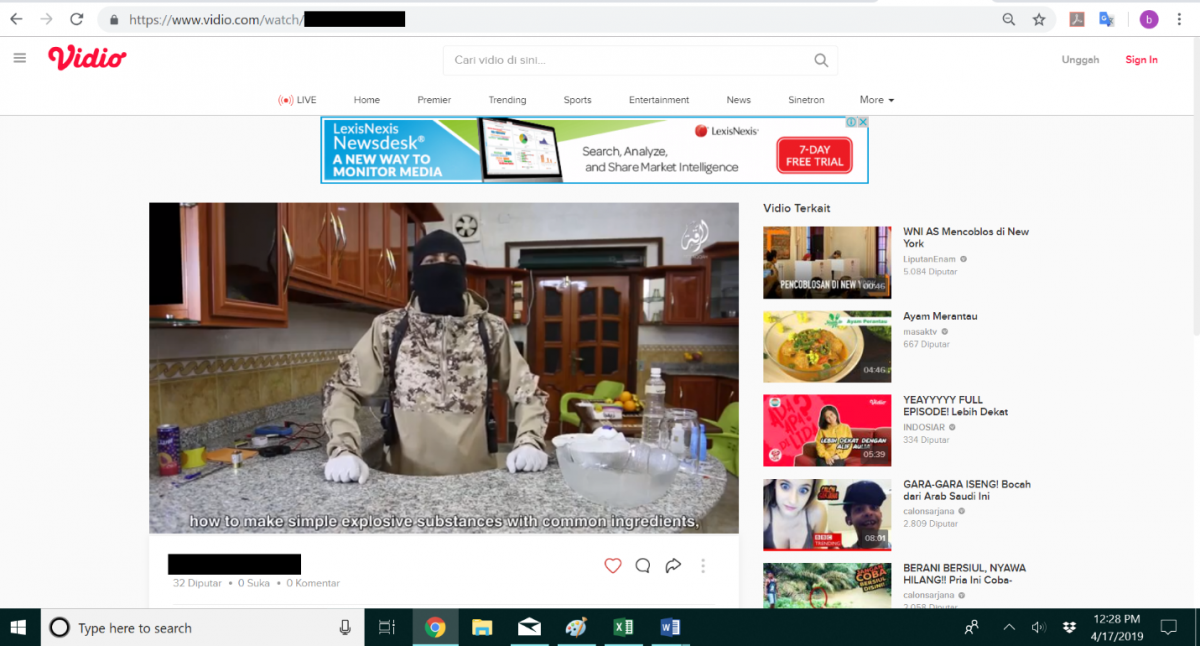 The video on the Indonesian video streaming site Vidio (April 17, 2019)
Daily Dose
Extremists: Their Words. Their Actions.
In Their Own Words:
Our resistance will not break, and our response will come soon.
Jan. 26, 2023
View Archive
Stay up to date on our latest news.
Get the latest news on extremism and counter-extremism delivered to your inbox.