Back-to-school shopping season has started, and the holidays are just a few months away. What to get that budding jihadist who seems to have everything? ISIS may be a brutal terrorist organization threatening millions with slavery and death throughout the Middle East and beyond, but now it might also aspire to be a hot fashion trend.
A handful of entrepreneurs have begun selling t-shirts, hoodies, and other apparel marked with the ISIS logo. In early August, Spanish police arrested a man selling home-made ISIS themed clothing from his home. The merchandise, which featured the ISIS flag and pictures of an execution, included t-shirts, baby clothes, and women's tank tops—clothing that ironically would be deemed offensive if worn openly in ISIS-held territory.
In June, several media outlets reported on a handful of Indonesian websites selling ISIS and terrorism-related merchandise. Many of them appear to have since been taken down, but not all. The Indonesian website Kavkaz Clothing offers what it calls "Islamic Struggle Wear." Its Facebook page highlights shirts featuring al-Qaeda and praising jihad. The company says, "It's not about fashion or necessity, its [sic] about identity."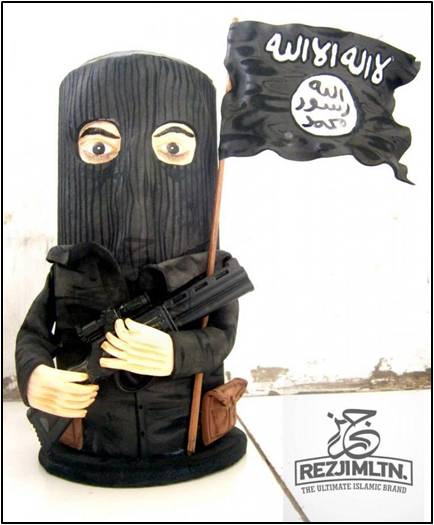 As reported by the International Business Times, Rezji.com sold this ISIS figurine among other ISIS-branded merchandise. The site and its Facebook page have since been taken down.
Another Indonesian webstore, Tees.co.id, is also hawking a line of ISIS-wear that includes t-shirts and hoodies with the ISIS flag. For non-ISIS aficionados, the site also sells a t-shirt emblazoned with, "I am Moeslem [sic] but not ISIS." The shirts sell for about 120 Indonesian rupia, roughly $8.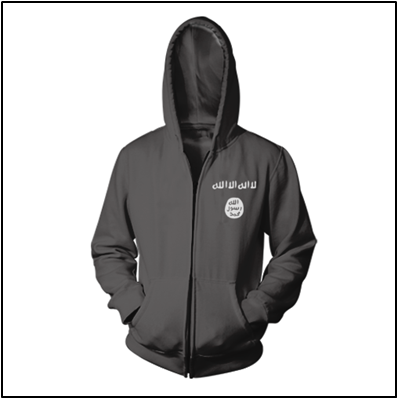 The above hoodie by Tees.co.id sells for about $8. A disclaimer on the site says, "This is not ISIS flag but the banner of tawheed, becareful [sic] !!! don't take it into the toilet or bathroom." Pictured below is another t-shirt that more blatantly supports ISIS and has no such disclaimer.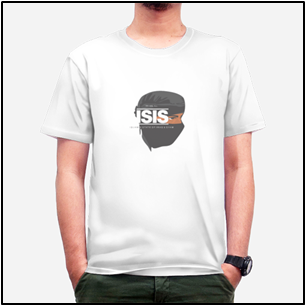 If ISIS isn't your chosen terror group, this webstore also has shirts emblazoned with the Hamas logo and pictures of Hamas founder Sheikh Ahmed Yassin. If you are feeling nostalgic for the 2009 Iranian presidential elections and the bloody government response to protesters, you can even purchase a t-shirt featuring the likeness of former Iranian president Mahmoud Ahmadinejad. The site also offers shirts emblazoned with images of the late PLO leader Yasser Arafat meeting with Ayatollah Ruhollah Khomeini, Osama bin Laden, and Adolf Hitler.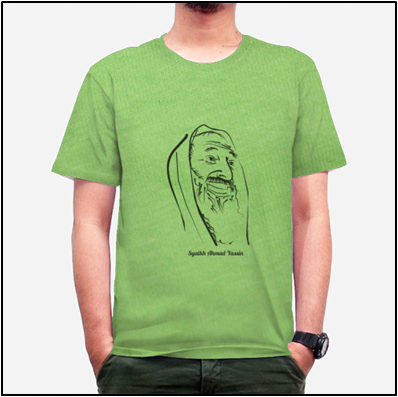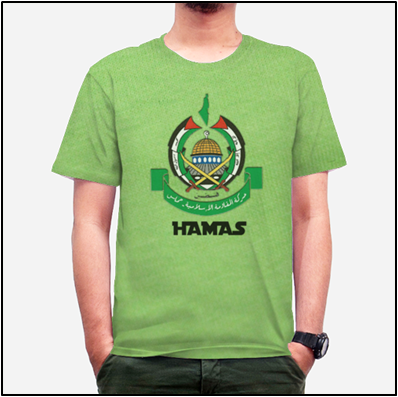 Indonesia is not the only country where some businesses are trying to cash in on ISIS. British photographer Guy Martin earlier this year documented for Time his discovery of an ISIS gift shop in Istanbul where one could buy t-shirts, mugs, and keychains.
The fight against ISIS and extremism has thus taken on a new dimension. It seems unlikely—but not impossible—that ISIS actually receives part of the profit from the sale of this merchandise. However, the terrorist group receives something far more valuable: publicity. More than 20,000 Western foreign fighters have reportedly joined jihadist forces fighting in Syria and Iraq. These fighters have been radicalized through Internet conversations, local extremist preachers, and by other sources. And now there's merchandising. The leap from wearing a sleek t-shirt to being a newly minted jihadi may be a short one.
Shutting down these stores, particularly those outside Western jurisdictions, may be difficult, but it is necessary and well worth the effort. Just as Twitter gives ISIS a digital platform to spread its propaganda, ISIS-wear allows devotees of the group to literally wear their support on their sleeves.