One of ISIS's most notorious bomb-making videos is frequently and continually uploaded to Google web platforms, and there is little indication that the company is taking the appropriate steps to prevent these reuploads. "You Must Fight Them O Muwahhid" is one of ISIS's most infamous videos, urging attacks in the West, displaying knife attack tactics on a live human target, and most notably, providing instructions for building an explosive device with easily obtainable materials.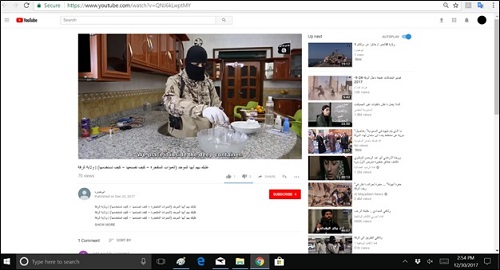 ISIS released the video more than one year ago, which has been removed from Google platforms several times only to reappear again. The video was reuploaded most recently in January of 2018, indicative of Google's ongoing failure to address the problem of extremist content on their services in a consistent and transparent manner.
The video shows how to manufacture TATP, a powerful but unstable explosive that can be made using basic household components—making it a favorite of different extremist groups. TATP explosives have been detected in multiple terror plots: the September 2017 Parsons Green attempted bombing; the Barcelona terror cell in August 2017; the Manchester Arena attack in May 2017; the Brussels airport and metro station attacks in March 2016; the November 2015 Paris attacks; the 7/7 al-Qaeda attacks in London; and even Richard Reid's airborne shoe bombing attempt in December 2001.
Specifically, these how-to TATP bomb-making guides and videos have been linked to deadly incidents. Easily available explosive video tutorials were cited by The Times as aiding the Manchester bomber, Salman Abedi. More recently, Munir Mohammed, found guilty in January of preparing a terror attack in the U.K., had viewed "You Must Fight Them O Muwahhid" and was acquiring the components necessary for the explosive described in the video.
Despite the demonstrable risks to public safety, the video continues to be available online. Since November 2016, the video has been uploaded to Google-owned platforms and removed at least 11 times. "You Must Fight Them O Muwahhid" was most recently accessible on Google Drive on January 9, 2018, on YouTube on December 30, and on Google Photos on December 27, where it remained for almost 24 hours after it was uploaded.
Even though Google has made numerous public commitments to tackle extremist content—including promises to using a hashing system to prevent the spread of known extremist content and increasing staff to remove this material—the video continues to be available. The continued reappearance of known ISIS bomb-making material, however, raises questions about Google's commitment to actually implementing these pledges.
Moreover, on January 9, the European Commission met with approximately 20 tech and social media companies in Brussels, and—in a sign of displeasure with tech companies' progress—demanded that the firms remove extremist content within two hours of upload. If videos like "You Must Fight Them O Muwahhid" are constantly reuploaded and can remain accessible and downloadable for a full day, it's unclear how companies can meet this two-hour limit without making significant improvements to policies and capacity for implementation. Furthermore, it's unclear how fines will affect a multibillion dollar company that spent over $13 million on lobbying in the U.S. in 2017. The Commission's decision would be the first time rules for the timed removal of extremist content have been introduced in a major market, which could lead to greater global advancements in takedown mechanisms.
Although Google has come a long way since ignoring terrorist material on their sites, more must be done to ensure the transparent and consistent enforcement of their terms of service. Google has still not publicly detailed how they plan on combating dangerous extremist content on Google Drive or Google Photos especially, but they owe the public a response.