Press Contact:
Media at CEP
Company's Drive For Profit Meets Consequences Of Ignoring Extremism On Platform
Facebook released its second quarter financial results this week and the results were not good. Its stock prices were down approximately 20 percent, and its depressed long-term revenue growth and profit outlook was described as "shocking." As Wired reports, for many investors, this was a wakeup call and repudiation of the thesis that "Facebook makes so much money that it would barely notice the costs associated with better policing its platform for fake news, hate speech, fake accounts and election manipulation." The company's long inability and unwillingness to adequately moderate extremism on its platform – driven by its quest for profit and desire to place revenue above all else – is no longer viable.
Despite what Mr. Zuckerberg says – that Facebook's content problems are a "PR problem" – the reality is far worse. Immediately following the recent Toronto shooting, misinformation about the shooter's identity, motivation and religious views spread on Facebook. In India, two dozen people have been killed as a result of fake news that went viral on Facebook-owned WhatsApp. Lastly, the cybersecurity firm Sixgill this week identified numerous instances of ISIS-hacked Facebook accounts, and found that Facebook was a prime target and method of distribution for the terrorist organization.
Facebook's track record of rhetoric failing to meet reality is unacceptable. CNN states, Facebook's "rhetoric does not seem to line up with its actions." The New York Times agreed, stating after Mr. Zuckerberg's recent disastrous interview tour that his "comments fit a larger pattern. Presented with straightforward queries about real-world harm caused by misinformation on their service, Facebook's executives express their pain, ask for patience, proclaim their unwavering commitment to political neutrality and insist they are as surprised as anyone that they are even in the position of having to come up with speech rules for billions of people."
Further examples of extremist content are still readily found on Facebook. A clip from ISIS includes several martyrdom statements, including a teenage boy who received permission from his father to be a bomber, and footage showing the aftermath of suicide bombings in Kabul. The ISIS propaganda video "The Point Of Death" is particularly gruesome, showing several beheadings and executions, and scenes of combat from various official ISIS videos. Another video from ISIS' self-proclaimed Khurasan province in Afghanistan depicts brutal executions, combat and child soldiers.
To read more about this issue and see the aforementioned examples, as well as others of extremist content, please see the background below.
EXTREMIST FACEBOOK CONTENT
1. Recently Released ISIS Video On Facebook For One Week With Over 500 Views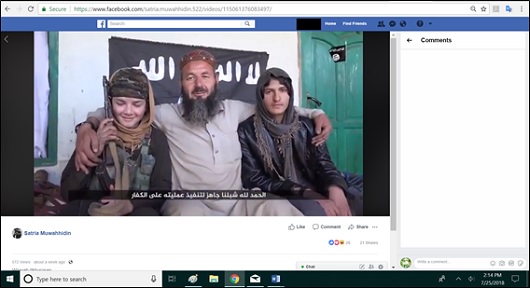 2. Violent ISIS Video Nasheed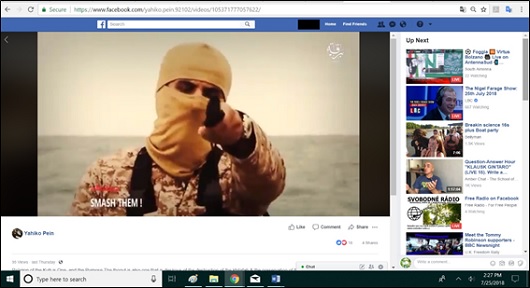 3. Nasheed Video Using Various Official ISIS Footage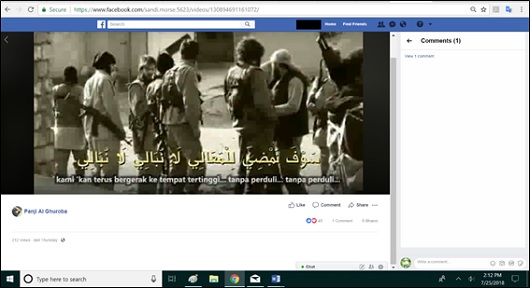 4. Unofficial Pro-ISIS Video Commemorating Recent Casualties And Suicide Bombers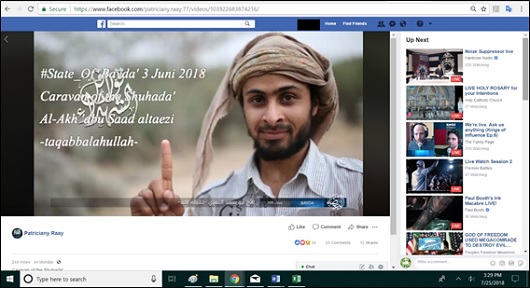 5. ISIS Video On Facebook For Four Days With Over 500 Views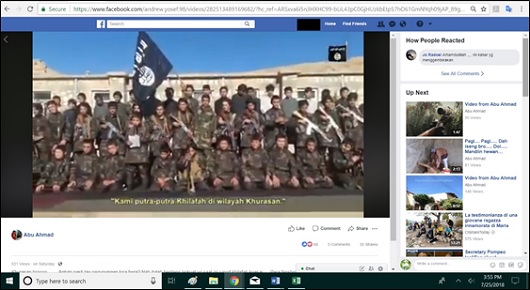 BACKGROUND
Facebook's Stock Prices Are Down, Due In Part To Its Inadequate Content Moderation Policies. "For the last four months, most Facebook investors have had a simple thesis about the company's business prospects: Facebook makes so much money that it would barely notice the costs associated with better policing its platform for fake news, hate speech, fake accounts and election manipulation. Facebook's stock cratered in March on news of the Cambridge Analytica scandal, but it had risen 43 percent since. It turns out, as Facebook disclosed in financial results Wednesday, that Wall Street was very, very wrong about that. Investors freaked out, driving Facebook's stock down roughly 20 percent in after-hours trading, erasing more than $120 billion from the company's valuation … Even more shocking to investors was the projected slowdown in revenue growth." (Fred Vogelstein, "Facebook Just Learned The True Cost Of Fixing Its Problems," Wired, 7/25/18)
According To Axios, Facebook CEO Mark Zuckerberg Sees The Company's Content Moderation Problems A "PR Problem." "Sources say that Zuckerberg prefers to manage the fake news problem through rational, careful experiments and modest changes. He often sees this as a PR problem, not a foundational one." (Sara Fischer, "How Facebook Could Dodge Fake News Land Mines," Axios, 7/24/18)
After The Toronto Shooting, Facebook Was Used To Spread Misinformation. "As authorities continue to investigate why Faisal Hussain carried out a mass shooting on Toronto's Danforth Avenue, misinformation about the shooter continues to spread on the internet. Toronto Police Chief Mark Saunders issued a statement Wednesday morning, saying there's no indication the Toronto shooter had any links to the so-called Islamic State (ISIS) group, just hours after the terrorist organization claimed responsibility for the rampage that left two people dead and 13 others injured … But, misinformation about the shooter's identity, motivation and religious views continue to spread throughout social media. Facebook users circulated images misidentifying a man posing high-powered rifle and another sitting at a desk. Social media users wrongly identified the individuals as Hussain." (Adam Frisk, "Here's A Look At Some Misinformation Being Spread About Toronto Mass Shooter Faisal Hussain," Global News, 7/25/18)
Two Dozen People In India Have Died As A Result Of Mob Violence Instigated By Facebook-Owned WhatsApp. "Americans associate misinformation with Facebook and the ways it shaped debate around the 2016 presidential election. But in other countries, falsities are just as likely to spread on private messaging services – sometimes with deadly consequences. At least two dozen people have been killed in mob lynchings in India since the start of the year, their deaths fueled by rumors that spread on WhatsApp, the Facebook-owned messaging service. In Brazil, messages on WhatsApp falsely claimed a government-mandated yellow-fever vaccine was dangerous, leading people to avoid it. And as Mexico was heading into its presidential election this month, experts there called WhatsApp the ugly underbelly of the country's news environment, a place where politically misleading stories, memes and messages can spread unchecked." (Elizabeth Dwoskin & Annie Gowen, "On WhatsApp, Fake News Is Fast – And Can Be Fatal," The Washington Post, 7/23/18)
CNN Has Criticized Facebook For Its Rhetoric Not Matching Its Actions. "It's just one example of how Facebook's rhetoric does not seem to line up with its actions. The company has pledged to tackle the issue of false news and misinformation, but it has allowed pages like InfoWars that produce such content to remain on the platform and to escape punitive measures it says are in place to stop bad behavior." (Oliver Darcy, "Facebook's Rhetoric On Misinformation Doesn't Match Its Actions," CNN, 7/20/18)
Similarly, The New York Times Has Said Facebook's PR Tactics "Fit A Larger Pattern." "Mr. Zuckerberg's comments fit a larger pattern. Presented with straightforward queries about real-world harm caused by misinformation on their service, Facebook's executives express their pain, ask for patience, proclaim their unwavering commitment to political neutrality and insist they are as surprised as anyone that they are even in the position of having to come up with speech rules for billions of people." (Farhad Manjoo, "What Stays On Facebook And What Goes? The Social Network Cannot Answer?" The New York Times, 7/19/18)