Press Contact:
Media at CEP
Familiar Claim That Latest Scandal Is Being Taken "Really Seriously" Rings Hollow After The Umpteenth Time
Facebook's problems recently compounded in a big way, to the tune of 50 million users. Last week, the social media company discovered that it had been exploited by outside hackers, exposing personal information for all of those affected.
As The New York Times reported, this couldn't have come "at a worse time" – Facebook is still reeling from the Cambridge Analytica scandal and its role in allowing online disinformation in countries like Myanmar leading to deaths. Let's also not forget about the constant proliferation of extremist and terrorist propaganda on its website. Commenting on the attack, CEO Mark Zuckerberg had this familiar and unspecific refrain to say about it, "We're taking it really seriously. I'm glad we found this, but it definitely is an issue that this happened in the first place."
Later this month, convicted pro-ISIS propagandist Anjem Choudary is expected to be released from prison early due to a British probationary law. Choudary supported ISIS over social media, using it even from prison to promote the terror organization's cause and to recruit for them. Among the hundreds of extremists to whom Choudary is linked, numerous are found to have used Facebook. Ubaydullah Hussain is a Norwegian-Pakistani national and incarcerated ISIS supporter. Mohammed Mizanur Rahman is a British preacher and convicted ISIS supporter. Michael Adebowale and Michael Adebolajo are British citizens convicted for the May 2013 murder of British soldier Lee Rigby. To the Counter Extremism Project (CEP), this too is an issue that it "happened in the first place."
ISIS materials on Facebook identified by CEP regularly depict brutal and graphic acts of violence. A video from ISIS's Furat Media outlet includes an Indonesian nasheed, Khilafah Telah Kembal (The Caliphate Has Returned), and depicts various footage taken from ISIS propaganda and news releases, such as those of various groups of ISIS fighters and children pledging their allegiance to Abu Bakr al-Baghdadi, and urging others to immigrate to Iraq and Syria to join the fight. Another, uploaded onto Facebook for two and a half years now, is the ISIS propaganda video, "Rather, They Are Alive With Their Lord: Abu al-Zabayr al-Jazrawi," originally released in January 2016. The video celebrates an ISIS fighter, Maher Meshaal, who was a well-known singer of nasheed in Saudi Arabia before joining ISIS and being killed in a U.S. airstrike in July 2015.
To read more about this issue and see the aforementioned examples, as well as other examples of extremist content, please see the background below.
EXTREMIST FACEBOOK CONTENT
1. ISIS Video On Facebook For Six Days With Over 500 Views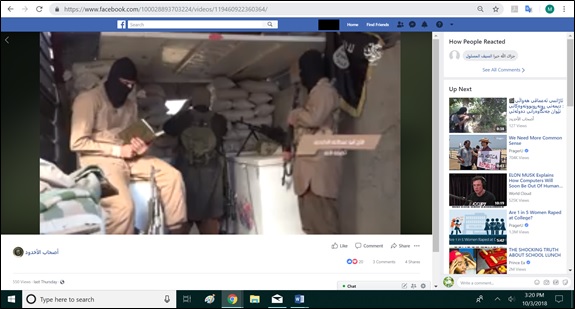 2. ISIS Propaganda Video Urging Others To Join On Facebook For One Month With Over 200 Views
3. ISIS Propaganda Clip Posted One Week Ago With Over 200 Views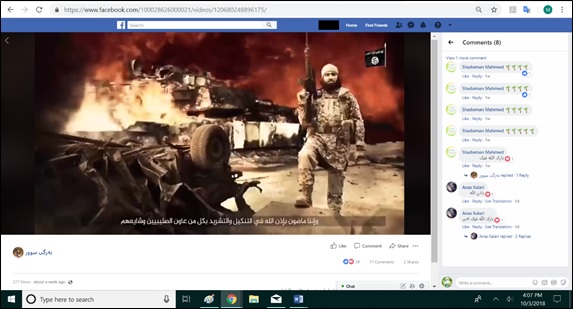 4. ISIS Video On Facebook For Three Years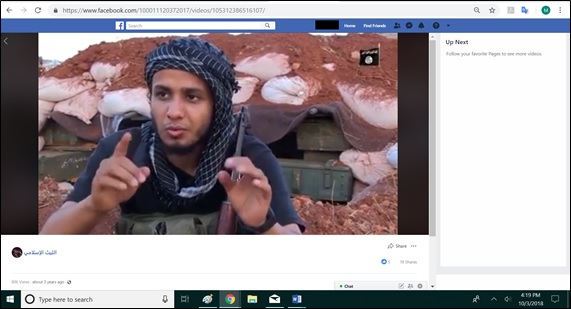 5. Facebook Account Posting ISIS Propaganda For 23 Days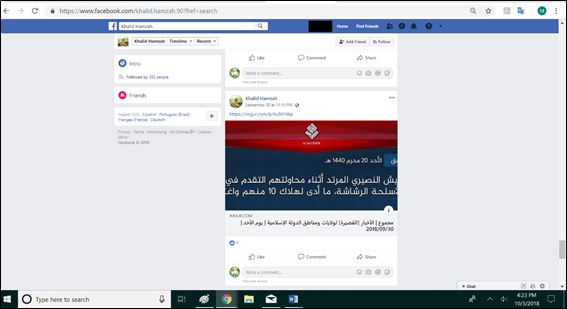 BACKGROUND
Facebook's Latest Security Breach Has Left Personal Information For 50 Million Users Exposed. "Facebook, already facing scrutiny over how it handles the private information of its users, said on Friday that an attack on its computer network had exposed the personal information of nearly 50 million users. The breach, which was discovered this week, was the largest in the company's 14-year history. The attackers exploited a feature in Facebook's code to gain access to user accounts and potentially take control of them. The news could not have come at a worse time for Facebook. It has been buffeted over the last year by scandal, from revelations that a British analytics firm got access to the private information of up to 87 million users to worries that disinformation on Facebook has affected elections and even led to deaths in several countries." (Mike Isaac & Sheera Frenkel, "Facebook Security Breach Exposes Accounts Of 50 Million Users," The New York Times, 9/28/18)
CEO Mark Zuckerberg: "We're Taking It Really Seriously. I'm Glad We Found This, But It Definitely Is An Issue That This Happened In The First Place." (Mike Isaac & Sheera Frenkel, "Facebook Security Breach Exposes Accounts Of 50 Million Users," The New York Times, 9/28/18)