Press Contact:
Media at CEP
Violent Propaganda's Reappearance Calls Into Question Platform's Content Moderation Efforts
(New York, N.Y.) – YouTube is unable or unwilling to keep known extreme neo-Nazi propaganda off their website. An Atomwaffen Division (AWD) propaganda video clip has been reuploaded to YouTube, most likely by the original uploader. In both cases, the account has posted a URL for an AWD propaganda and recruitment website on the dark web in the YouTube video's comments section.
"The reupload of video propaganda on YouTube from a violent, neo-Nazi group is disturbing. This has concerning implications for YouTube's extremist content removal policies, and puts into question how seriously they are taking this issue," said CEP researcher Joshua Fisher-Birch. "The video in question had already been previously taken off of YouTube and was most likely even reuploaded by the same suspended user. This was a cut and dry situation in which the platform's algorithms should have been able to prevent another reupload. YouTube needs to both immediately remove the video before it leads to further real-life consequences, and explain how it ended up on their platform again in the first place."
On September 30, 2019, a YouTube account posted a 19-second clip taken from an AWD propaganda video released that same day. The clip featured a statement by James Mason, the author of the notorious neo-Nazi book Siege, which is revered by AWD. CEP researchers reported the clip twice, and YouTube finally removed the video on October 8—five days after it was first reported—for violating the company's policies on hate speech. By the time the video was removed it had at least 280 views, and at least one individual interested in neo-Nazism used the YouTube video's comment section to communicate with the person who uploaded the clip. Following the October 8 publication of a Huffington Post article, YouTube suspended the account that had posted the video.
This same video was subsequently reuploaded on October 10 by an individual identifying him or herself as the original uploader. The new YouTube account has the same display name as the old YouTube account and the video had 189 views as of October 15. The account additionally posted two other clips from the same AWD video released on September 30, with 159 and 95 views respectively as of October 15.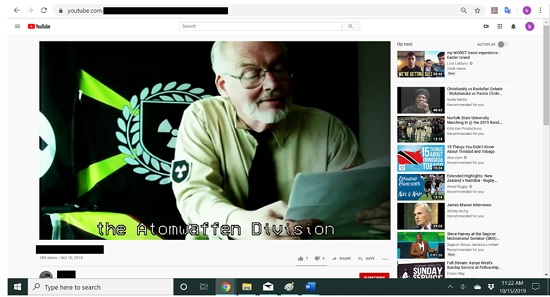 The reuploaded Atomwaffen Division video clip on YouTube, October 15, 2019.
The fact that the same video, and more from the same group, were reuploaded after the removal on October 8 indicates that YouTube is either unable or unwilling to employ comprehensive and consistent methods to tackle the problem of white supremacism on their platform. YouTube should indicate their commitment by adding AWD videos to their hash database in order to prevent their reupload. In a statement to the Huffington Post, a YouTube spokesperson stated that the video had few views. However, the video served as a point of connection for an individual interested in AWD and an individual spreading the group's propaganda.
The CEP resource, Siege's Ties to Extremists, documents 32 extremist entities—21 individuals and 11 organizations—with links to the neo-Nazi book. Of these 21 individuals, nine have been involved in acts of violence, four have been involved in specific murders, and four have been involved in threats or acts of terrorism. Several of these involve members of the AWD. On January 2, 2018, AWD member Sam Woodward allegedly murdered Blaze Bernstein, a gay Jewish college student, which was celebrated by AWD. AWD co-founder Brandon Russell is serving a five-year prison sentence for stockpiling explosives to carry out attacks on U.S. infrastructure. Another co-founder, Devon Arthurs, killed two of his roommates.
It is especially troubling that YouTube would continue to allow the reupload of this known content and fail to prevent the same users from misusing their site. In July 2018, a CEP study found that YouTube's efforts to proactively remove extremist content were failing. The report revealed that 91 percent of known ISIS propaganda was uploaded more than once, and 60 percent of accounts uploading terror content remained live after videos were removed for violating YouTube's terms.