Press Contact:
Media at CEP
As Policymakers Struggle to Catch Up With Online Extremism, ISIS Continues to Thrive & Grow
While it has appeared that ISIS' long-standing dominance may be dwindling, many are urging caution regarding this theory. Early last week, the Daily Beast reflected on the group's genesis and outreach techniques. "The group gained notoriety worldwide for cultivating its brutal propaganda online. But because it denied the people living in its self-proclaimed caliphate access to the internet, disseminating videos of beheadings or mass shootings had to be done the old way in Mosul," Florian Neuhof wrote. No matter the medium, one thing is clear: ISIS will spread its propaganda to as many people as it can, attempting to radicalize any impressionable individual. Whether locally on the ground through billboards and DVDs, or online lurking in the shadowy non-policed corners of the Internet, ISIS will spread its propaganda, however possible.
Policymakers across the globe are recognizing the threat ISIS's online presence poses and the inadequacy of laws made decades ago that allow tech companies to operate with seeming impunity. For example, the European Union (EU) proposed a law that would require sites like Facebook to "take down terrorist content" circulating the Internet "within an hour of being flagged by authorities." The U.S. this year passed a law holding companies liable for "knowingly" hosting sex trafficking content. And these changes come not a minute too soon.
Federal Bureau of Investigation (FBI) Director Christopher Wray explained in a recent ABC News interview how counterterrorism has changed "significantly" since 9/11. He pointed to homegrown violent extremists (HVE) who "self-radicalize" at home and are influenced "on social media by the global jihadist movement." Wray stated, "This HVE threat has created a whole new set of challenges with a much greater number, much greater volume of threats," adding, "each one of them with far fewer dots to connect and much less time to interrupt an attack."
And these homegrown terrorists have more than enough methods to find and radicalize one another. ISIS online supporters often seek out encrypted chat programs. More recently, some have moved to Riot, which is similar to Telegram, but has more encryption protection. Within chats, users must have encryption keys to view messages, creating yet another layer of privacy from authorities. Further, many ISIS tech groups have urged supporters to use Virtual Private Networks (VPNs) to avoid detection. The pro-ISIS Horizons Foundation on PasteThis.At offered advice on which services to use and how to use the free trial versions. VPNs offer another veil of security by hiding a device's Internet Protocol (IP) address by routing its Internet traffic through another server. And amid cyber-anonymity, pro-ISIS groups can upload and share dangerous videos.
EXTREMIST CONTENT ONLINE
Pro-ISIS Groups Using Encrypted Riot Program
ISIS online supporters continue to seek out different encrypted chat programs, with some of them migrating to Riot. Pro-ISIS groups have been using the site since at least September 2017; however, some of their chats have been shut down. Riot is similar to Telegram, but offers greater encryption protection, even within chats users must acquire encryption keys to view messages.
Pro-ISIS Spanish Language News Room On Riot, October 11, 2018.
Pro-ISIS Tech Group Urges Supporters To Use VPNs
A post by the pro-ISIS Horizons Foundation on PasteThis.At urged ISIS supporters to use Virtual Private Networks (VPNs) to avoid detection. The post also offered advice on which services to use, recommending Orbot, Nord, Freedom, HideMe, VPN.AC, APN Area, Bitmask VPN, Proton VPN and AzireVPN, and also provided advice on using the free trial versions. VPNs offer a level of security on the internet by hiding an IP address by routing traffic through a different server.
PasteThis.At post on VPNs by the pro-ISIS Horizons Foundation, October 11, 2018.
UK Man Accused Of Making Pro-ISIS Facebook Posts & Having A Bomb-Making Manual On His Phone
Abdulrahman Alcharbati, 32, has been accused in Newcastle Crown Court of six counts of sharing terrorist material and one count of possession of a terror document. Alcharbati allegedly shared 70 Facebook posts that included terror videos and had a bomb making manual on his phone. The bomb-making manual, at 120 pages, included sections on "hints and tips," "types of explosives according to usage," "high heat explosives," "Russian TNT," "detonators," "improvised explosive devices," "toxins" and other related topics. Explosives manuals are still available on Google Drive and are being shared by ISIS supporters on Telegram, despite the manuals having been reported to Google.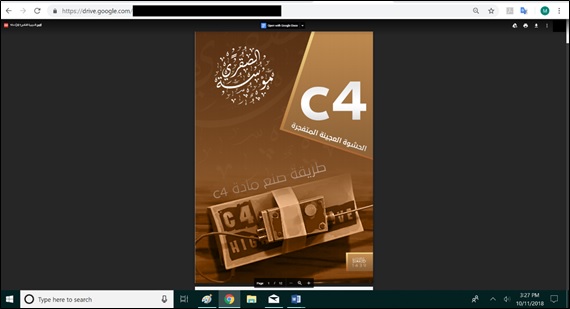 ISIS Explosives Manual On Google Drive, Still Available On October 11, 2018, Despite Having Been Reported To Google On August 15, 2018.
Poison Manuals Made By Pro-ISIS Group On Google Drive; Urges Use In Synagogues, Theaters, Etc.
Two manuals made by the pro-ISIS Al Saqri Foundation for Military Science that describe how to make and use cyanide were located on Google Drive on October 11. The manuals were spread on Telegram in pro-ISIS channels. Both manuals, part of a series titled "Kill Them Softly," were reported to Google but were still online as of an hour later. One manual includes instructions on how to make and effectively test and use cyanide, and the other includes information on manufacturing cyanide, as well as safe handling techniques, and offers advice on potential targets such as "Jews and the Americans, and all … who cooperate and help them like the British." The second manual also advises using poisons to target restaurants and bars, casinos, malls, banks, synagogues, government facilities, gyms, dancehalls, cinemas and theaters. One manual was uploaded in August 2018, the other in September 2018.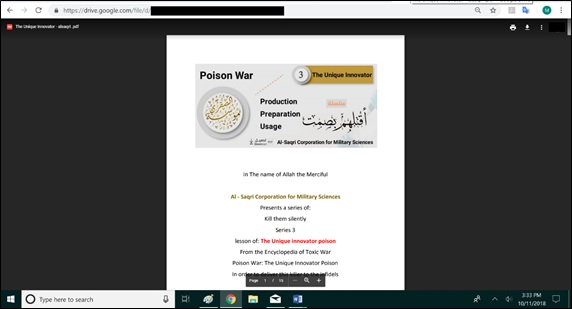 Al Saqri Foundation For Military Science Manual On Google Drive, October 11, 2018.
New Online Magazine By Pro-ISIS Group
On October 10, the pro-ISIS group Abd al Faqir launched a new Arabic online magazine for ISIS's online supporters, called "Youth of the Caliphate." The magazine was released on Telegram and also called for future submissions. The magazine includes a roundup of images and videos made by pro-ISIS online groups, especially content by Abd al Faqir, including recent celebrations of the Ahvaz, Iran attack and images urging attacks in Australia. Abd al Faqir was recently criticized in the online pro-ISIS community for releasing a cartoon biography of former ISIS commander and spokesperson Abu Muhammad al-Adnani.
Image Of ISIS Magazine "Youth Of The Caliphate."
Pro-ISIS Group Releases Image Featuring The Eiffel Tower & A Drone
On Wednesday, October 10, the pro-ISIS group Muharir al-Ansar released an image featuring a commercially available off-the-shelf drone, carrying a suspicious package in the vicinity of the Eiffel Tower. The image was released on Telegram and also posted to the site top4top.net. On September 26, 2018, two men were arrested in Denmark and accused of purchasing drones for use by ISIS in the Middle East.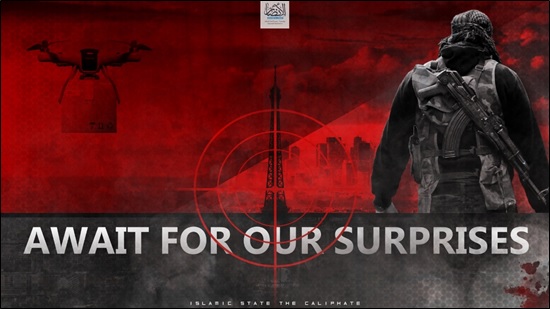 Located On Telegram On October 10, 2018.
BACKGROUND
ISIS Uses Any and Every Means Necessary to Spread Its Propaganda Worldwide. "On a roundabout in west Mosul, the biggest city to become part of the so-called Islamic State, the jihadists erected a large screen. On it, they would project videos showing gruesome acts of violence. After ISIS had taken the city, they purged it of anyone they thought would oppose their rule. To strike fear into the rest of the inhabitants, they made sure they knew about the killings that were taking place at mass graves outside town. The group gained notoriety worldwide for cultivating its brutal propaganda online. But because it denied the people living in its self-proclaimed caliphate access to the internet, disseminating videos of beheadings or mass shootings had to be done the old way in Mosul. 'You could also buy them on DVDs in the neighborhood,' says Walid Hassan, a resident of west Mosul, who regularly passed by the roundabout." (Florian Neuhof, "Don't Count Out ISIS Just Yet," Daily Beast, 10/4/18)
Global Policymakers Scramble To Curb Online Circulation Of Terrorist And Radicalizing Videos. "But now lawmakers and regulators in the U.S. and European Union are starting to chip away at those protections, driven by growing concern about hoaxes, hate speech and other online bad behavior. In April, President Donald Trump signed a law holding online companies liable for 'knowingly' hosting content that enables sex trafficking. Both Democrats and Republicans in Congress are talking about carving out a similar exception for illegal opioid sales. In Brussels, meanwhile, the European Commission recently introduced a bill that would require sites like Facebook to take down terrorist content – Islamic State videos, for example – within an hour of being flagged by authorities, or face still-unspecified penalties. The move follows updates to EU copyright and audiovisual media laws that require platforms like YouTube and Amazon to more actively monitor for violations, including online copyright infringements and inappropriate ad placements." (Ashley Gold & Joanna Plucinska, "U.S., Europe Threaten Tech Industry's Cherished Legal 'Shield'," POLITICO, 10/8/18)
FBI Director Warns Of Adapting And Multiplying Self-Radicalized Terrorist Threats. "'National security remains the FBI's top priority and counterterrorism is still a paramount concern but that threat has changed significantly since 9/11,' Wray said. Wray said that homegrown terrorists (HVE) 'self radicalize' at home and are influenced on social media by the global jihadist movement. They can also attack at a moment's notice. 'This HVE threat has created a whole new set of challenges with a much greater number, much greater volume of threats and each one of them with far fewer dots to connect and much less time to interrupt an attack,' Wray continued. Russell Travers, the acting director of the National Counterterrorism Center, also testified at the hearing, saying the U.S. has 'almost 20 ISIS branches of networks ranging from hundreds to thousands of individuals around the globe.' 'Our terrorist identities database has expanded by well over an order of magnitude since 2003,' he added." (Luke Barr, "FBI Director Says Bureau Is Investigating 5,000 Terrorism Cases Across The World," ABC News, 10/10/18)