Press Contact:
Media at CEP
Content Previously Banned from Platform Allowed to be Reuploaded in Identical Form
The Counter Extremism Project (CEP) reports weekly on the methods used by extremists to exploit the Internet and social media platforms to recruit followers and incite violence. This week's edition urges YouTube to strictly enforce its new policy for removing extremist videos, in addition to highlighting white supremacists' continued use of Gab and ISIS's release of two new videos and a new text publication.
"CEP has previously highlighted The Turner Diaries' continued existence on YouTube, stating it should be the starting point for the platform's new content removal policy. But unfortunately, a multitude of other white supremacist and neo-Nazi content exists as well," said CEP researcher Joshua Fisher-Birch. "Atomwaffen Division, Rise Above Movement, Patriot Front, and the American Identity Movement must all be banned from YouTube. In the case of the Atomwaffen Division, they had already previously been banned but their supporters have been allowed to continually re-upload their content. If YouTube wants to show they are serious about extremist content removal, they must consistently and transparently enforce their policies."
Lax Policies Lead to White Supremacist Content on YouTube
Several white supremacist and neo-Nazi groups that have propaganda on YouTube will possibly have their content removed in the near term. Google-owned YouTube's June 5 announcement that the company would further enforce its hate speech policy to fully include white supremacism and neo-Nazism has the possibility to affect several groups including, but not limited to, the Atomwaffen Division, Rise Above Movement, Patriot Front, and the American Identity Movement.
It is unclear how strongly or consistently YouTube's policies will be enforced. YouTube banned a channel belonging to the neo-Nazi Atomwaffen Division in February 2018, but the group's supporters have continued to upload some of the same videos to the site where they have remained for weeks before eventually being removed. In other cases, new Atomwaffen Division videos have been reuploaded to the site after identical versions have been removed.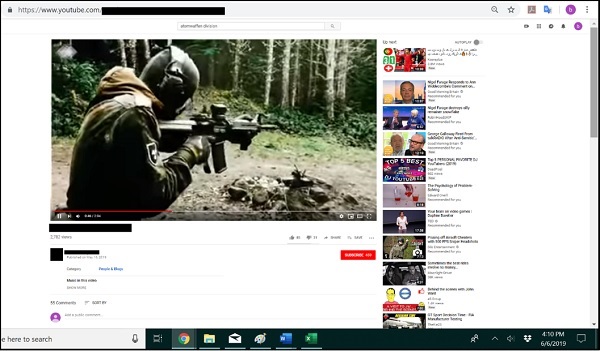 Atomwaffen Division video on YouTube, June 6, 2019. Uploaded on March 16, 2019.
Extreme Right Continues to Call For Violence on Gab
CEP researchers found several examples of individuals and groups belonging to the extreme right calling for violence on the platform Gab. Gab is infamous for permitting hate speech, as well as serving as a hub for extremist groups and their members. Pittsburgh Synagogue shooter Robert Bowers made a notorious post on his Gab account before his attack.
The content located includes an image on an account purported to be the German chapter of the Atomwaffen Division calling for the murder of Muslims, a European neo-Nazi group calling for attacks on LGBT Pride parades and an individual posting a drawing of the hanging of four figures symbolizing the LGBT community, African Americans, feminists, and Jews, with "soon" written underneath.
New ISIS Propaganda Video Released on Several Platforms
On Sunday, June 2, ISIS released a new propaganda video from the group's self-proclaimed province in Fallujah, Iraq. Titled "Then They Will Be Overcome," the video shows old footage of Iraq under ISIS control, as well as several night raids and executions carried out by ISIS fighters. Two individuals killed by ISIS in the video are identified as Iraqi military officers, and one as a village leader. The last ISIS video released from Fallujah was in April 2017.
In addition to Telegram, the video was released on at least 17 websites: Top4top, the Microsoft One Drive, Amazon Drive, the Internet Archive, mail.ru, Dailymotion, Google Drive, Google Photos, file.fm, mega.nz, ok.ru, tune.pk, Dropbox, Mediafire, vidbom, Vidio, and yadi.sk. Approximately four days later the video was still available on five websites: Amazon Drive, Top4top, file.fm, tune.pk, and Vidio.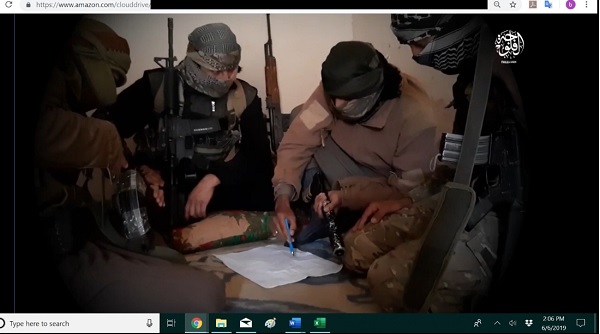 "Then They Will Be Overcome" on Amazon Drive, June 6, 2019.
Pro-ISIS Video Released on Several Websites
A new video from the online pro-ISIS group Asawirti Media was released on June 5, titled "War of Attrition." The video urges the continuation of the fight and includes footage of executions from the June 2 Fallujah video. In addition to Telegram, the video was released on at least nine websites, Myspace, Streamable, Uppom, Anonfile, Megaup, nofile.io, transfer.ch, Vidio, and zupload. Approximately 24 hours later, the video was still available on all nine sites.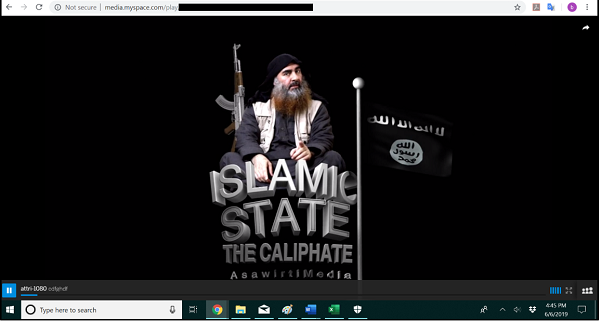 Asawirti Media video on Myspace, June 6, 2019.
New English Language Publication Allegedly from ISIS in India
On June 7, ISIS's self-proclaimed province in India (Wilayat Hind) released the first issue of an English language publication, titled "The Voice," via the group's Al-Burhan media imprint. The publication praises those fighting in Kashmir who previously pledged their allegiance to ISIS, and urges all Muslims to pledge their allegiance to ISIS and its leader, Abu Bakr al-Baghdadi. The publication was spread via pro-ISIS Telegram chats and channels.