For Immediate Release
Monday, February 13, 2023
(New York, N.Y.) — The Counter Extremism Project (CEP) reports weekly on the methods used by extremists to exploit the Internet and social media platforms to recruit followers and incite violence. Last week, CEP researchers located several examples of pro-ISIS content on Facebook encouraging attacks in Europe. CEP also located a post on RocketChat from a pro-ISIS group warning that messages on Facebook and other social media platforms may expose users to law enforcement or intelligence agencies.
In addition, CEP researchers located neo-Nazi content on YouTube, which included an interview with Rob Rundo, co-founder of the Rise Above Movement, and another video that praised white supremacist organizations and promoted the white genocide conspiracy theory.
On Telegram, several channels announced a coalition of neo-Nazi groups organizing an antisemitic "National Day of Hate." Separately, the founder of the neo-Nazi group The Base, Rinaldo Nazzaro, encouraged his Telegram followers to intimidate anti-fascist activists at their homes.
Lastly, CEP located multiple online discussions regarding the arrest of Brandon Russell, the co-founder of the Atomwaffen Division, and Sarah Beth Clendaniel for allegedly conspiring to attack energy facilities. Content that CEP located included a video from the neo-Nazi James Mason condemning the plot and warning about informers, a Telegram channel affiliated with The Base that encouraged solo attacks, and the posting of an accelerationist manual that encouraged similar attacks.
Pro-ISIS Content Located on Facebook Encouraging Terrorist Attacks in Europe
On February 8, CEP researchers located pro-ISIS content on Facebook that encouraged attacks in Europe in response to the burning and the desecration of a Quran in Sweden and the Netherlands. A video posted in a public group stated that it was a duty for individuals to commit acts of terrorism and contained previously released footage from attacks, including the 2020 Vienna attack, the 2016 Nice truck attack, and the 2015 Charlie Hebdo attack. The post also included links to a pro-ISIS Telegram bot. The video had 36 likes or reactions four days after it was posted. Two Facebook accounts were also located that posted content from the pro-ISIS propaganda groups al-Battar and al-Taqwa Media Foundations, including propaganda images and at least one video. The two accounts employed hashtags being used by pro-ISIS social media users.
CEP reported the video and two accounts to Facebook on February 8. The video was inaccessible within 24 hours. The two accounts were still online five days later.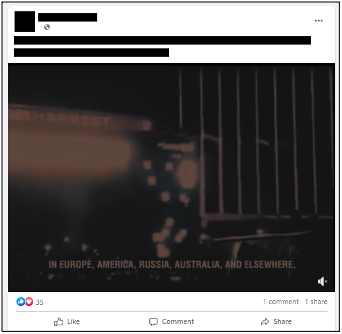 Pro-ISIS video on Facebook encouraging attacks. Screenshot taken on February 8. 
Pro-ISIS Tech Group Warns on Facebook OpSec 
On February 8, a pro-ISIS tech group on the RocketChat platform warned their followers to exercise caution while using Facebook and other social media platforms. The post stated that messages could contain links to malware or that law enforcement or intelligence agencies could monitor individuals over time using social media. 
Neo-Nazi Content Located on YouTube
 CEP researchers located two pieces of neo-Nazi content on YouTube. The first video was an hour-and-a-half livestreamed interview with Rob Rundo, the co-founder of the Rise Above Movement and a white supremacist influencer. In the video, Rundo spoke about his video propaganda group, stating that they recruit for the active club movement by focusing on topics such as "nationalism, brotherhood, (and) comradery" to portray a clean and positive counterculture to normalize fascism. The interview host stated that "abstract expressionism…a Jewish Marxist concept" would lead to the "destruction of Western civilization." The host also played videos during the livestream from an Odysee channel for Rundo's video propaganda unit. Among the videos played on YouTube was a trailer for a video for a white supremacist MMA event that had previously been removed from YouTube.
 YouTube channels affiliated with Rundo and the video group have previously been removed from the platform. The livestream was broadcast on YouTube on February 6 and had almost 600 views three days later and dozens of comments in the livestream chat, including links to active club propaganda. The livestreamer had over 2,100 subscribers on February 9.
CEP also located another white supremacist livestream broadcast on the platform on February 2 from a different creator, with over 650 views on February 9. In the video, the livestreamer promoted the white genocide conspiracy theory, praised the Aryan Nations and the Ku Klux Klan, and stated that "the white working class" was being destroyed by drug abuse and "invaders from Central America." The same livestreamer had a previous video recently removed from the platform for violating their Community Guidelines.
 CEP reported both videos to YouTube, but they were still online five days later.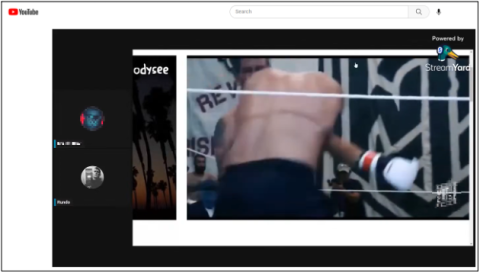 Clip from a livestreamed interview with Rob Rundo. The video included a video advertising a white supremacist MMA event that was previously removed from YouTube. 
Coalition of Neo-Nazi Groups Promotes Antisemitic "National Day of Hate" 
On Telegram, a coalition of neo-Nazi groups announced their plan for an antisemitic "National Day of Hate" in late February, to consist of "banner drops, stickers, fliers and graffiti." The post identifies the planned participants as belonging to active clubs in Iowa and California, a small New York neo-Nazi group, and the National Socialist Movement. The post called Jews "the one true enemy of the American people," invited other white supremacist groups to get involved, and encouraged sending photos and videos of antisemitic rallies and banner drops to a Telegram account allegedly for the leader of the Iowa active club.  
A video accompanying the post contained footage of previous banner drops and small rallies by the four groups. Multiple white supremacist groups and internet personalities previously held coordinated racist banner drops on the anniversary of the killing of George Floyd in 2021, in which they encouraged coverage by local news media.  
Rinaldo Nazzaro, Founder of the Base, Encourages Threatening Anti-Fascist Activists 
In a Telegram post on February 7, Rinaldo Nazzaro, the founder of the neo-Nazi group The Base, encouraged neo-Nazis show up at the homes of anti-fascist activists to intimidate them. The post was responding to a banner drop by anti-fascist activists that allegedly identified the residence of a member of the neo-Nazi group Nationalist Social Club.  
A former leader of The Base, Justen Watkins, is serving a prison term for felony gang membership related to intimidating a Michigan family after appearing outside their house, mistaking it for the home of an anti-fascist podcaster. Watkins and another member of The Base doxed the family online, took photographs of their house, and appeared on their porch wearing masks.  
Three members of The Base were arrested in Georgia in January 2020 and found guilty of plotting to murder a couple they accused of being antifa activists in their home. 
White Supremacists and Neo-Nazis Advise Stronger Operations Security or Not Committing Illegal Acts in Response to Arrest of Brandon Russell and Sarah Beth Clendaniel 
Following the arrest of Sarah Beth Clendaniel and Atomwaffen Division co-founder Brandon Russell for conspiracy to destroy electrical substations in Baltimore, white supremacists and neo-Nazis reacted by advocating for improved operations security and, in limited cases, advised not to commit illegal acts.  
In a video released on February 7, James Mason, who identified himself as a "friend" of Russell, stated that he was "stunned" and that the alleged attack was a "worthless action." Mason went on to accuse other white supremacists of informing on Russell. Mason encouraged viewers not to engage in or discuss criminal acts. 
A blog on a website affiliated with Mason and a member of the National Socialist Order (NSO) who had been disavowed by others in the group, stopped short of condemning violence, stating that individuals should use their "own judgment" regarding how to act. The blog claimed that the best option was to infiltrate society and stay quiet.  
A Telegram channel affiliated with The Base praised Russell and Clendaniel but stated that attacks committed by solo individuals were better to ensure secrecy. Users of two neo-Nazi Telegram chats dedicated to operations security and a podcast warned that law enforcement employs confidential human sources and that individuals should be careful about who they speak to. Multiple users of one of the chats spoke about Russell and Clendaniel positively, stating that it was a "sad day" and speculating on the amount of damage had the attack been successful. Users of another chat posted a neo-Nazi accelerationist manual originally released in June 2022 that encouraged attacks on electrical substations.  
Multiple users of 4chan's /pol board and another imageboard alleged that the attack was a setup from the beginning. Two 4chan users suggested what they claimed were alternate ways to disrupt electrical substations.