Press Contact:
Media at CEP
CEP Uncovers a Host of ISIS Execution, Bombmaking & Propaganda Videos Across Websites
The Counter Extremism Project (CEP) reports weekly on the methods used by extremists to exploit the Internet and social media platforms to recruit followers and incite violence. Today's edition exposes ISIS videos demonstrating executions, explosives construction and violent propaganda hosted across platforms from Google Blogger, Telegram, Streamable, the Japanese site Nico Video, and file upload sites.
"To no one's surprise, ISIS's online supporters continue to disseminate propaganda encouraging acts of terrorism, including videos containing executions and instructions on the construction of explosives," said CEP researcher Joshua Fisher-Birch. "Streaming providers have encountered this type of content before, so it is really and truly baffling that they still do not have the processes in place to expeditiously flag and remove such content when it is uploaded to their sites. ISIS may be quickly losing ground in Syria, but its online presence endures. The tech industry must use this opportunity to put the processes in place to root out their presence once and for all."
ISIS Video Showing the Execution of Two Alleged Kurdish Soldiers Available on Numerous Websites
On February 9, ISIS's Amaq News Agency released a video showing the execution of two men in Syria identified as Kurdish soldiers. In addition to Telegram, the video was released on at least 10 websites: pc.cd, files.fm, Streamable, SendVid, Tune.pk, nofile.io, mail.ru, the Microsoft One Drive, Top4top and Mediafire. Five days later, the video was still available on five websites: files.fm, Streamable, nofile.io, mail.ru and Top4top.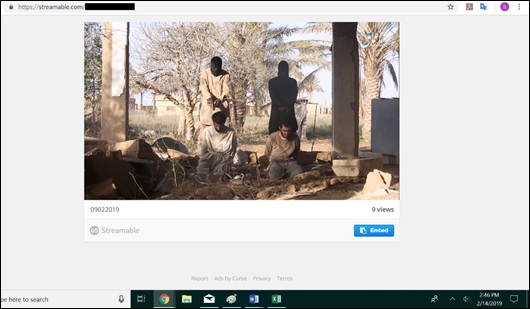 Amaq execution video on Streamable. Located on February 14, 2019
Notorious ISIS Bombmaking & Execution Video Located on Anonymous File Sharing Site
A notorious ISIS video that shows step-by-step instructions for the construction of a TATP explosive device, as well as knife tactics on a human target, was located on the website Anonfile, an anonymous file upload site. It is unknown when the video was uploaded or how many views it had. TATP has been used in numerous terrorist attacks in Europe, including the Manchester Arena attack, the London 7/7 attacks and the November 2015 Paris attacks. ISIS explosives videos were linked by The Times to the Manchester bomber Salman Abedi, who allegedly watched them to assist in constructing his bomb. Munir Hassan Mohammed, arrested in December 2016 for plotting a terrorist attack in the U.K. with Rowaida El-Hassan, had watched a copy of the video CEP located on Anonfile and was arrested while gathering the chemicals necessary to make TATP. Anonfile removed the video after being contacted by CEP.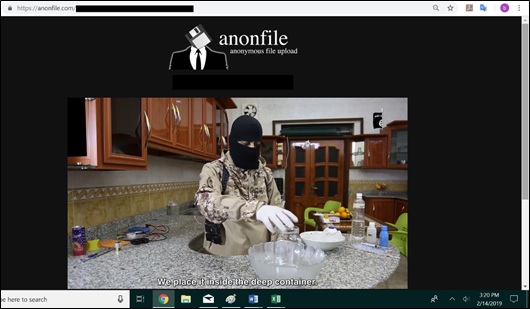 The ISIS bomb making video "You Must Fight Them O Muwahhid," on Anonfile. Located on February 14, 2019.
Numerous ISIS Videos Located on Japanese Video Streaming Website
Several ISIS videos were located on the Japanese video streaming website Nicovideo.jp. The videos, uploaded by multiple users over several years, include ISIS nasheed videos, news clips and violent full-length propaganda videos. One user uploaded seven videos in 2019. Several ISIS videos on the site have hundreds of views each.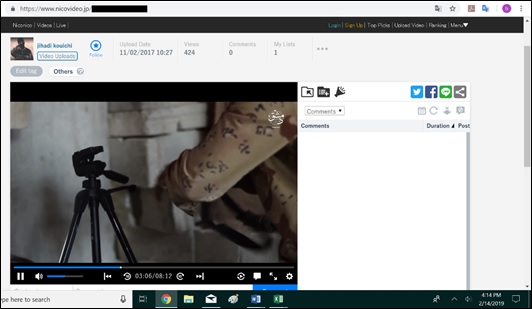 The ISIS propaganda video "The Way of Glory," on Nico Video. Located on February 14, 2019.
Pro-ISIS Blog on Google Blogger Platform
A pro-ISIS site on the Blogger platform was located this week. The platform, owned by Google, allows for the easy creation of blogs. The site contains numerous links to ISIS propaganda videos, magazines, and newspapers. The blog was last updated on January 28, 2019.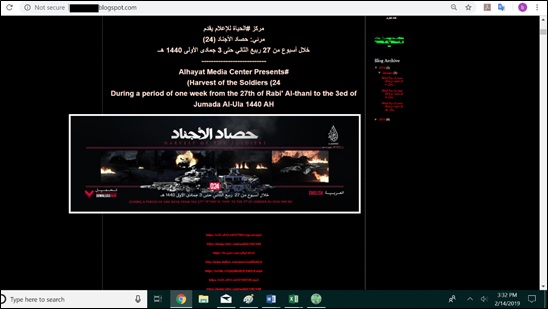 An ISIS site on the Blogger platform, with links to propaganda videos. Located on February 14, 2019.