For Immediate Release
Monday, November 18, 2019
Neo-Nazi Groups The Base and Group Claiming to be the Atomwaffen Division Release Propaganda Videos On Telegram
(New York, N.Y.) – The Counter Extremism Project (CEP) reports weekly on the methods used by extremists to exploit the Internet and social media platforms to recruit followers and incite violence. This week, the pro-ISIS group Muntasir Media issued a threat to Spain and ISIS continued circulating a propaganda video in Iraq. Additionally, the neo-Nazi groups The Base and a group claiming to be part of the Atomwaffen Division each respectively released new propaganda videos on Telegram.
"In the three weeks since Abu Bakr al-Baghdadi's death, ISIS's online operations appear to be continuing as normal. This month, one of their online support groups issued a new threat in Spain and their official propaganda outlet released a video from Iraq. Although the terror group did announce a successor, Abu Ibrahim al-Hashemi al-Qurayshi, their decentralized nature and enduring virtual infrastructure again symbolizes their lasting presence," said CEP researcher Joshua Fisher-Birch.
Spanish Pro-ISIS Media Group Releases Video Pledging Allegiance to New Caliph, Threatens Spain
On November 14, the pro-ISIS Muntasir Media released a video on Telegram of a masked individual who claimed to be in Spain. The individual stated that despite the recent arrest of a person affiliated with the pro-ISIS Muntasir Media group, they still endure and that ISIS cells exist in Spain. Spanish authorities arrested an individual on October 5, alleged to be part of Muntasir Media, for making threats. The propaganda video includes widely available footage of the subway system in Madrid set against the sound of a ticking clock. The masked individual pledges his allegiance to ISIS's new leader, Abu Ibrahim al-Hashimi al-Qurashi. Muntasir Media has previously released a video threatening a Spanish judge.
Recently Released ISIS Video Still Widely Available Online
On November 6, ISIS released a video from their self-proclaimed North Baghdad province in Iraq, titled "Fate of the Criminals." The video shows ISIS sleeper cells operating at night and committing attacks on property and equipment, and executions of Popular Mobilization Forces militia members, including shootings and a beheading. The video also profiles an Iraqi ISIS suicide bomber.
In addition to Telegram, the video was released on at least 24 websites: ownCloud, Mediafire. Top4top, the Microsoft One Drive, Amazon Drive, the Internet Archive, mail.ru, ddl.to, Google Drive, Google Photos, file.fm, letsupload.co, mega.nz, mir.cr, Mirrorace.com, ok.ru, pc.cd, tune.pk, Dropbox, khlgy.com, Vidio, Zippyshare Zupload.net, and Turbobit. Seven to eight days later, the video was still available on 15 websites: ownCloud, Mediafire, Top4top, mail.ru, ddl.to, file.fm, letsupload.co, mega.nz, mir.cr, Mirrorace, ok.ru, Vidio, Zippyshare, Zupload, and Turbobit. The video was additionally located on Tune.pk, where it was online for two days when it was located, and the Internet Archive, where it was online for 24 hours when it was located.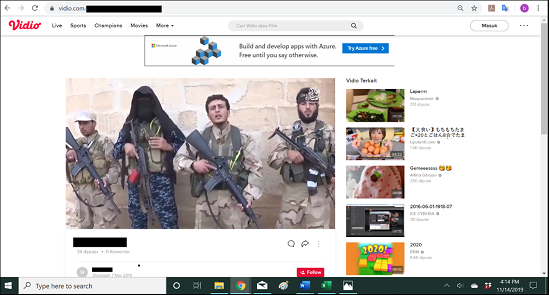 "Fate of the Criminals" on the Indonesian video streaming site Vidio, seven days after it was uploaded. November 14, 2019.
New Video Released From Alleged Atomwaffen Division Affiliate
On November 9, a video titled "Feuernacht" (night of fire) was released by a group claiming to be part of the Atomwaffen Division (AWD). The video, released on the 81st anniversary of Kristallnacht, shows men with AWD patches and flags burning a Hebrew bible, a Quran, a book on critical theory, and an LGBT pride flag. The video additionally uses a drone mounted camera and urges the viewer to "start the revolution" and lists a recruiting email address at Tutanota. The video contains audio taken from the film The Exorcist.
The video was made by the same sub-group that released an alleged AWD video on October 10, encouraging and threatening violence. The AWD and neo-Nazi James Mason disavowed the October 10 video, stating on their website on the dark web that there was no connection between the AWD and whoever made the video. This indicates that the video was made by a group that considers themselves a regional or breakaway AWD cell, a competing group, or an entity that is attempting to disguise themselves as AWD.
The video released on November 9 was spread by at least 13 different extreme right-wing Telegram channels in both English and either Russian or Ukrainian. The video was also uploaded to BitChute and YouTube. The YouTube version of the video was removed for violating the site's policy on hate speech on November 13, after being online for two days and accruing over 170 views.
New Video Released from Neo-Nazi Group The Base
The neo-Nazi self-described survivalist network The Base released a new video on November 9 on Telegram. The video shows the group's members posting flyers advertising the group and attempting to recruit on the Boston University campus. The Base claimed that they took this action due to a "communist gathering" planned for the following day. An anarchist bookfair was supposed to take place at BU, but was moved to a different location. The video was located on Telegram, BitChute, and YouTube. The YouTube version was removed on November 13.