Press Contact:
Media at CEP
(New York, N.Y.) - The Counter Extremism Project (CEP) reports weekly on the methods used by extremists to exploit the Internet and social media platforms to recruit followers and incite violence. This week's edition details the emergence of a new ISIS video from its self-proclaimed state in Turkey, the push by ISIS allies to ensure supporters know how to financially support terror activities and the relaunch of ISIS' Rocket Chat account to spread propaganda and facilitate communications among members.
ISIS Releases First Video from Self-Proclaimed State in Turkey
On Wednesday, July 10, ISIS released their first video from the group's self-proclaimed state in Turkey. Wilayah Turkey was first made public in an ISIS video in late April 2019, featuring the group's leader Abu Bakr al-Baghdadi. The video, part of the "The Best Outcome is for the Pious" series, shows five fighters pledging their allegiance to Baghdadi and threatening attacks in Turkey. ISIS last claimed an attack in Turkish territory in 2017.
"The video predictably appeared on Telegram which has a solid reputation among extremists for its habit of allowing organizations like ISIS to misuse and abuse its platform with impunity," said CEP Executive Director David Ibsen. "ISIS is responsible for multiple largescale terrorist attacks in Turkey since mid-2015. However, the government has not joined the growing international movement to push tech companies to prevent the proliferation of terror content. But that needs to change."
In addition to Telegram, the video was uploaded to at least 25 websites: Mediafire, Tune.pk, the Microsoft One Drive, Top4top, Amazon Drive, Anonfile, the Internet Archive, Bayfiles, mail.ru, Dailymotion, Google Drive, file.fm, mega.nz, megaup, ok.ru, Streamable, transfer.sh, dalfak.com, Dropbox, Vidio, Myspace, yadi.sk, zupload, ownCloud, and Pcloud. Approximatley 24 hours later, the video was still available on at least 12 websites: Mediafire, Top4top, the Internet Archive, megaup, ok.ru, Streamable, transfer.sh, Vidio, Myspace, zupload, ownCloud, and Pcloud.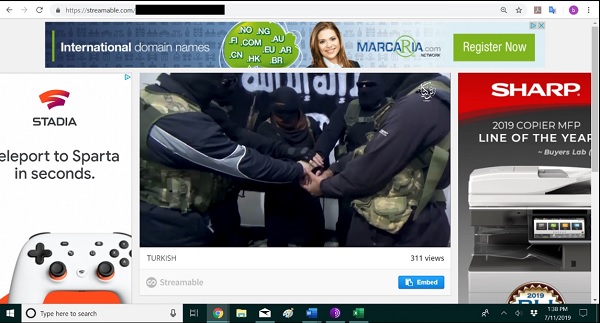 "The Best Outcome is for the Pious," on Streamable, July 11, approximately 24 hours after it was uploaded.
Pro-ISIS Tech Group Advises Users on Sending Money Online and Using Cryptocurrency
On July 10, the pro-ISIS Electronic Horizons Foundation (EHF) made a post on PasteThis.To and on their website advising users on secure online financial transactions and cryptocurrency. EHF listed the potential dangers of using bank cards, Western Union, bank transfers, in person hand offs, cryptocurrency, and other methods and services. EHF recommends using Bitcoin and noted that the group will provide more information in the future on the cryptocurrency.
EHF offers information on topics such as Internet and information security, and counter-surveillance. The group's website offers numerous guides on topics including encryption, online anonymity, and operating system security. The Electronic Horizons Foundation previously had a dark web site that is no longer active. The current site uses the company Hostinger as its registrar, and Cloudflare as its name server. Electronic Horizons Foundation exists in order to preserve the online ISIS community and keep it safe from law enforcement and intelligence agencies.
Pro-ISIS Telegram Channel Continues to Post PayPal Links
A pro-ISIS Telegram channel continues to post PayPal pool links, allegedly for women ISIS members held in refugee camps in Syria. A PayPal pool link on July 8 had over 20 contributors and had raised more than €1,400. Pro-ISIS Telegram chats and channels have been advocating using PayPal to send money online.
ISIS Channels on Rocket Chat Return
After approximately one month of inactivity, ISIS chats and channels have returned to the communications platform Rocket Chat. Unknown individuals created pro-ISIS chatrooms in Rocket Chat in December 2018. In April 2019, pro-ISIS Rocket Chat chatrooms moved from the .xyz to the .to domain. Content on the platform currently includes ISIS propaganda videos and news, religious propaganda, information on counter-surveillance, and information security. Chat functions allow users to communicate with one another.