For Immediate Release
Monday, May 8, 2023
(New York, N.Y.) — The Counter Extremism Project (CEP) reports weekly on the methods used by extremists to exploit the Internet and social media platforms to recruit followers and incite violence. Last week, CEP researchers located accounts on Meta-owned Instagram belonging to German and Hungarian extreme-right groups and pro-ISIS accounts that posted propaganda, including video clips celebrating terrorist attacks and sections from ISIS's al-Naba newsletter.
In addition, Qimam Electronic Foundation (QEF), a pro-ISIS tech group, released a guide on enabling anti-phishing security features on Windows 11. 
CEP located a Twitter account belonging to a neo-Nazi leader used to spread propaganda, including footage from a recent event, and promote his Telegram page and webstore. Researchers also located a Telegram channel offering graphic design services, including logo creation for white supremacist active clubs. A video recreation of the Christchurch terror attack in the online game Roblox was found on the video website BitChute.
Lastly, CEP located two neo-Nazi accelerationist manuals on the Internet Archive, which were removed after CEP reported them.
Extreme Right and Pro-ISIS Content Located on Instagram
On May 4, CEP researchers located two Instagram accounts belonging to the German extreme right promotion group Kampf der Nibelungen (KdN) and the Hungarian group Legio Hungaria. Both groups organized "European Fight Night" on May 6 near Budapest, an extreme right combat sports and networking event. The KdN Instagram account had over 5,000 followers and advertised the May 6 event and merchandise with the group's logos. The Legio Hungaria account had over 1,300 followers and promoted the May 6 event.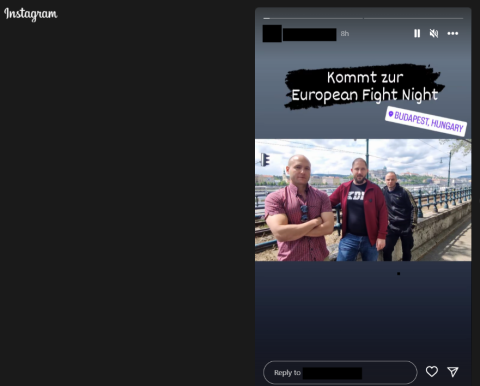 KdN account advertising the Budapest event using the Instagram stories feature. Screenshot taken on May 4, 2023.
CEP researchers also found one full-length ISIS video and clips from two ISIS videos on Instagram on May 4. The full-length video, from ISIS's self-proclaimed al-Barakah province, was originally released in March 2019 and contained combat footage. The video was uploaded to Instagram on April 22 and had 52 likes on May 4.
The second video, a clip taken from an ISIS video, showed combat and the use of vehicle-borne improvised explosive devices (VBIEDs). The video had 30 likes after it was online for approximately three weeks.
The third piece of pro-ISIS content, a clip taken from the notorious ISIS French language nasheed (anthem) video for "My Vengeance," released in July 2016, celebrated ISIS terrorist attacks in Paris and Brussels. The video had 50 likes approximately two weeks after it was uploaded. The same account also uploaded pages from ISIS's al-Naba newsletter using the Instagram stories feature.
CEP reported all five accounts to Instagram on May 4. All five accounts were still available four days later.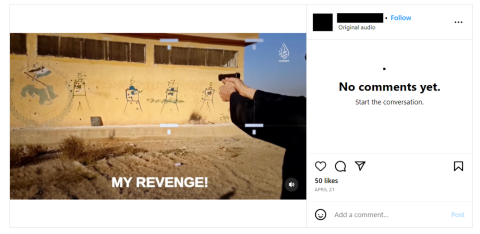 Clip from ISIS nasheed video for "My Revenge" on Instagram. Screenshot taken on May 4.
Pro-ISIS Tech Group Posts Guide on Anti-Phishing Protection for Windows 11 OS
On May 3, CEP researchers located a post from the pro-ISIS tech group Qimam Electronic Foundation (QEF) on anti-phishing features for Windows 11. The information was posted on PasteThis.To and spread via the group's RocketChat channel. The guide contained information on enabling Windows security features, including anti-phishing protection.
Neo-Nazi Leader Continues to Post Propaganda on Twitter
CEP reported the Twitter account of the leader of a small neo-Nazi movement in the U.S. that has protested two drag events in Ohio and sought to intimidate attendees. The individual behind the account, who previously sought to create a white-only space in Maine partially to use as a training space, led a group of neo-Nazis, some armed, as they chanted anti-transgender and pro-Nazi slogans outside of a Columbus, Ohio brewery on April 29. The group participated in a similar demonstration in March.
The Twitter account, which had 150 followers, posted a video from the April event and advertised the individual's Telegram channel and a website to purchase merchandise.
CEP first reported the account on April 6, but Twitter took no action. Twitter previously removed at least one account used by the same individual. CEP reported the active account again on May 4, but it was still online four days later.
Extreme Right Graphic Design Business Pitches Active Clubs
On April 30, a Telegram channel allegedly belonging to a graphic design group advertised that they could create logos and other images for active clubs, individuals, and other entities. The channel claimed that they offered affordable pricing. By May 4, the channel posted logos they created for two active club chapters.
Video Recreation of Christchurch Attack in Video Game Roblox Located on BitChute
On May 4, CEP researchers located a video recreation of the Christchurch terrorist attack in the video game Roblox. In addition to advocating for violence against Muslims, the video included racist and antisemitic language. The video was uploaded on May 3 and had over 55 views within 24 hours. CEP reported the video to relevant national authorities. CEP previously found a similar video on Streamable in June 2021.
Neo-Nazi Accelerationist Books Located on the Internet Archive
CEP researchers located two neo-Nazi accelerationist books on the Internet Archive on May 3.
The first book was originally released in July 2022 and uploaded to the Internet Archive on April 4. The text encouraged acts of terrorism, including attacks on religious institutions, infrastructure, law enforcement, politicians, people of color, Jews, Muslims, Sikhs, Latinos, and LGBTQ people. The book also included tips for committing attacks, including operations security, surveillance, target selection, equipment suggestions, and directions for making homemade explosives. The book advocated for committing live streamed style attacks as copycats of the Christchurch terrorist.
The second book, originally released in June 2021, also called for acts of violence and attacks on infrastructure and religious institutions. The book was also uploaded to the Internet Archive on April 4.
CEP reported both texts to the Internet Archive who quickly removed them.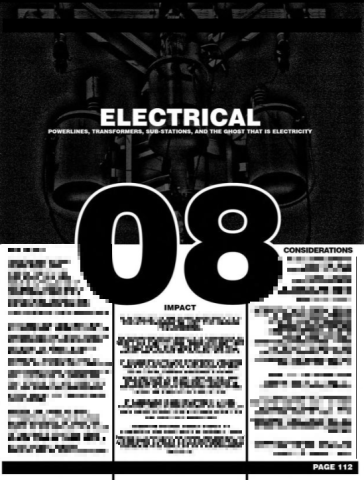 Page containing information useful for attacking the electrical infrastructure from a neo-Nazi accelerationist guide located on the Internet Archive. Screenshot taken on May 4.