For Immediate Release
Monday, May 20, 2019
The Counter Extremism Project (CEP) reports weekly on the methods used by extremists to exploit the Internet and social media platforms to recruit followers and incite violence. This week's edition finds that several tech companies, including Google-owned YouTube, have failed to stop the reupload of content from the white supremacist group Atomwaffen Division. Additionally, a pro-ISIS group leverages Hostinger and Cloudflare to launch a new website.   
"Despite repeated promises and proclamations to the public, tech companies continue to allow re-uploads of extremist content on their platforms," said CEP Researcher Joshua Fisher-Birch. "In this case, it was an Atomwaffen Division video promoting violence that also contained still images from previously released and known videos. The fact that it was removed hours upon initial upload, and subsequently allowed to be re-uploaded several times afterwards, suggests that YouTube is not deploying hashing technology or artificial intelligence to prevent the reupload and spread of this content. Even YouTube's manual flagging mechanism is broken if some copies of this video are removed, while others are allowed to remain online after being reported."
Recently Released Atomwaffen Division Video Remains Online
A new propaganda video from the American neo-Nazi group Atomwaffen Division (AWD) is still easily locatable online, including on YouTube, despite several copies of the same video having been removed from the site. The video shows AWD members training with firearms, practicing hand to hand combat and burning various flags. It includes footage in several different landscapes, suggesting geographic diversity. The video also states that a new website for the group is coming soon, and provides an email address for recruitment purposes, which is not functioning.
By the time the original YouTube video was removed several hours after it was posted on May 9, the video already had over 850 views. Two other copies of the video were reuploaded to YouTube on May 10 and May 11, with 583 and 263 views respectively when the videos were located on May 13.  A copy of the video was located on May 17 with over 400 views. CEP researchers reported the video to YouTube on May 17, but YouTube refused to remove the video. Three days later, the same link was still active and had over 2,300 views. YouTube's takedown policies for the video are inconsistent; the video was removed in at least two cases for hate speech, and once for unspecified Terms of Service violations.
CEP researchers located the video on YouTube, Vimeo, BitChute, the Internet Archive, Reddit, and white supremacist Discord channels. Links to the video were spread via 4chan and Gab. A still image in the video matches a photo posted in June 2018 on a Facebook page affiliated with the satanic Temple ov Blood cult. Other still images used were taken from prior released AWD propaganda videos.

Still image from the May 9 Atomwaffen Division propaganda video (left), and a photo (right) from a Temple ov Blood affiliated Facebook page. One of the individuals is wearing an Atomwaffen Division patch, and the other appears to be wearing an Atomwaffen Division shirt, they are holding the books Iron Gates and Bluebird, both published by Temple ov Blood. (May 17, 2019)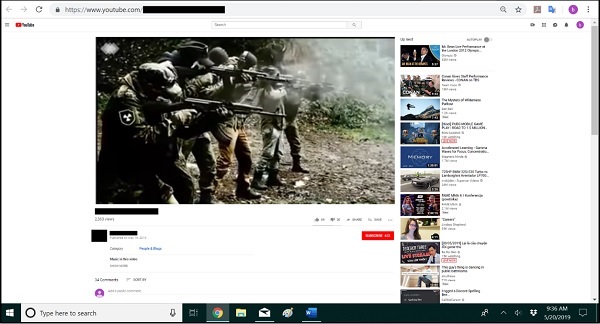 Atomwaffen Division propaganda video on YouTube on May 20 with over 2,300 views. The video was still online three days after it was reported to YouTube, despite YouTube having removed previous copies of the video.
Alleged Atomwaffen Division Gab Account Calls For Lone Actor Violence
On May 12, a Gab account claiming an affiliation with the Atomwaffen Division (AWD) posted in a neo-Nazi Gab forum that "The Saints Are Coming (sic)!"  Dylann Roof, Robert Bowers, Brenton Tarrant and John Earnest have been described as "Saints" in certain Gab, 4chan and 8chan communities that tolerate and/or promote violence against communities of color, Muslims and Jews. The term is used to venerate the actions of these individuals, who are sometimes portrayed with Christian saint iconography. The forum comment included an AWD gif that reads "Join your local Nazis."
Pro-Isis Technology Group Launches New Website
A new website for the online pro-ISIS group Electronic Horizons Foundation was located. The group offers information on topics such as Internet and information security, and counter-surveillance. The website offers numerous guides on topics, including encryption, online anonymity and operating system security. The Electronic Horizons Foundation previously had a dark web site that is no longer active. The current site uses the company Hostinger as its registrar, and Cloudflare as its name server. Electronic Horizons Foundation exists in order to preserve the online ISIS community and keep it safe from law enforcement and intelligence agencies.
Pro-ISIS Online Group Uses Telegram To Send Messages To Individuals In Al-Hol Camp
Al-Muhajireen (emigrants) Foundation posted several messages on Telegram geared towards ISIS supporters in the Al Hol Camp in north-east Syria. Al Muhajireen Foundation has previously released advice for foreign fighters in several languages, including English, Arabic, Dutch, German, Turkish and Persian on topics such as avoiding smuggling routes and certain areas during anti-ISIS operations, and avoiding fake passports. The recent messages, which were in English, warn captured alleged ISIS members and their families that there are spies in the camp and that sim cards purchased from Kurdish troops can be used for surveillance.