For Immediate Release
Monday, February 24, 2020
(New York, N.Y.) – The Counter Extremism Project (CEP) reports weekly on the methods used by extremists to exploit the Internet and social media platforms to recruit followers and incite violence. This week, white supremacist Telegram channels and chan-style imageboards celebrated the alleged shooter in two deadly attacks in Hanau, Germany that left nine dead. Additionally, CEP located ISIS content on Telegra.ph, and also located an ISIS Amaq video on multiple websites including Telegram and RocketChat. Also, an accelerationist white supremacist Telegram channel urged viewers to kill elected officials. Finally, two videos featuring an accelerationist song advocating for the murder of Jews, people of color, Latinos and immigrants that included background Atomwaffen Division (AWD) footage were also located on YouTube.
White Supremacist Telegram and Chans Celebrate Hanau, Germany Shooter
White supremacist Telegram channels and chan style imageboards celebrated Tobias Rathjen, who allegedly murdered nine people with a firearm at two shisha lounges in Hanau, Germany on February 19, before killing his mother and then himself. Rathjen, who was motivated by racism and xenophobia, uploaded a video to YouTube several days before the attack where he alleged that the U.S. was ruled by secret societies and mind control techniques. Rathjen also operated a website (since taken offline) where he stated that he was controlled by mind-readers from an unnamed intelligence agency, and that immigrants and people in Germany of Middle Eastern, African, and Asian ancestry had to be killed.
"While there is no evidence that the shooter himself engaged with right wing extremist Telegram or chan imageboards, he has been celebrated by accelerationist users of both platform types," said CEP Researcher Joshua Fisher-Birch. "Online communications platforms like Telegram, and web infrastructure companies such as Cloudflare should take action against online communities that praise and encourage acts of terrorism and violence."
Telegram channels comprising some of the most radical sectors of white supremacist content on the platform posted Rathjen's English language YouTube video, and praised his actions. One channel in a message viewed approximately 500 times, approvingly claimed that the shootings were a "textbook case of accelerationism." An English language video that Rathjen posted, replete with conspiracy theories, had over 4,000 views on Telegram. Other Telegram channels and users of two Chan imageboards, one which uses services provided by Cloudflare, referred to Rathjen as a "saint" for murdering immigrants. There is no evidence indicating that Rathjen himself used Telegram or Chan imageboards, nor did he reference any prior mass shootings inspired by 8chan's "politically incorrect" board.
ISIS Content Located On Telegra.ph
ISIS content consisting of propaganda photos, news reports, and links to communications applications were located by CEP researchers on the Telegra.ph platform. Telegra.ph is a function of Telegram, and allows users to share content with individuals who do not have Telegram accounts. Two different pages, both posted on February 16, were still online four days later. One of the pages located contained over 100 ISIS propaganda photos from the group's affiliates in Iraq, Syria, Yemen, Central Africa, West Africa, Sinai, Somalia, Pakistan, and India. The photosets from Iraq and Sinai included execution photos, and the Syria, Yemen, and Central Africa photosets included images of corpses.
ISIS Amaq Video Located On Multiple Websites
CEP researchers located a clip from ISIS's Amaq news agency on multiple websites, uploaded on February 17. The video shows combat in Yemen between ISIS and Houthi forces, and what are purported to be captured Houthi positions and a hostage. In addition to Telegram and RocketChat, the video was uploaded to at least 13 websites: Amazon Cloud Drive, file.fm, SendVid, Streamable, Tune.pk, yadi.sk, the Internet Archive, mail.ru, the Microsoft One Drive, Mega.nz, Top4top, Mediafire, and Dropbox. Three days later, the video was still available on five websites in addition to Telegram and RocketChat: Streamable, Tune.pk, mail.ru, Top4top, and Mediafire.
Accelerationist White Supremacist Telegram Channel Urges Viewers To Kill Elected Officials
On Monday, February 17, an accelerationist white supremacist Telegram channel posted an image urging subscribers to shoot elected officials. The same image, which shows bullets with accompanying text, was posted in a different Telegram channel that also encouraged violence in July 2019. In three days, the image was seen over 1,500 times. The channel, which has over 3,600 subscribers and uses an image of Timothy McVeigh as an AVI, has indicated that the administrator lives in Slovakia.
Accelerationist Song Advocating Murder with Background Atomwaffen Division Footage Located On YouTube
Two videos were located on YouTube of a song made by an individual endorsing a loose-knit accelerationist group that reveres Dylann Roof. The video advocates the murder of Jews, people of color, Latinos, and immigrants, and was originally uploaded in August 2019. The video had over 1,500 views when it was located on February 20. Another video, which was unlisted and had identical audio, but included clips taken from Atomwaffen Division videos was also located, posted as a link in the comments of the first video. The AWD footage, which is taken directly from the group's propaganda videos, includes individuals firing various firearms while wearing AWD patches. The unlisted video was uploaded in October 2019, and had almost 200 views when it was located on February 20.
Both videos were reported to YouTube on February 21, however they were still online three days later. YouTube has previously removed AWD content from their platform for violating their Terms of Service on hate speech. It is unclear if AWD videos have been added to the website's hash database.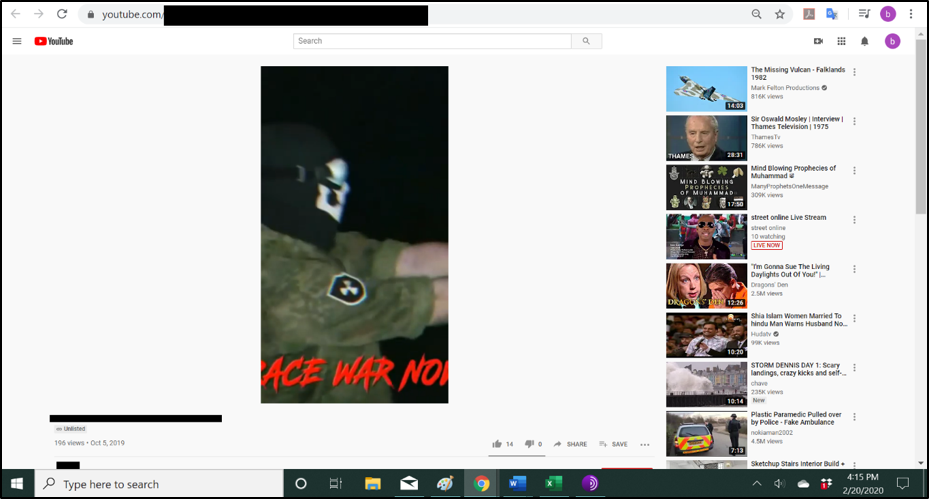 Atomwaffen Division footage on YouTube, February 20, 2020