For Immediate Release
Tuesday, September 17, 2019
9/11 Attacks Commemorated on Telegram by Extremists; Neo-Nazi Group Feuerkrieg Division Issues Threats to UK Officials
(New York, N.Y.) – The Counter Extremism Project (CEP) reports weekly on the methods used by extremists to exploit the Internet and social media platforms to recruit followers and incite violence. This week, al-Qaeda released an English-language version of its magazine One Ummah, which features its leader Ayman al-Zawahiri. Additionally, the neo-Nazi group Feuerkrieg Division issued threats to UK police and government officials. Finally, ISIS and the extreme right commemorated the 9/11 attacks on Telegram, ISIS released a new video on multiple websites and an old video of a UK man pledging allegiance to ISIS, also on Telegram.
Al-Qaeda Releases English Language Magazine
On September 11, al-Qaeda released the first English language edition of their magazine One Ummah. An Arabic version of the magazine was originally released in April 2019. One Ummah has several lengthy articles on current events, history, economics, and personal stories. An al-Qaeda media website that hosts One Ummah uses Cloudflare as its Nameserver and 1API GmbH as it's registrar.
"One Ummah is notable as an English language al Qaeda magazine. This issue heavily features the group's leader, Ayman al-Zawahiri, who has led al-Qaeda since 2011. Although Zawahiri has been in hiding since December 2001, he frequently makes his presence known in the terror group's propaganda. Given this magazine's obvious ties to terrorism, Cloudflare and 1API GmbH have a black-and-white decision to make as to whether or not they will tolerate it on their platforms," said CEP researcher Joshua Fisher-Birch.
One Ummah calls for violence against the U.S. and anyone who defames Islam. Al-Qaeda's leader Ayman al-Zawahiri in one article described the magazine as a literary and cultural al-Qaeda publication, with objectives including instilling "Jihadi maturity and political understanding," a call to Islam, encouraging attacks on the U.S. and its allies, encouraging unity among Muslims under the leadership of al-Qaeda, calling for the liberation of Muslim lands, and a code of conduct. Another article analyzes the U.S. economy from the 1980s to the present, and highlights the economic impact of 9/11 and the costs of the U.S. War on Terror. An article by Umaymah Hasan Ahmad, Zawahiri's wife, described her experience of the U.S. invasion of Afghanistan.
Previously, al-Qaeda in the Arabian Peninsula produced an English language magazine titled Inspire, which specifically encouraged lone actor attacks and contained both tactical information and information on specific terrorist attacks.
ISIS and Extreme Right Commemorate 9/11 Attacks on Telegram
ISIS and the extreme right both commemorated the September 11th attacks. ISIS channels posted propaganda images celebrating the attacks, praising Osama bin Laden, and threatening future attacks. The pro-ISIS Al Battar Foundation stated that there will be "no rest until the world witness (sic) a new Mosul in New York and a new Raqqa in Las Vegas, eye for an eye." Numerous extreme right Telegram channels marked 9/11 by posting memes blaming Jews and/or Israel for the terrorist attacks. A Telegram post from a white supremacist accelerationist Telegram channel that was viewed over 4,300 times blamed Jews for stealing money from the Department of Defense, and blamed Israelis for allegedly destroying the Twin Towers.
New ISIS Video Released on Multiple Websites
On September 8, ISIS released a new video from their self-proclaimed province in the Sinai, Egypt, titled "Covenant and Steadfastness 3." The video includes both old and recent footage of combat in Sinai between ISIS and Egyptian security forces, and calls on the viewer to join ISIS. It also includes footage of ISIS fighters training, and segments on those who have died, including those who have become suicide bombers. This features the statements of three bombers who attacked the city of al-Arish. The video concludes with the assassination of five men, three by beheading, and two by gunshots.
In addition to Telegram, the video was uploaded to at least 42 websites: Mediafire, Google Photos, the Microsoft One Drive, Top4top, 9xupload.xyz, Amazon Drive, Anonfile, the Internet Archive, Bayfiles.com, Google Drive, clicknupload, mail.ru, Dailymotion, ddl.to, file.fm, file555.com, letsupload.co, Mega.nz, mirrorace.com, ok.ru, pc.cd, peertube, pixeldrain, tune.pk, upload.ac, uploadbuzz.org, Vimeo, Dropbox, khlgy.com, up-00.com, Vidio, Zippyshare, Myspace, Yadi.sk, YouTube, Zupload, myfile.is, file.bz, sendit.cloud, linx.li, bdupload.asia, and dropapk.to. Four days later, the video was still available on at least 18 websites in addition to Telegram: Google Drive, 9xupload.xyz, file.fm, mirrorace.com, tune.pk, Dropbox, khlgy.com, up-00.com, Vidio, Zippyshare, Myspace, Zupload, myfile.is, file.bz, sendit.cloud, linx.li, bdupload.asia, and dropapk.to. Links to the video were additionally spread via JustPaste.It and mir.cr.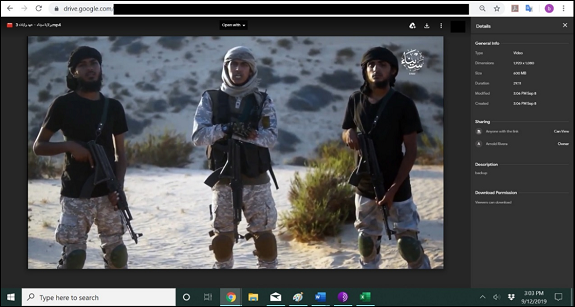 "Covenant and Steadfastness 3" on Google Drive, four days after it was uploaded. September 12, 2019.
Previously Released Video of British Man Pledging Allegiance to ISIS Rereleased on September 11
On September 11, an approximately two-minute video of Lewis Ludlow, a former resident of Rochester in the United Kingdom was rereleased on an English language Telegram channel known for encouraging attacks in the West. Ludlow was arrested in April 2018 and was sentenced in March 2019 to life in prison with a minimum of 13 years for planning to attack locations in London. The video was reposted to additional pro-ISIS Telegram chats on September 12.
In the video, Ludlow pledges allegiance to ISIS, states that he grew up in the West and has studied Islam, and threatens to "destroy all that you hold dear." Ludlow identifies himself as "the Eagle," and obscures his face. It is possible that the video rereleased on September 11 was modified in order to darken the area around Ludlow's eyes, making him harder to identify in the most recent version of the video. Ludlow was previously arrested for involvement in Anjem Choudary's al-Muhajiroun organization.
Siege Inspired Neo-Nazi Group Feuerkrieg Division Threatens UK Police and Government
On September 13, the neo-Nazi group Feuerkrieg Division (FKD) which is inspired by the book Siege and has members in Europe and the U.S., issued a threat regarding an alleged member in the UK who was arrested on September 2. The member in question, a 16-year-old army cadet, had applied to join FKD and was researching homemade firearms when he was arrested. On their Telegram channel, FKD demanded that the British court system "Release our comrade or you will regret it," and threatened violence against the British government, and the Chief Constable for the West Midlands Police in a propaganda poster. FKD has previously threatened European politicians and encouraged their members to commit terrorist attacks.
Anti-Semitic Telegram Chat Calls for Violence Against Jews
Members of an anti-Semitic Telegram chat have called for violence against Jews. The chat is connected to a Telegram channel that posts photos of Twitter accounts belonging to Jews. Chat members have called for synagogue shootings, posted images of an anti-Semitic caricature being executed, and stated that Jews "deserve a real holocaust." Other chat members have encouraged killing politicians and other "high value targets".