For Immediate Release
Tuesday, November 30, 2021
(New York, N.Y.) – CEP Senior Advisor Dr. Hany Farid, an internationally recognized expert in digital forensics, misinformation, algorithmic amplification, image analysis, and hashing technology, is a professor at UC Berkeley with a joint appointment in Electrical Engineering & Computer Sciences and the School of Information.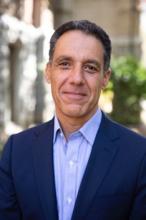 Dr. Farid's research has repeatedly demonstrated the hollowness of tech giants' promises to moderate content and their role in exacerbating a host of problems, from radicalizing terrorist and extremist content to child exploitation and illegal drug and gun sales. Dr. Farid has appeared before Congress on several occasions, testifying about the dangers of deep fakes, algorithmic amplification, and the economic incentives of the big tech companies that lead them to promote the most sensational, divisive, and harmful content. Dr. Farid received his undergraduate degree in Computer Science and Applied Mathematics from the University of Rochester in 1989, his M.S. in Computer Science from SUNY Albany in 1992, and his Ph.D. in Computer Science from the University of Pennsylvania in 1997. He is the recipient of an Alfred P. Sloan Fellowship, a John Simon Guggenheim Fellowship, and is a Fellow of the National Academy of Inventors.
Dr. Farid can be reached directly via email at [email protected] to discuss digital forensics, misinformation, algorithmic amplification, image analysis, and hashing technology.
Policy, Research, and Analysis
Section 230 Reform and the Justice Against Malicious Algorithms Act of 2021
On October 14, Dr. Farid released comments in support of the Justice Against Malicious Algorithms Act of 2021. The bill would narrowly amend Section 230(c) of the Communications Decency Act (CDA) and eliminate blanket liability protection for online platforms that knowingly or recklessly deploy recommendation algorithms to promote content that materially contributes to physical or severe emotional injury. "Algorithmic amplification is a key driving force for spreading problematic, harmful content online. As it stands, for-profit tech companies have a business incentive to increase engagement on their platforms—including by promoting divisive, hateful, and extremist content—in order to increase revenues. Legislation is clearly needed to shift that corporate calculation.  The proposed bill is a sensible legislative solution that holds the tech industry accountable for their reckless behavior in proliferating content ranging from child sex abuse, terrorism, the sale of illegal narcotics and weapons, to misinformation."
How Algorithmic Amplification Pushes Users Towards Divisive Content on Social Media Platforms
In June, CEP hosted the first in a series of webinars with Dr. Farid that explored the nature and extent of the global phenomenon of misinformation, its consequences, the role of algorithmic amplification in spreading it, and possible technological and regulatory interventions for stopping it. Farid was joined by German MEP Tiemo Wölken, the coordinator for the Committee on Legal Affairs (JURI) at the European Parliament, and Prabhat Agarwal, the head of the Digital Services and Platforms Unit for DG Connect at the European Commission. Dr. Farid said: "Algorithmic amplification is the root cause of the unprecedented dissemination of hate speech, misinformation, conspiracy theories, and harmful content online. Platforms have learned that divisive content attracts the highest number of users and as such, the real power lies with these recommendation algorithms. Until thorough regulation is put in place, controversial content will continue to be promoted and amplified online." Click here to watch Dr. Farid explain how to combat fake news.
On the Threat of Deep Fakes to Democracy and Society
The influence of fake news and the manipulation of public and political perception has been a threat to political systems for years. Today, fake news is often supported by so-called deep fakes—seemingly real but synthesized videos of various kinds. Due to advances in machine learning, significant technical skills to produce deep fakes are no longer necessary, vastly increasing the risk of their misuse. CEP, in cooperation with the Konrad Adenauer-Stiftung (KAS), released a study, On the Threat of Deep Fakes to Democracy and Society. The authors, Dr. Farid and CEP Senior Director Dr. Hans-Jakob Schindler, discussed the study and ways to confront the problem during a CEP webinar. Media coverage: Knowable Magazine and The Washington Post.
Op-eds and Selected Media
Newsweek: "Should we Celebrate or Condemn Apple's New Child Protection Measures?"
While child advocates were supportive of Apple's announced move to deploy hashing technologies to protect children from sexual abuse and exploitation, Dr. Farid argues that Apple should not be celebrated for the modest step of extending the reach of a decade-old technology, which applies only to images. "For the past two decades, the technology industry as a whole has been lethargic, even negligent, in responding to the threats posed by the global trade of child sexual abuse material (CSAM), live-streaming of child sexual abuse, predatory grooming and sexual extortion. Videos constitute nearly half of the more than 65 million pieces of content reported to NCMEC (National Center for Missing and Exploited Children) last year. Sadly, Apple's technology will be blind to this content. Apple has come late to the game and is tackling, at best, half of the problem. This is hardly a reason to celebrate."
Industry Faces Criticism On Capitol Hill For Promoting Divisive Content
Dr. Farid testified before a joint subcommittee of the U.S. House Committee on Energy & Commerce on the effect online disinformation has had on the country. In his testimony, Dr. Farid criticized tech firms, including Facebook and Google-owned YouTube. Because much of the content consumption on social media platforms is determined by algorithms, tech firms have an incentive to amplify divisive content, which increases user engagement and drives revenue. Dr. Farid said: "The point is not about truth or falsehood, but about algorithmic amplification. The point is that social media decides every day what is relevant by recommending it to their billions of users. The point is that social media has learned that outrageous, divisive, and conspiratorial content increases engagement … The vast majority of delivered content is actively promoted by content providers based on their algorithms that are designed in large part to maximize engagement and revenue … Many want to frame the issue of content moderation as an issue of freedom of speech. It is not." Media coverage: The Sociable, Quartz.
Newsweek: "Google Is Not Cracking Down on the Most Dangerous Drug in America" 
Dr. Farid and Mathea Falco, a leading expert in drug abuse prevention and treatment, warn that Google is failing to obstruct the online purchase of pure fentanyl and fentanyl-laced drugs. "According to the Centers for Disease Control and Prevention two-thirds of the nearly 47,000 opioid-related deaths in the U.S. in 2018 were caused by powerful synthetic opioids—primarily fentanyl and its analogs. Google is failing to obstruct the online purchase of pure fentanyl and fentanyl-laced drugs. Both can now be purchased with a simple search and a click of a mouse. The fentanyl threat in America is too great to allow Google to continue to stand on the sidelines, denying its complicity in making fentanyl widely available through online sales."

Wired: "Congress Needs to Make Silicon Valley EARN IT"
Dr. Farid argues in favor of legislation that would force tech giants to stop prioritizing profits over safety. "Frustratingly, for the past decade, the technology sector has been largely obstructionist and full of naysayers when it comes to deploying new technologies to protect us. As a result of this deliberate neglect, the internet is overrun with child sexual abuse material, illegal sex trade, nonconsensual pornography, hate and terrorism, illegal drugs, illegal weapons, and rampant misinformation designed to sow civil unrest and interfere with democratic elections."

The Lawfare Podcast: "Hany Farid on Deep Fakes, Doctored Photos and Disinformation"
Dr. Farid, interviewed as part of Lawfare's Arbiters of Truth series on disinformation, talks about the explosion of deep fakes, realistic synthetic media in which a person's likeness is altered to show them doing or saying something they never did or said. Dr. Farid discusses the many problems caused by deep fakes, how much of the problem is inherent in the technology itself, how much harm is caused by the way big technology platforms amplify incendiary content, and how aggressive those same companies should be in monitoring and removing disinformation