For Immediate Release
Wednesday, April 20, 2022
(New York, N.Y.) — On April 11, the Counter Extremism Project (CEP) located a shop on the print-on-demand platform Spring (formerly Teespring) selling merchandise supporting and monetarily benefitting Austrian neo-Nazi rapper known as "Mr. Bond," a.k.a. Philip Hassler. Less than two weeks prior, an Austrian court sentenced Mr. Bond to 10 years in prison for inciting violence and glorifying Nazism, which is a criminal offense. CEP promptly reported the store to Spring, and the platform responded by removing it.
Spring's responsiveness to CEP is the latest demonstration of how the combination of subject matter expertise combined with quick and knowledgeable content moderation can be used to disrupt funding mechanisms used by the extreme right. This is especially important as print-on-demand e-commerce sites have previously been used multiple times by right-wing extremists to raise money and spread their message.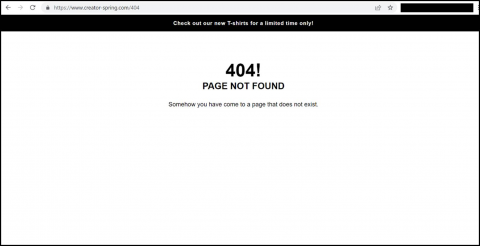 Screenshot of Spring after the Mr. Bond store was taken down
The products sold in the store included shirts and other merchandise containing a white supremacist symbol and a support hashtag. Product descriptions for the merchandise include a link to a support page for Mr. Bond, which in turn linked back to Spring.
According to Spring's Acceptable Use Policy, the platform does not "allow campaigns that promote or glorify hatred toward people based on their age, race, ethnicity, national origin, gender, gender identity, sexual orientation, disability and religion, including people, organizations or symbols dedicated to hatred against these groups."
Since his initial release of music in 2016, Mr. Bond has produced numerous white supremacist songs and compilations. His music was featured by the Halle, Germany synagogue shooter during his attack which was livestreamed on the Amazon-owned Twitch platform. The shooter told a German court that he had selected Mr. Bond's work as a "commentary on the act." Mr. Bond reportedly supported the attacker and has additionally shown particular interest in the Christchurch attacker.