‹ Go back to leadership page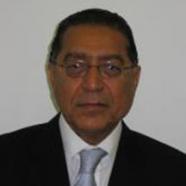 Since joining the Foreign Service of Pakistan in 1967, Ambassador Munir Akram had a distinguished diplomatic career. As Permanent Representative to the United Nations in New York from 2002-2008, he has represented Pakistan in numerous United Nations bodies and international conferences. Most significantly serving two terms as President of the UN Security Council, President of the UN Economic and Social Council, Chairman of the Group of 77 Developing Nations and China, President of the UN Conference on Disarmament, Chairman of the World Trade Organization's Trade Policy Review Committee.
From 1995-2002 he represented Pakistan as Permanent Representative to the UN in Geneva, and prior to that Munir Akram filled a number of important diplomatic positions, including Vice-Foreign Minister (1992-1995); Ambassador of Pakistan to the European Community, Belgium and Luxembourg (1988-1992); Director for UN Economic Cooperation and Policy Planning, Ministry of Foreign Affairs Geneva (1985-1988); and as Minister/Counselor in Pakistan's Embassy to Japan in Tokyo (1982-1985).
Over the course of a forty year diplomatic career, Ambassador Akram developed close personal relationships with senior government and business leaders in the Middle East, China, and many of the developed and developing nations as a result of his leadership role in addressing some of the important political, security, and economic issues facing these countries and regions. Among other achievements, Ambassador Akram successfully chaired the negotiations for the accession of Saudi Arabia and Oman into the WTO. He also led the developing countries in the negotiations at the WTO ministerial conferences in Singapore, Seattle and Doha.
Since retiring from the diplomatic service in August 2008, Ambassador Akram operates a private advisory company, Gorntazy Group Ltd, whose strategic objective is to help its clients build relationships in the Middle East and Asia, particularly China, with a view of raising capital from these regions and promoting strong trade and economic links between investors, governments and Gorntazy's clients.
Gorntazy client list include leading financial groups within Private Equity, Hedge Funds and Real Estate. The Group also promotes many unique direct investment opportunities with a focus on natural resources and infrastructure. Gorntazy focuses its marketing on sovereign wealth funds, pension funds as well as targeted institutions/ groups and high worth individuals within the GCC and Asia. Since inception, Ambassador Akram's company has achieved significant success in its objectives.
Ambassador Akram also utilizes his knowledge and relationships in the Middle East and Asia to examine and advise his clients on the political themes as well as economic and business trends inthese regions that may impact their particular business activities there.
Ambassador Akram continues to write and lecture extensively on political and economic issues relating to these regions as well as global issues. He is the Special Adviser on "Sustainable Development" to Sha Zukang, UN Under Secretary General for Economic and Social Affairs and serves as Special Adviser to several other United Nations agencies. Ambassador Akram holds Masters Degree in Political Science and a Bachelor of Law Degree.
Daily Dose
Extremists: Their Words. Their Actions.
Fact:
On June 10, 2018, the Houthis launched a missile from Yemen at Saudi Arabia's Jizan province, killing three civilians.
View Archive
Stay up to date on our latest news.
Get the latest news on extremism and counter-extremism delivered to your inbox.