‹ Go back to leadership page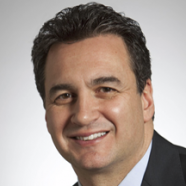 Michael Garcia is currently a partner at Kirkland & Ellis LLP.  He previously served as the Senate-confirmed United States Attorney for the Southern District of New York, leading more than 250 lawyers in what is widely regarded as the premier U.S. Attorney's office in the country.   Michael successfully directed a broad range of prosecutions, including investigations into white collar fraud, international terrorism and national security matters.  
Michael served as the United States Attorney from 2005 to 2008.  During that time, he supervised some of the nation's most significant investigations into securities fraud, bringing a series of high-profile insider trading prosecutions; international program fraud, including fraud in the Oil-for-Food program; numerous public corruption matters involving state and local officials at the highest levels of government; and violations of the Foreign Corrupt Practices Act, including settling allegations against the international oil company Statoil.  He was a member of the President's Corporate Fraud Task Force and the Attorney General's Advisory Committee on White Collar Crime.  He also chaired the Attorney General's Advisory Committee on Terrorism and National Security. 
Prior to his appointment as U.S. Attorney, Michael spent two years as Assistant Secretary for Immigration and Customs Enforcement (ICE) at the Department of Homeland Security.  As head of ICE, he oversaw an agency of 20,000 employees responsible for enforcing a broad range of criminal laws, including the Arms Export Control Act, the International Traffic in Arms Regulations and various money laundering statutes. 
From 2001 to 2002, as Assistant Secretary of Commerce for Export Enforcement in the Bureau of Industry and Security, Michael was the top federal official responsible for enforcing the Export Administration Act and related export control regulations.  In that post, he supervised federal agents in investigating violations of the export control laws governing dual-use goods and technology and restrictions on exports to embargoed nations such as Iran and Cuba.  He also participated in international negotiations over end-use agreements for exports of sensitive U.S. products.
Michael was Vice President of the Americas for Interpol, the international police organization.  While Vice President, he served on Interpol's Executive Committee, the body charged with overseeing the budget and strategic direction of the organization.
From 1992 to 2001, Michael was a federal prosecutor with the Office of the U.S. Attorney for the Southern District of New York. During that time, he personally prosecuted a number of high-profile cases, involving national security and complex extraterritorial issues, including the 1993 terrorist bombing of the World Trade Center and the 1998 bombing of U.S. embassies in East Africa.  For his work on these cases, Michael was twice awarded the Department of Justice's Exceptional Service Award, the Department's highest honor, as well as the Distinguished Service Award.
Daily Dose
Extremists: Their Words. Their Actions.
Fact:
On June 10, 2018, the Houthis launched a missile from Yemen at Saudi Arabia's Jizan province, killing three civilians.
View Archive
Stay up to date on our latest news.
Get the latest news on extremism and counter-extremism delivered to your inbox.