Overview
"Umm Muslim" is an ISIS propagandist who supposedly lives in ISIS-controlled territory. She posts tweets praising "the mujahiideen," and requests prayers for their safety. She has called for the death of the "enemies" of Muslims.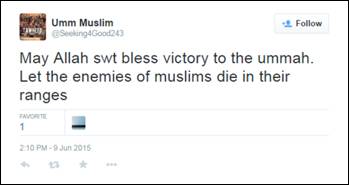 Muslim has posted several tweets glorifying life under ISIS, including high-resolution photos of herself dressed in a burka at restaurants and grocery stores.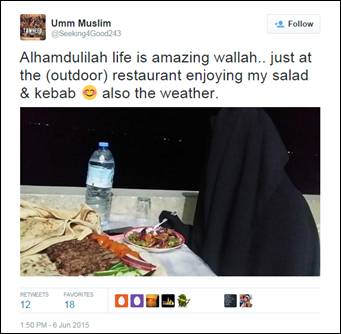 Muslim has also praised agriculture and the economy in the self-proclaimed caliphate.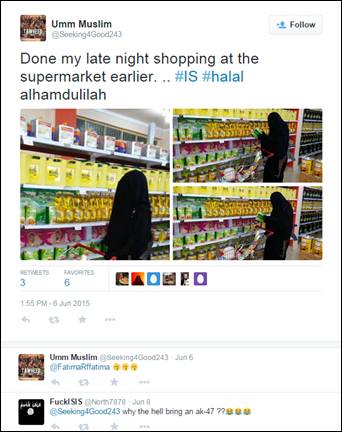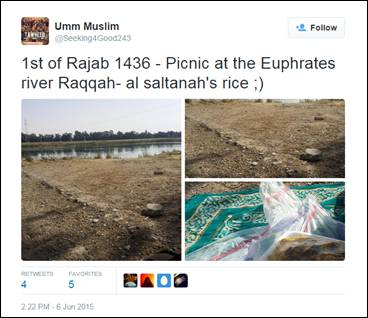 In one series of tweets showing everyday life under ISIS, Muslim recalled a discussion with her husband in a pizza store about the cartoon Tom & Jerry.Umm Muslim, Twitter, accessed July 24, 2015, https://twitter.com/Seeking4Good243.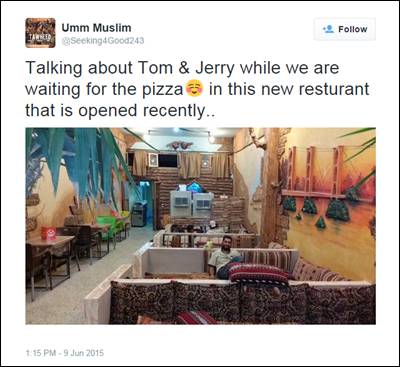 Muslim also chastises non-religious Muslims. One series of tweets in early July 2015 criticized pregnant Muslim women, particularly in the West, who do not fast during Ramadan. Healthy pregnant women have no excuse not to fast, she says.Umm Muslim, Twitter post, July 8, 2015, 3:31 p.m., https://twitter.com/Seeking4Good243/status/618910227468013568. She also questions why Muslims continue to live in the West.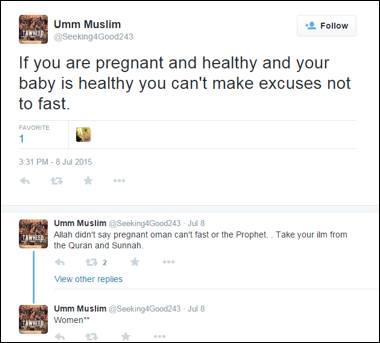 Muslim's tweets appear aimed at presenting a normal life under ISIS to encourage Muslims to move to ISIS territory. In one tweet, she questions why Muslims continue to live in the West.
In addition to tweeting about life under ISIS, Muslim regularly retweets other extremist Twitter users such as Ahmad Jibril and @FACTOFISIS.
Associated Groups
Extremist entity

ISIS
Type(s) of Organization:

Insurgent, territory-controlling, religious, terrorist, violent

Ideologies and Affiliations:

Islamist, jihadist, pan-Islamist, Salafist, takfiri

Position(s):

Propagandist
ISIS is a violent jihadist group based in Iraq and Syria. The group has declared wilayas (provinces) in Egypt, Libya, Algeria, Yemen, Saudi Arabia, Nigeria, Afghanistan, Pakistan, and the North Caucasus. ISIS has also waged attacks in Turkey, Lebanon, France, Belgium, Iraq, Bangladesh, Indonesia, Malaysia, Tunisia, and Kuwait.
Return to Full Database
Daily Dose
Extremists: Their Words. Their Actions.
Fact:
On September 26, 2018, an improvised explosive device planted at the foot of a bridge exploded, killing eight soldiers in the lead vehicle of a Burkinabe military convoy traveling in northern Burkina Faso. 
View Archive