Overview
"Skafisti" is a Twitter personality who propagates ISIS's ideology by disseminating its publications and tweeting in support of the terror group.Skafisti, Twitter, accessed December 5, 2015, https://twitter.com/Skx81. On December 2, 2015, he shared an ISIS propaganda video touting "marriage contracts" in the so-called Islamic State. The video—hosted by the video uploading service "Sendvid"—is tailored for a Western audience, complete with English subtitles.Skafisti, Twitter post, December 2, 2015, 10:50 p.m.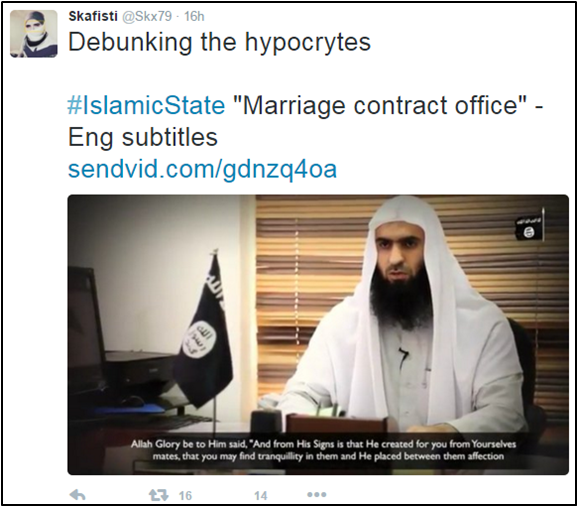 In early December 2015, Skafisti disparaged ISIS's rival group, the Nusra Front (Jhabat al-Nusra, or JN), by tweeting a photo of a "crying" JN soldier next to that of a "smiling" ISIS soldier.Skafisti Twitter, Archive.is, accessed December 7, 2015, https://archive.is/gdQc6.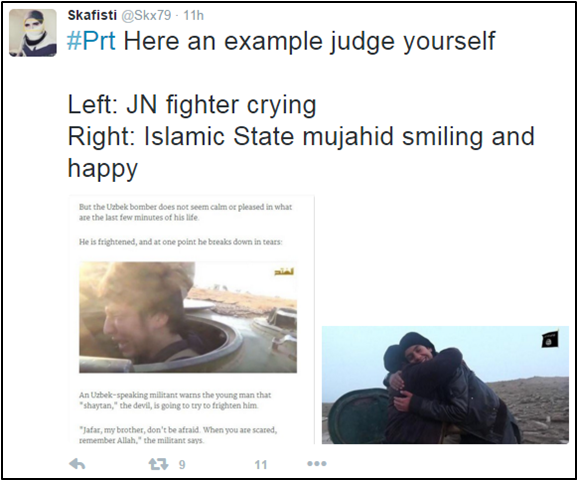 Skafisti regularly tweets in favor of (presumably violent) jihad, and has quoted ISIS spokesman Abu Mohammed al-Adnani in support of that cause:

Skafisti often refers to "Kuffs," or kuffar (nonbelievers). On December 5, 2015, he tweeted: "there are no tanks in the earth or jets in the heavens that can protect [the kuffar] from Allah's punishment."Skafisti, Twitter post, December 5, 2015, 1:08 p.m.

He has called on his followers to "read and spread" ISIS propaganda.Skafisti, Twitter post, December 3, 2015, 8:34 p.m.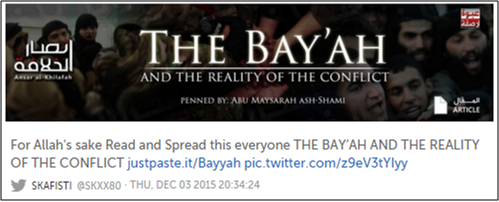 Skafisti is repeatedly suspended by Twitter, but quickly resurfaces under a new user handle. CEP has been following him since early December, 2015.
Associated Groups
Extremist entity

ISIS
Type(s) of Organization:

Insurgent, territory-controlling, religious, terrorist, violent

Ideologies and Affiliations:

Islamist, jihadist, pan-Islamist, Salafist, takfiri

Position(s):

Propagandist
ISIS is a violent jihadist group based in Iraq and Syria. The group has declared wilayas (provinces) in Egypt, Libya, Algeria, Yemen, Saudi Arabia, Nigeria, Afghanistan, Pakistan, and the North Caucasus. ISIS has also waged attacks in Turkey, Lebanon, France, Belgium, Iraq, Bangladesh, Indonesia, Malaysia, Tunisia, and Kuwait.
Return to Full Database
Daily Dose
Extremists: Their Words. Their Actions.
Fact:
On October 27, 2018, domestic terrorist Robert D. Bowers carried out an anti-Semitic attack at the Tree of Life synagogue in Pittsburgh. He fired on congregants as they gathered for worship, killing 11 people and wounding six others.
View Archive