Overview
"NikoArea_" (also known as "NikoRea_") uses Twitter to spread propaganda on behalf of ISIS. The account holder tweets flippant captions ascribed to his cat—pictured in accompanying photographs—to convey distaste for non-Sunni ethnic groups he considers heretical, such as the Shiite Syrian-based Nuseyri religious group and the "Rafidi," a pejorative collective term for Shiites.NikoArea_, Twitter post, August 17, 2015, 1:19 p.m., https://twitter.com/NikoArea_/status/633327411040518144.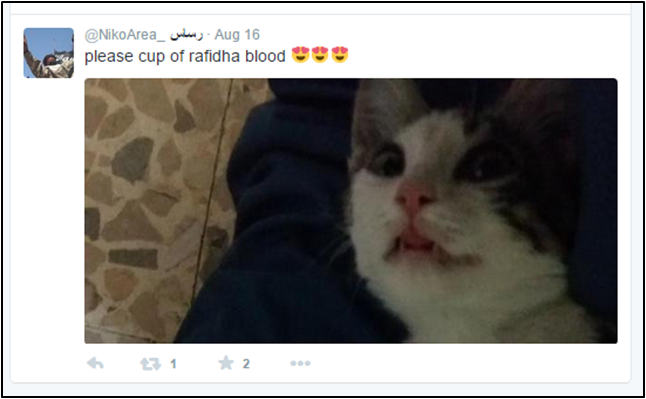 Area also displays contempt for "kuffars," (nonbelievers) and expresses admiration for those, apparently including his uncle, who have successfully journeyed to the self-proclaimed Islamic State in its defense. He also regularly retweets fellow ISIS supporters' messages and exhorts others to follow them.NikoArea_, Twitter post, August 31, 2015, 8:12 a.m., https://twitter.com/__ummfaaris/status/638323500114182145.


Niko Area was welcomed into the ISIS Twitter propaganda world on August 24, 2015, by Australian recruiter Neil Prakash, a.k.a. Abu Khaled al-Cambodi.itsabUk313, Twitter post, August 24, 2015, 1:15p.m., https://twitter.com/itsabUk313/status/635862888339611648.

In September 2015, Niko Area appeared to adopt a new Twitter handle, "NikoRea_." His first posts reminded prospective ISIS recruits that the Islamic "caliphate's" borders were open, and offered practical tips on what to bring.NikoRea_Twitter post, September 28, 2015, 10:40a.m., https://twitter.com/NikoRea_/status/648552890810925056.


Niko Area appears to be an active ISIS militant on the front lines of military operations, according to his tweeted testimony on October 7:NikoRea_, Twitter post, October 7, 2015, 12:58p.m., https://twitter.com/NikoRea_/status/651848612222251008.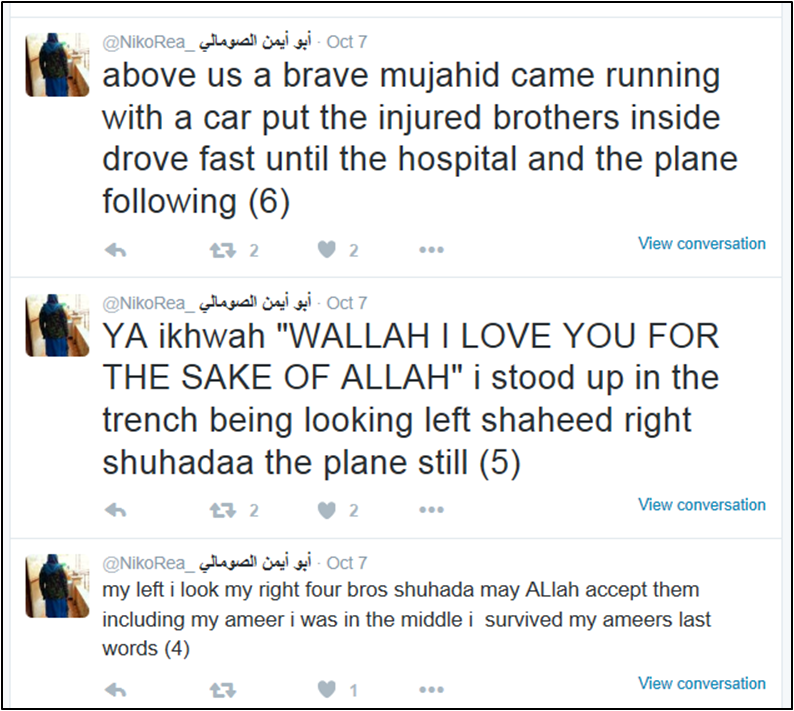 CEP has been monitoring "NikoArea_" since August 2015.
Associated Groups
Extremist entity

ISIS
Type(s) of Organization:

Insurgent, territory-controlling, religious, terrorist, violent

Ideologies and Affiliations:

Islamist, jihadist, pan-Islamist, Salafist, takfiri

Position(s):

Propagandist
ISIS is a violent jihadist group based in Iraq and Syria. The group has declared wilayas (provinces) in Egypt, Libya, Algeria, Yemen, Saudi Arabia, Nigeria, Afghanistan, Pakistan, and the North Caucasus. ISIS has also waged attacks in Turkey, Lebanon, France, Belgium, Iraq, Bangladesh, Indonesia, Malaysia, Tunisia, and Kuwait.
Return to Full Database
Daily Dose
Extremists: Their Words. Their Actions.
Fact:
On October 27, 2018, domestic terrorist Robert D. Bowers carried out an anti-Semitic attack at the Tree of Life synagogue in Pittsburgh. He fired on congregants as they gathered for worship, killing 11 people and wounding six others.
View Archive