Overview
Twitter personality "Jazrawi Daesh" is a proponent of ISIS. Following the December 2, 2015, shootings in San Bernardino, California, Jazrawi Daesh took to Twitter to announce the "martyrdom" of the two shooters. He referred to the male shooter as a "Mujahid," or holy warrior.CEP, Twitter post, December 4, 2015, 2:57 p.m., https://twitter.com/FightExtremism/status/672867253688393728;
Michael Isikoff, "FBI Director Comey: San Bernardino shooting now 'a federal terrorism investigation'," Yahoo News, December 4, 2015, http://news.yahoo.com/fbi-director-comey-san-bernardino-shooting-now-federal-terrorism-investigation-232722009.html.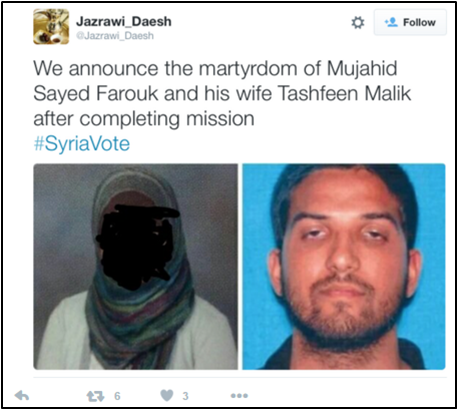 In a later tweet, Jazrawi Daesh wrote that the massacre was a "planned attack involving assault rifles and explosives."Jazrawi Daesh, Twitter post, date and time stamp unavailable.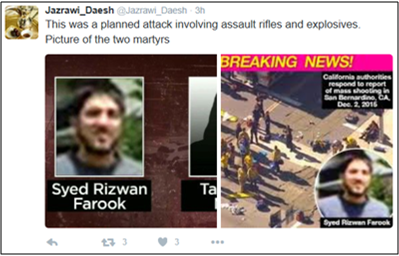 Jazrawi Daesh was able to continue tweeting about the San Bernardino shootings before Twitter suspended him. He issued a threat to "kuffar," or nonbelievers, (presumably Americans), telling them to "expect more." Jazrawi Daesh used the term "Baqiya"—a term that ISIS members use in reference to themselves—to underline the ideological premise of the attack.Jazrawi Daesh, Twitter post, date and time stamp unavailable.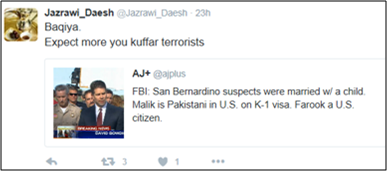 He then tweeted that the "easiest place to kill kuffar is the US." Jazrawi Daesh advised his followers to "move to a [state] that sells assault rifles guns and go target practicing in shopping mall [sic]."Jazrawi Daesh, Twitter post, date and time stamp unavailable.

Jazrawi Daesh has used Twitter to warn fellow jihadists against using certain messaging programs.Jazrawi Daesh, Twitter post, date and time stamp unavailable.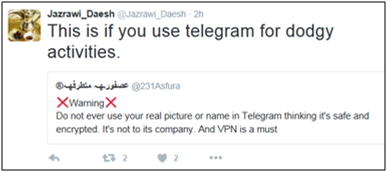 He also regularly disseminates ISIS propaganda. On December 3, 2015, he shared photos of a purported ISIS "drug enforcement team" destroying drugs owned by the Taliban.Jazrawi Daesh, Twitter post, December 3, 2015, time stamp unavailable.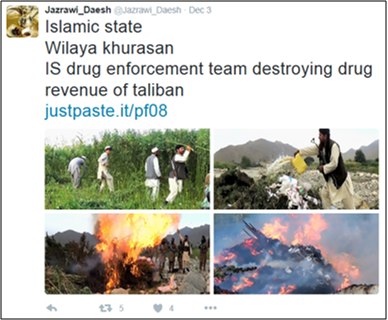 Associated Groups
Extremist entity

ISIS
Type(s) of Organization:

Insurgent, territory-controlling, religious, terrorist, violent

Ideologies and Affiliations:

Islamist, jihadist, pan-Islamist, Salafist, takfiri

Position(s):

Propagandist
ISIS is a violent jihadist group based in Iraq and Syria. The group has declared wilayas (provinces) in Egypt, Libya, Algeria, Yemen, Saudi Arabia, Nigeria, Afghanistan, Pakistan, and the North Caucasus. ISIS has also waged attacks in Turkey, Lebanon, France, Belgium, Iraq, Bangladesh, Indonesia, Malaysia, Tunisia, and Kuwait.
Return to Full Database
Daily Dose
Extremists: Their Words. Their Actions.
Fact:
On January 27, 2020, Turkish security forces arrested five People's Protection Units (YPG) members who were allegedly plotting terrorist attacks in Tal Abyad, northern Syria. During the raid, forces recovered weapons, digital materials, and documents relating to the terror group.   
View Archive