Overview
"Ali al-Foutawi" is a Twitter propagandist and suspected recruiter for ISIS. He lists his location as "Sirte, Wilayat Rarablus, IS," referring to the self-proclaimed Islamic State in Libya. Foutawi's Twitter bio has read: "When I'm bored I count toes. Don't trust the media unless it's IS media. Hijrah advice to IS Libya; Telegram/surespot - alfoutawi Baaqiyah! Bi idhnillah!"Ali Al Foutawi, Twitter, accessed August 18, 2015, https://twitter.com/AliFoutawi_III. He has referenced hijrah as fard (obligatory) for all Muslims:


He has also explicitly threatened Rome by claiming that ISIS has its "eyes" on the Italian city:

Al-Foutawi incites to violence by calling for attacks on kuffar (disbelieving) nations:

CEP suspects that Twitter has repeatedly suspended al-Foutawi's accounts. On July 20, 2015, al-Foutawi tweeted about his previous Twitter account's suspension and mocked the "nerds at Twitter Corp":

Al-Foutawi propagandizes through tweets that mention the "khilaafa" (khilafa, or caliphate, a global Islamic empire) and the "supporters" that it requires:

He is a self-proclaimed poet and has tweeted verses of several of his poems, many of which revolve around hijrah (migration) to the so-called Islamic State. In one of his poems, which he says he wrote before making hijrah, al-Foutawi refers to the 72 virgins promised to a Shaheed (martyr) in paradise. He also refers to "daarul kufr," (land of kuffar, or nonbelievers):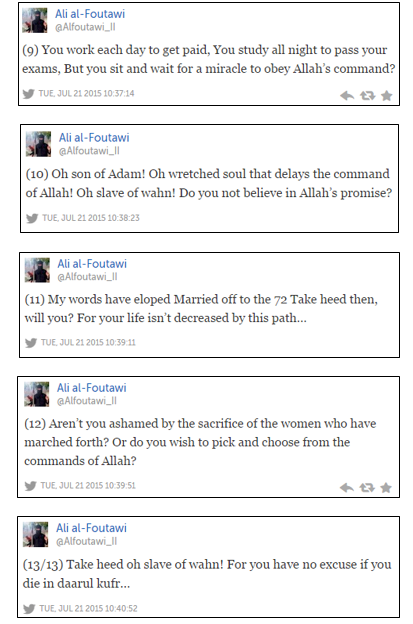 Al-Foutawi also posts photos of his meals, propagandizing for ISIS by depicting what he refers to as "good life" in ISIS-controlled Libya: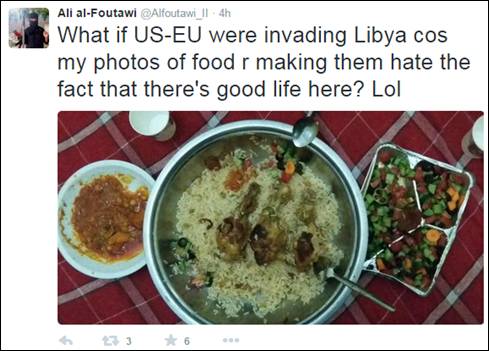 CEP suspects that al-Foutawi may be an active recruiter for foreign fighters hoping to fight alongside ISIS in Libya. Al-Foutawi may communicate with potential recruits via Kik and Telegram, two encrypted messenger services.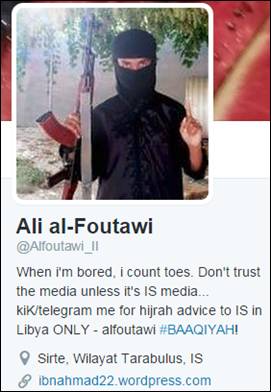 Return to Full Database
Take action:
Help Counter Extremism
Stay updated on the latest