Overview
Twitter personality "Abu Tamale" supports a militant version of Islam on social media. Tamale has launched numerous Twitter accounts after being consistently suspended.Abu Tamale, Twitter, accessed June 24, 2015. By his own admission, Tamale has had no less than five accounts.Abu Tamale, Twitter, accessed July 13, 2015. His @IslamWilRemain account was suspended by July 28, 2015.
Abu Tamale is sympathetic to ISIS, promoting the terror army's exploits and propaganda on a regular basis.Abu Tamale, Twitter post, July 11, 2015, 4:12 a.m. In previous Twitter bios, he has written "Baaqiyah," referring to the community of ISIS adherents.Abu Tamale, Twitter, accessed July 13, 2015.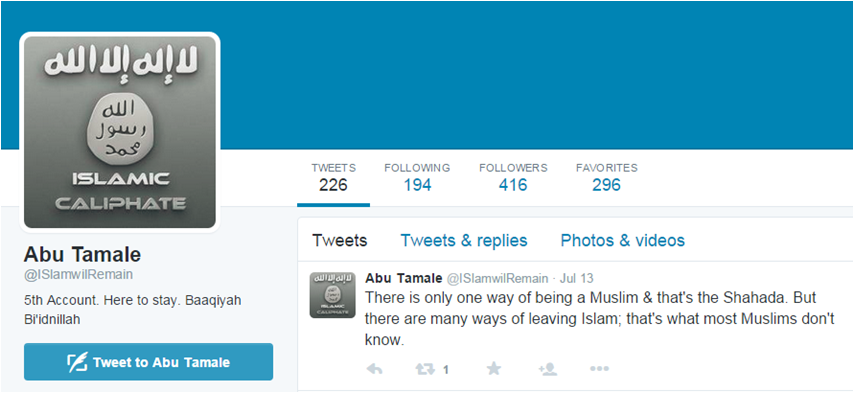 Abu Tamale's twitter feed is also a source of news from ISIS's area of operations, as well as other Islamist news ranging from Iraq and Syria to Egypt and Libya.Abu Tamale, Twitter post, July 10, 2015, 2:55 p.m. One of Abu Tamale's tweets promoted an ISIS execution video.Abu Tamale, Twitter post, June 24, 2015, 7:22 p.m.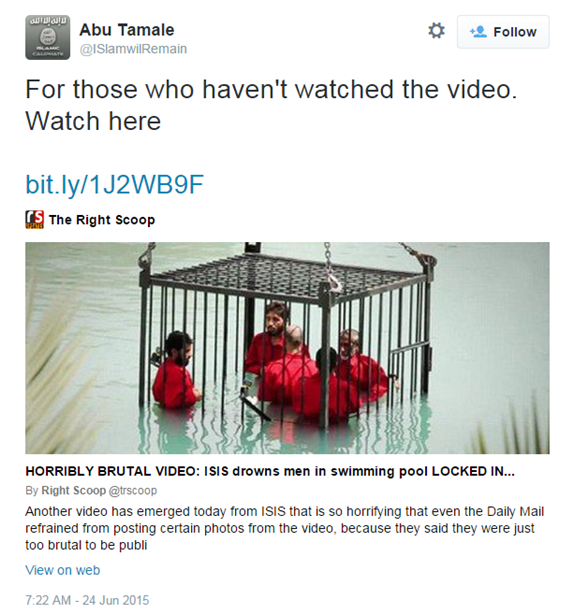 Tamale is a chief disseminator of Islamist propaganda in general and of ISIS-related matters in particular. For these reasons, Twitter has removed his profile numerous times – belying his pledge of being "here to stay."

Also Known As
@ISlamwilRemainAbu Tamale, Twitter, accessed July 13, 2015.
Associated Groups
Extremist entity

ISIS
Type(s) of Organization:

Insurgent, territory-controlling, religious, terrorist, violent

Ideologies and Affiliations:

Islamist, jihadist, pan-Islamist, Salafist, takfiri

Position(s):

Propagandist
ISIS is a violent jihadist group based in Iraq and Syria. The group has declared wilayas (provinces) in Egypt, Libya, Algeria, Yemen, Saudi Arabia, Nigeria, Afghanistan, Pakistan, and the North Caucasus. ISIS has also waged attacks in Turkey, Lebanon, France, Belgium, Iraq, Bangladesh, Indonesia, Malaysia, Tunisia, and Kuwait.
Return to Full Database
Daily Dose
Extremists: Their Words. Their Actions.
In Their Own Words:
Without doubt, the secularists are evil and more malicious than the polytheists and secularism is farther astray from the path and more malicious than polytheism. The secularists who are associated with Islam even [merely] by identity are considered apostates by a group of scholars. The Jews, Christians, those who worship graves, and many polytheists and unbelievers have committed lesser acts of unbelief than the secularists.
Mar. 1, 2021
View Archive