Overview
"Abu Mutassim" is an extremist Twitter personality and proponent of the khilafah (caliphate), referring to the self-proclaimed Islamic State, or ISIS-controlled territory. Mutassim regularly retweets posts by Anjem Choudary, an extremist British preacher and ISIS sympathizer whom authorities have connected to hundreds of British Muslims arrested in terrorism-related cases.Martin Bentham and Colin Bortbus, "Radical London preacher Abu Haleema banned from promoting his views online," London Evening Standard, May 26, 2015, http://www.standard.co.uk/news/crime/radical-london-preacher-abu-haleema-banned-from-promoting-his-views-online-10275924.html; Clarissa Ward, "Campaigning for ISIS In the West," CBS, November 4, 2014, http://www.cbsnews.com/news/recruiting-for-isis-60-minutes/.
Mutassim regularly tweets blatant support for the self-proclaimed Islamic State:



CEP suspects that Mutassim operates out of the United Kingdom. In various tweets, he has called on Prime Minister David Cameron to commit suicide, and for the "khilafah" to "come" to Britain.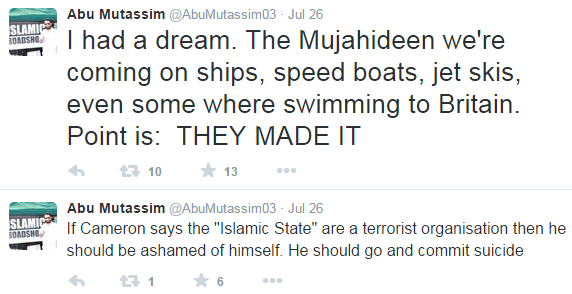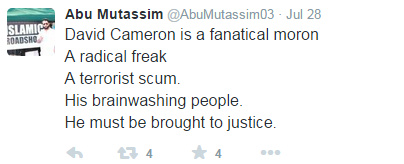 In a thinly veiled threat to the U.K. government, Mutassim posited what would happen if ISIS's self-proclaimed caliph Abu Bakr al-Baghdadi were to "[kick] down the doors of 10 Downing street," Prime Minister David Cameron's address.

Abu Mutassim sees Islam as a final goal, and his rhetoric suggests that he believes all societies must eventually accept a totalitarian conception of Islam.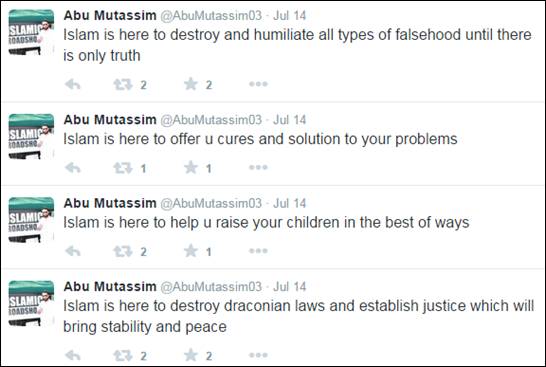 His extremist views follow an all-or-nothing rationale, in which Islam and the "caliphate" represent all that is good, and all else represents everything that is bad. Mutassim refers to anything non-Muslim as kufr (kuffar, or nonbelievers).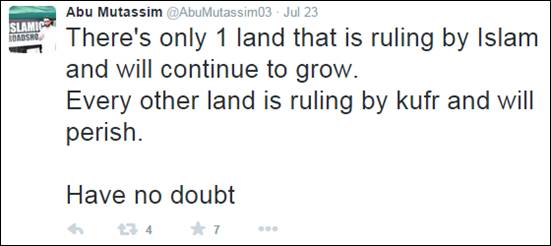 The version of Islam that he promotes is radical and extremist. Mutassim advocates the strictest form of sharia (Islamic law), in which thieves have their hands chopped off as punishment. He also promotes sectarian hatred, deriding "Shia" (Shiite) Muslims: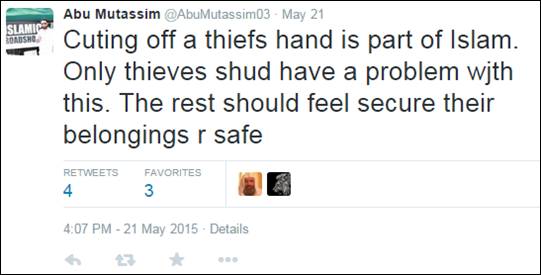 Mutassim disparages "moderate" Muslims, and refers to the concept of "interfaith" as a "disgusting title."


He has referred to Jews as the "descendants of apes and pigs":

Abu Mutassim has tweeted about the value of spreading "the truth" over social media, asserting that "Muslims must use [social media]" to spread it.

In addition to publishing incendiary tweets, Mutassim uses Twitter as a platform to disseminate his YouTube videos, which carry such titles as "Imaams of Hellfire" and "Battle of FAITH."Abu Mutassim, YouTube, accessed August 3, 2015, https://www.youtube.com/channel/UCDUpgOGr0lAVERxswSAYJFQ/videos. Mutassim has filmed propagandizing videos alongside Abu Haleema, a fellow U.K.-based extremist.
His videos appear to be filmed in Britain, and some have garnered upward of 3,000 views.
Associated Groups
Extremist entity

ISIS
Type(s) of Organization:

Insurgent, territory-controlling, religious, terrorist, violent

Ideologies and Affiliations:

Islamist, jihadist, pan-Islamist, Salafist, takfiri

Position(s):

Propagandist
ISIS is a violent jihadist group based in Iraq and Syria. The group has declared wilayas (provinces) in Egypt, Libya, Algeria, Yemen, Saudi Arabia, Nigeria, Afghanistan, Pakistan, and the North Caucasus. ISIS has also waged attacks in Turkey, Lebanon, France, Belgium, Iraq, Bangladesh, Indonesia, Malaysia, Tunisia, and Kuwait.
Return to Full Database
Daily Dose
Extremists: Their Words. Their Actions.
Fact:
On October 27, 2018, domestic terrorist Robert D. Bowers carried out an anti-Semitic attack at the Tree of Life synagogue in Pittsburgh. He fired on congregants as they gathered for worship, killing 11 people and wounding six others.
View Archive