Overview
French Twitter user "Aboû Sayf Al-Ansari" is a propagandist for ISIS who boasts residency in ISIS-held territory. In his Twitter description, Al-Ansari refers to the territory as "Dawla Islamiya" or the "Islamic State."Abou Sayf Al-Ansari, Twitter, accessed August 18, 2015, https://twitter.com/ztlmt.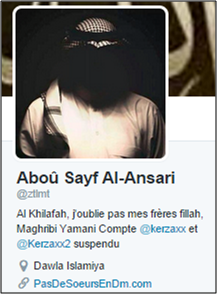 Al-Ansari's Twitter description, wherein he claims to live in "Dawla Islamiya" ("Islamic State" or ISIS-held territory), notes previous account suspensions, and tells female Muslims not to direct message him.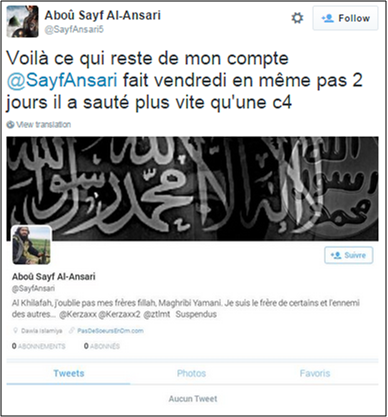 Abou Sayf Al-Ansari laments the suspension of his @SayfAnsari account.
Al-Ansari is part of a network of ISIS propagandists. In his first tweet on his @ztlmt account, Al-Ansari bemoaned previous account suspensions.Abou Sayf Al-Ansari, Twitter post, August 16, 2015, 4:06 a.m., https://twitter.com/ztlmt/status/632870943879233536.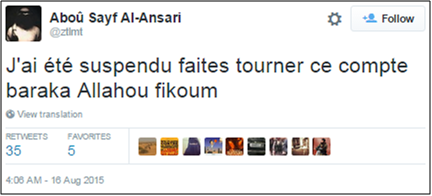 Translation: "I was suspended[;] switch to this account may Allah bless you"
Through Twitter, Al-Ansari boasts frequently of his allegiance with ISIS.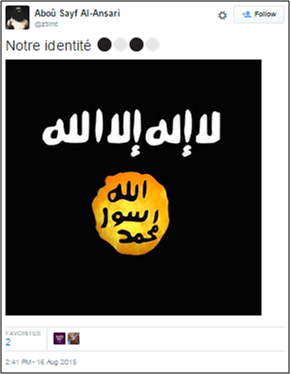 Translation: "Our identity"
Al-Ansari pops up frequently on Twitter under different aliases. In October 2015, he used Twitter to demonize Jews under the handle "@Abd_Allah__8," writing, "Les juifs c'est des lâches de toutes façon ils aiment jouer les victimes, mais quand c'est sérieux ils se cachent chez eux ces bouffons," roughly translating to: "The Jews, they are cowards, they like to play the victim but when it gets serious, they hide themselves at home, the buffoons."


Tweet from October 2015. Translation: "The Jews, they are cowards, they like to play the victim but when it gets serious, they hide themselves at home, the buffoons."
Return to Full Database
Take action:
Help Counter Extremism
Stay updated on the latest